Phased out before being phased in: Pirelli's Cinturato Season SF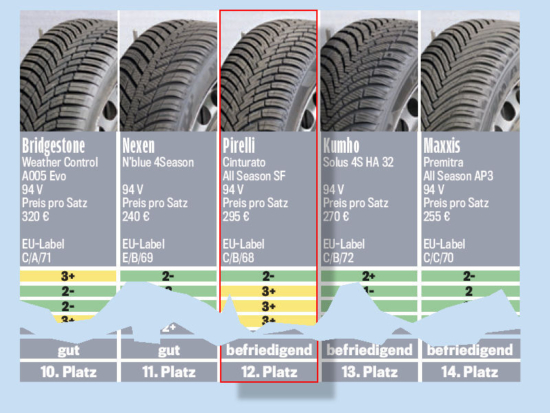 Auto Bild managed to publish its 2020 all-season tyre test more or less on time despite the lockdown affecting many parts of Europe during the spring. The German motoring publication looked at 32 brands of all-season tyres and evaluated 14 of these in greater depth following a preliminary knock-out round of braking tests. One of the 14 candidates making it through to the finals is a product we'd seen neither hide nor hair of beforehand – the Pirelli Cinturato All Season SF. In contrast to the Cinturato All Season and Cinturato All Season Plus, no retailer appears to stock this particular model. And as we've learned, it looks as if this will remain the case.
Although Pirelli's headquarters in Italy hasn't yet directly responded to our queries, our German sister magazine Neue Reifenzeitung learned from a Pirelli spokeswoman in Germany that the tyre in question was the "first edition of a single size that was produced in limited quantities over six months ago and will not come on the market." Auto Bild must surely be unimpressed by this revelation, as the magazine's testers usually purchase tyres for their product comparisons from retailers and only accept examples directly from manufacturers in exceptional cases. Auto Bild tester Dierk Möller confirmed that several tyres came from manufacturers in this instance, including the Pirelli product. He added that in such exceptional cases, a senior representative of the tyre maker must provide written confirmation that the tyre model will actually appear on the market at a later date.
Möller explained that Auto Bild took this approach in order to include as many latest-generation tyres in its test despite the comparatively early procurement date this year. The intention was to present up-to-date products that customers can actually buy at tyre dealers or online. "A lot of time passes from procurement to publication during our extensive testing," he said, noting the absence of the newest tyres from Cooper (Discoverer All Season) and Nokian (Seasonproof), products that promise "many performance improvements" but weren't available in time for the start of testing.
In contrast, the Cinturato All Season SF can be described as a type of pre-series model. This is supported by the fact that, according to Pirelli itself, it intends to introduce a 'Cinturato All Season SF2' at a later, unspecified date. The 'SF' model, which finished 12th from the 14 finalists with a 'satisfactory' rating, won't join the Pirelli portfolio.
In addition to the Pirelli tyre, Auto Bild obtained the runner-up Vredestein Quatrac and 13th-placed Kumho Solus 4S HA32 directly from their respective manufacturers. The other 29 candidates were anonymously obtained from retailers.