Auto Bild summer tyre test: Elimination round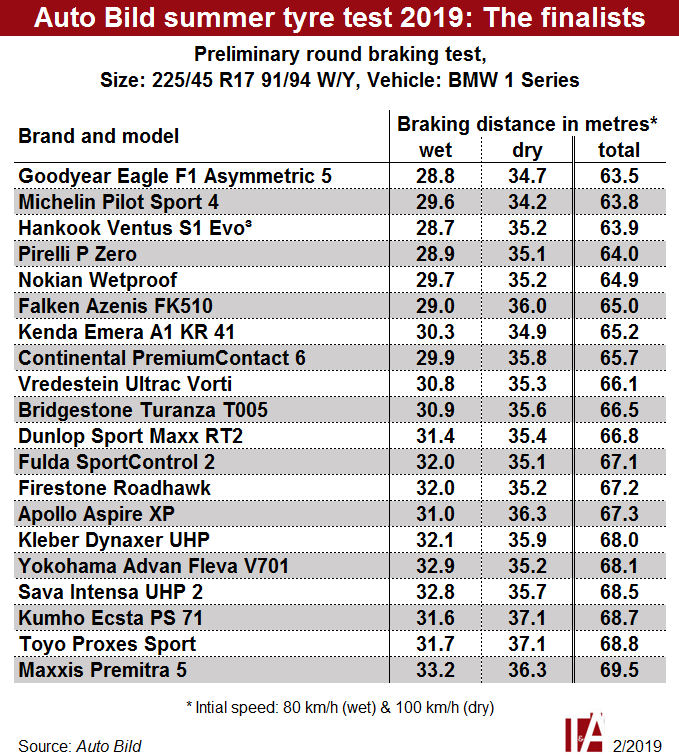 Shortlisting has taken place for the Auto Bild 2019 summer tyre test, with a starting field of 53 candidates reduced to 20 finalists in the initial round. The size 225/45 R17 91/94 W/Y tyres selected for further testing mainly come from the premium and mid-range segments, while the budget segment was well-represented in the group of 33 tyres eliminated from proceedings. Disappointingly, the group also included two tyre brands belonging to leading manufacturers – both delivered 'bottom ten' results.
Finalists were selected using the same process seen in prior Auto Bild tests. Using a BMW 1 Series for the challenge, testers from the German motoring magazine observed how long each tyre took to stop on wet (from 80 km/h) and dry (from 100 km/h) road surfaces. The aggregate results were then compared and the 20 best performers earmarked for further, in-depth testing. These are the finalists progressing to the next round:
Goodyear Eagle F1 Asymmetric 5, Michelin's Pilot Sport 4, Hankook Ventus S1 Evo³, Pirelli P Zero, Nokian Wetproof, Falken Azenis FK510, Kenda Emera A1 KR 41, Continental PremiumContact 6, Vredestein Ultrac Vorti, Bridgestone Turanza T005, Dunlop Sport Maxx RT2, Fulda SportControl 2, Firestone Roadhawk, Apollo Aspire XP, Kleber Dynaxer UHP, Yokohama Advan Fleva V701, Sava Intensa UHP 2, Kumho Ecsta PS 71, Toyo Proxes Sport and the Maxxis Premitra 5.
And the 33 that weren't asked back? They were the Uniroyal RainSport 3, Goodride Sport SA-37, General Tire Altimax Sport, Federal Evoluzion ST-1, Avon ZV7, GT Radial SportActive, Linglong Green-Max , Mabor Sport-Jet 3, Cooper Zeon CS8 , Semperit Speed-Life 2, BFGoodrich g-grip , Gislaved Ultra Speed, CST Medallion MD- A1, Tomason Sportrace, Dayton Touring 2, Matador MP47 Hectorra, Barum Bravuris 3 HM, Cormorant UHP, Nankang Sportnex AS-2 +, Tigar UHP , Imperial Ecosport2, Paxaro Summer Performance, Firemax FM601, Running S Fit EQ, Zeetex HP2000 vfm, Viking ProTech HP, Neolin Neosport, Sailun Atrezzo ZSR, Cratos CatchPassion, Mazzini Eco607, Tyfoon Successor 5, Milestone Green Sport and Star Performer UHP 1.
Some of the budget candidates took five metres longer to stop from 100 km/h in dry conditions than the best in test, and in the wet the Milestone and Star Performer tyres needed an additional ten metres when coming to a standstill from 80 km/h. The testers also highlighted a particularly disturbing result: A couple of manufacturers, companies who know how to make a grippy tyre, didn't.
"The braking performance of the Viking and Laufenn summer tyres was surprisingly poor, their total braking distances pushed them down to 44th (Laufenn) and 46th (Viking) place. We'd expected more from brands that belong to major manufacturers such as Continental (Viking) and Hankook (Laufenn)," commented Auto Bild.