C.A.R.E. package – Continental presents tyre concept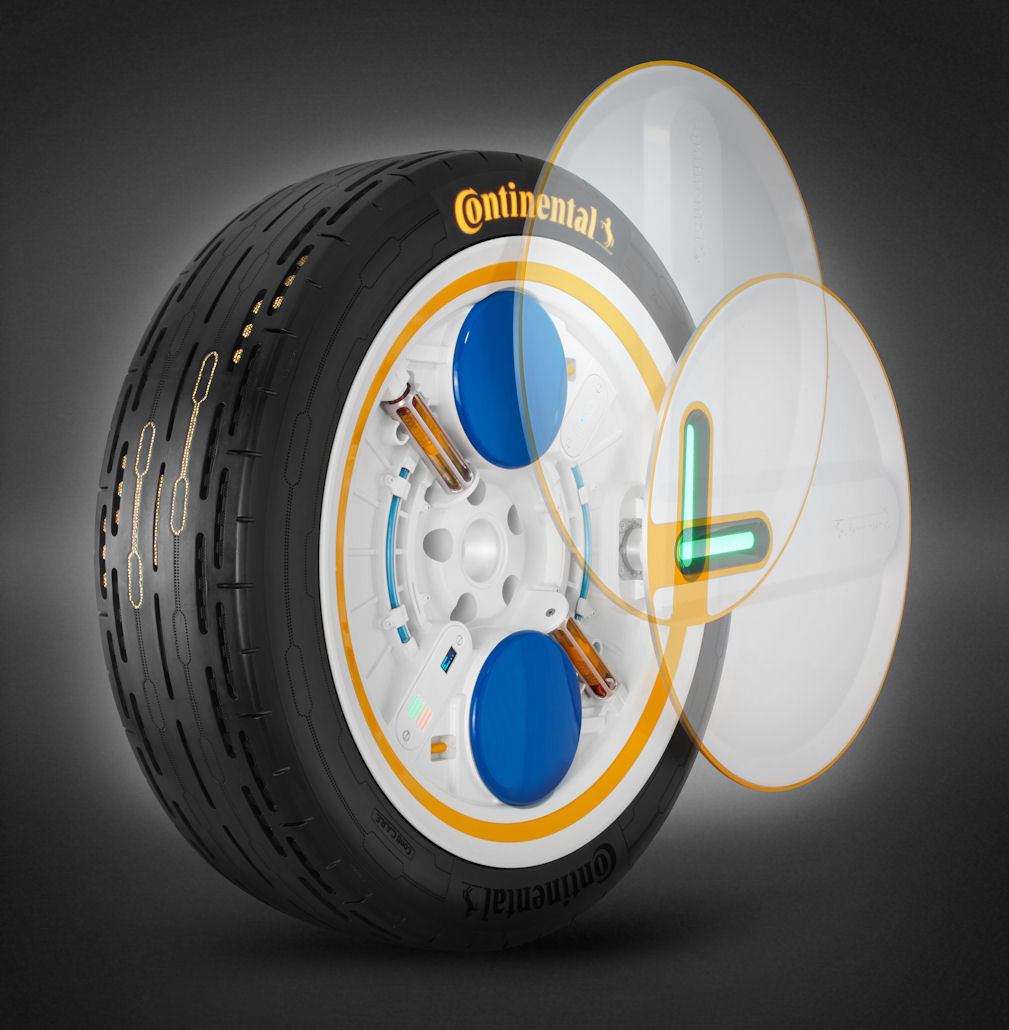 Several tyre makers have presented their vision of future products. Michelin, for example, showed the world its Vision concept in 2017 and more recently its Uptis Prototype. Goodyear has its IntelliGrip Urban, Oxygene and Eagle-360, and Bridgestone has ologic technology. Continental unveiled its take on the future at the Frankfurt Motor Show (IAA) this week.
It goes by the name of Conti C.A.R.E. – the acronym standing for Connected. Autonomous. Reliable. Electrified. The concept showcases a "fine-tuned networking of wheel and tyre technology" and the ability manage "desired performance characteristics." Continental explains that these desired qualities are characteristics closely aligned with the requirements of electric and autonomous driving in both individual and shared mobility scenarios.
Conti C.A.R.E. tyres feature sensors built into the tyre's structure. These sensors generate and continuously evaluate data concerning tread depth, possible damage, tyre temperature and tyre pressure. The data is collected by a monitoring system that goes by the name of ContiSense. This then transmits information on tyre condition to Continental's ContiConnect Live online tyre monitoring platform. In Continental's vision, Conti C.A.R.E. could also work with ContiConnect Live to provide tyre management for "modern robo-taxi fleets" by boosting their performance and helping to optimise costs.
Tyre pressure would be actively adjusted by means of centrifugal pumps built into the wheel. As the vehicle accelerates, the centrifugal forces within the wheel act on the pump to generate compressed air. Continental says this PressureProof technology keeps the tyre pressure "constantly within the ideal range and helps achieve a sustainable drop in CO2 emissions." Any excess compressed air is stored in an integrated tank. PressureBoost technology then uses this air to rapidly adapt tyre pressure to the current driving situation.
And in the SilentWheel concept, Continental has presented a modified wheel rim that reduces the vibrations generated while driving, thereby delivering superior ride quality.