Conti e.MotionPro – Continental's "starting point" for electric CV tyre development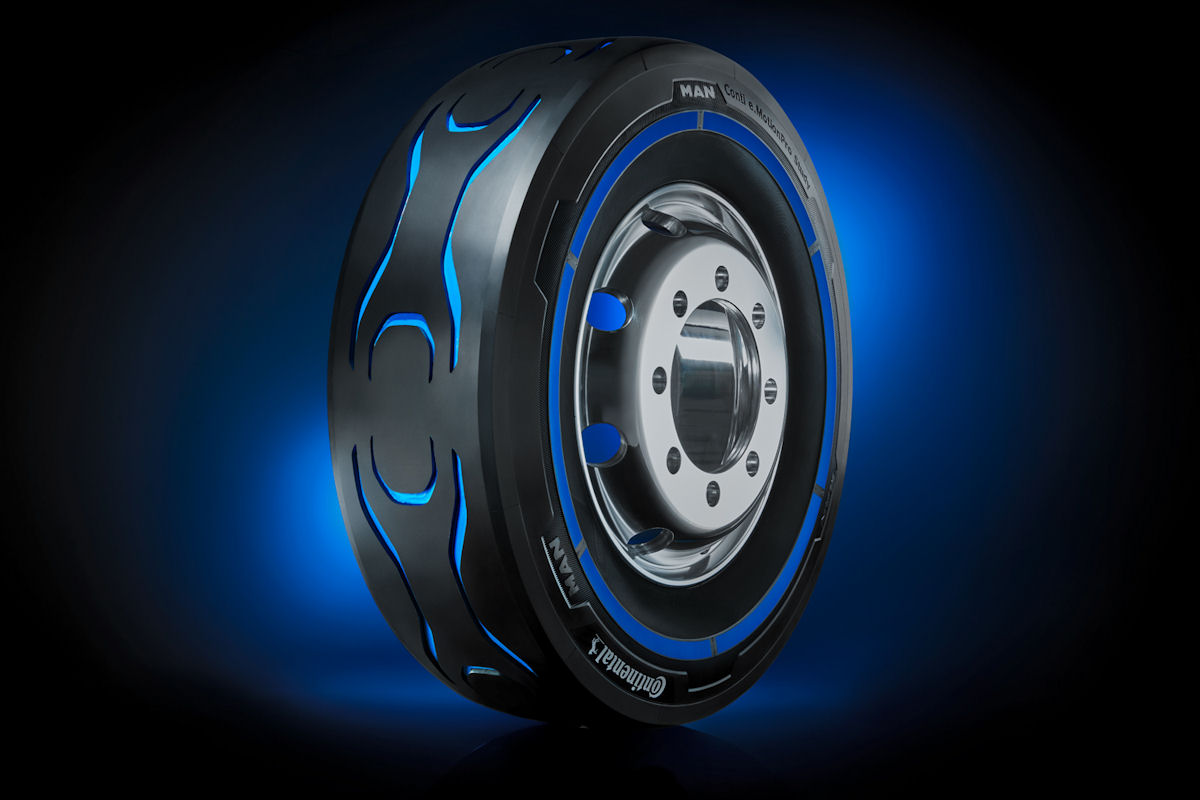 A good concept vehicle shouldn't just be stuffed full of forward-thinking technologies and ideas, it should also look as if it's absconded from the future. The CitE – MAN's vision of the "future of city delivery transport" – ticks both boxes. Currently on display at the IAA Commercial Vehicles show, the all-electric CitE displays the truck manufacturer's latest ergonomic and safety concepts. The tyres are also a one-off, made especially for the CitE by Continental. The tyre maker views the concept project as an opportunity to gain experience in electric vehicle tyre development, referring to the Conti e.MotionPro study, as a "starting point for the development of tyres for electric commercial vehicles."
Featuring a striking blue stripe on the sidewall, a hand-carved profile and blue tread grooves, the Conti e.MotionPro was developed to fit perfectly into the MAN CitE design. The tyre's sidewall shell was manufactured by hand at the Continental tyre plant in Púchov, Slovakia prior to vulcanisation and 'pulse blue' paint applied to the sidewall during the heating process. The custom-made profile was then created in a laborious robotic cutting process and refined by experienced tyre carvers in Stöcken, Germany. At the same time, small rubber parts were pasted into the grooves by hand. Continental says it is one of only a few tyre manufacturers that can manually produce individual designs in small quantities.
Klaus Kreipe, head of Original Equipment Truck Tires at Continental, explains the challenges involved in developing tyres for electric trucks: "Electric vehicles can temporarily be fitted with conventional tyres. However, the new powertrains and the new vehicle concepts that are sometimes associated with them will change the requirements for commercial vehicle tyres. We are currently making use of partnerships to gain valuable experience for the development of tyres for electric trucks and buses." Kreipe adds that together with commercial vehicle manufacturers and municipal bus companies, Continental aims to develop tyres with cutting-edge technologies for the start of production of electric vehicles.
Optimising a vehicle's range requires low energy consumption, and minimising tyre rolling resistance helps to this end. New vehicle concepts can also mean changed centres of gravity, wheel loads and torques, and can thus present potential challenges for a tyre's load capacity or wear resistance. Increased load capacity and tractive power can also place additional demands upon a tyre. Continental's goal is to develop and produce tyres that specifically meet these challenges, work that will build upon its years of experience developing and manufacturing low rolling resistance tyres.
The MAN CitE is characterised by its ergonomic design with low entry, a consistently flat driver's cab floor and easy accessibility. In addition, the low seating position, large glass surfaces and supporting cameras give the driver a clear view of the surrounding traffic. Developed in just 18 months, the electric truck concept sets standards in terms of workplace ergonomics, safety and sustainability in urban delivery traffic.