Goodyear FACEs the future with new tyre concepts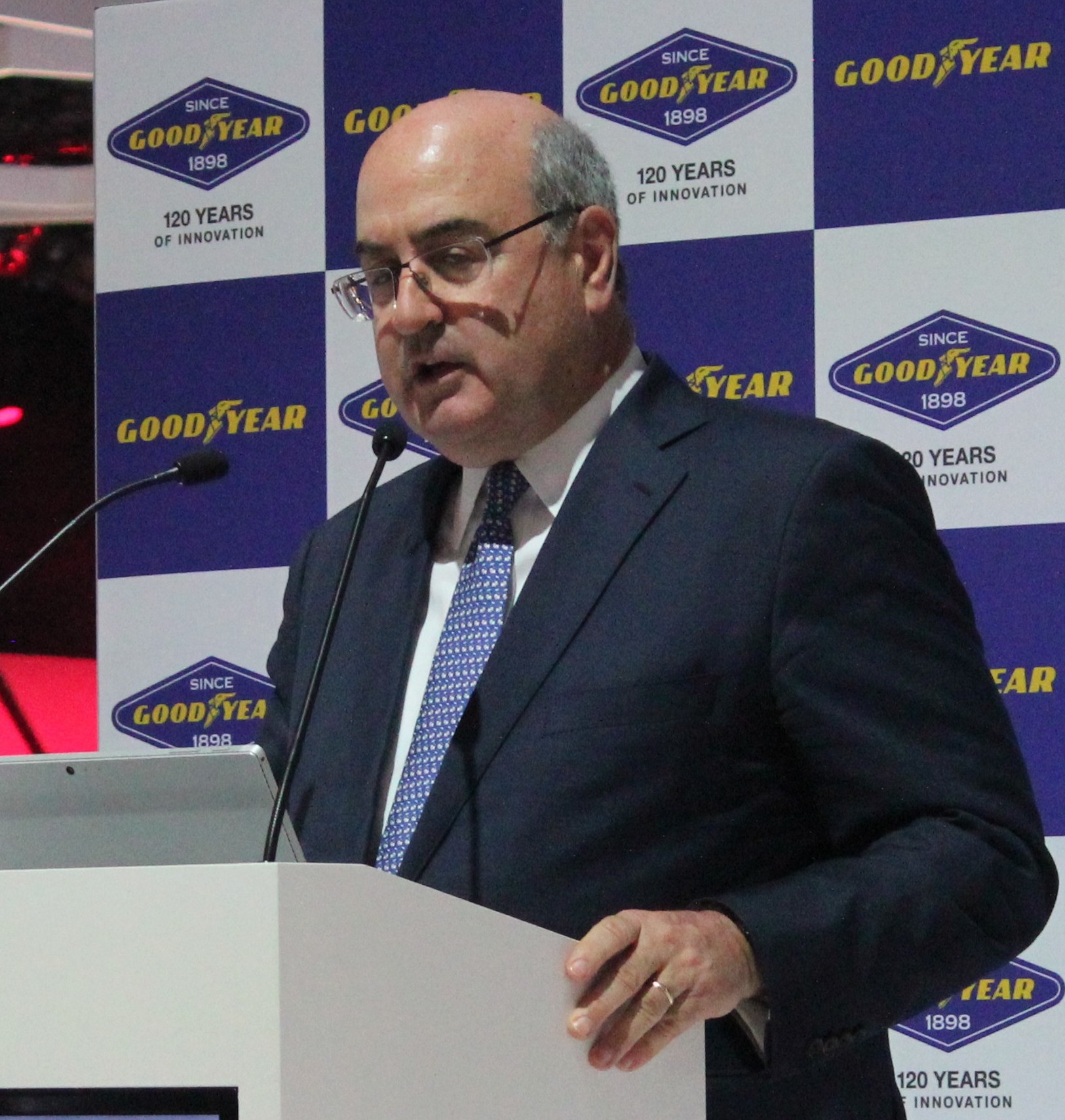 Tyre maker launches photosynthesising and electric drive product ideas in Geneva
Goodyear's latest concept tyre, introduced at the 2018 Geneva International Motor Show in March, once again sees the company look forward in a bid to lead discussions relating to the future of mobility. However, this also has an inevitable impact on the future of the tyre industry – which is where Goodyear's FACE (Fleet Autonomous Connected Electric) acronym comes in. More on that later. First, the headline grabbing products – the Oxygene and the EfficientGrip Performance with Electric Drive Technology.
The Oxygene is a truly concept product as much about starting discussion as it is about going into production – whether now or at any point in the future. Still, its beauty is in the "concepts" behind its overarching grand design. It features a unique structure that incorporates living moss growing within the sidewall. This open structure and the tyre's tread design absorb and circulate moisture and water from the road surface, allowing photosynthesis to occur and therefore releasing oxygen into the air.
This particular feature is a nod to the reality that both governments and the car industry alike have been handling challenging issues relating to air quality in recent months and years – not least the infamous VW emissions scandal, which led to so-called real-world emissions tests being introduced in the UK. The fact remains, according to the World Health Organization (WHO) at least, more than 80 per cent of people who live in air pollution-measured urban areas are exposed to air quality levels that exceed WHO limits.
With more than two-thirds of the world population expected to live in cities by 2050, the demands on transport networks in urban environments will increase substantially," said Chris Delaney, president of Goodyear Europe, Middle East and Africa (EMEA). "Smarter, greener infrastructure and transport will be crucial in addressing the most pressing challenges of urban mobility and development."
Oxygene absorbs moisture from the road through its unique tread and literally inhales CO2 from the air to feed the moss in its sidewall and release oxygen via photosynthesis. In a city similar in size to greater Paris with about 2.5 million vehicles, this would mean generating nearly 3,000 tons of oxygen and absorbing more than 4,000 tons of carbon dioxide per year.
Sound like a pipe dream? Maybe. But during an interview with Chris Delaney in Geneva (roughly six months after he took over as Goodyear EMEA president), Tyres & Accessories learnt that the tyre maker has already tested various varieties of heat and drought resistant moss.
The Oxygene also features a non-pneumatic construction that is 3D-printed with rubber powder originating from recycled tyres. The lightweight, shock-absorbing structure is designed to provide a long-lasting, puncture-free solution intended to extend the life of the tyre and minimize service issues. In addition, the tyre's open structure is there to improve wet grip by helping absorb water from the tread.
but the EfficientGrip Performance prototype with Electric Drive Technology (right) will roll out during the next year or so
Generating its own electricity
The Oxygene concept takes regenerative energy concepts to the next level of sustainability and harvests the energy generated during photosynthesis to power its embedded electronics, including on-board sensors, an artificial intelligence processing unit, and a customizable light strip in the tyre's sidewall that switches colours, warning both road users and pedestrians of upcoming manoeuvres, such as lane changes or braking.
Furthermore, Oxygene uses a visible light communications system, or LiFi, for high-capacity mobile connectivity at the speed of light. LiFi enables the tyre to connect to the Internet of Things, allowing vehicle-to-vehicle (V2V) and vehicle-to-infrastructure (V2I) data exchange, which is critical to smart mobility management systems. Again some of the details of this may sound fanciful, but they are rooted in science that is not that far from production. Sure, light-speed LiFi data connections are some way off, but cloud-connected vehicles sharing big data with each other's driver assistance systems (DAS) is a present day reality at more than one manufacturer.
However stimulating this year's ideas are, you could be forgiven for asking how they coherently fit together and what they mean for the supply chain. For example, both the 2017 and 2018 concept videos were noticeably robotic, while human interaction was noticeable by its absence. And you have to ask how the various concepts fit together, with both the Eagle 360 spherical tyre shown last year and the Oxygene looking futuristically at a similar timeframe. And, considering that the former is based on spherical tyre design and the latter something more conventional, the two cannot easily co-exist in even a predicted future. "It is about what is possible…it is about challenging thinking", Delaney explained, adding that the Eagle 360 did its job:
"Like the concept designs Goodyear has presented at Geneva in the past, Oxygene is meant to challenge our thinking and help drive the debate around smart, safe and sustainable future mobility. By contributing in this way to cleaner air generation, the tyre could help enhance quality of life and health for city-dwellers."
EfficientGrip Performance with Electric Drive Technology
The EfficientGrip Performance prototype with Electric Drive Technology is Goodyear's latest step in developing tyres that meet the specific demands of Electric Vehicles. Unlike the concept products discussed up till now, the EfficientGrip Performance with Electric Drive Technology is not just a concept, but rather a prototype tyre for the growing electric vehicle market that will be on the road by 2019 in Europe.
Goodyear testing reveals that traditional tyres can wear out up to 30 per cent faster on electric vehicles due to the powerful, instant torque from electric motors and the additional vehicle weight from heavy battery packs.
"The combination of increasing regulations to reduce emissions, the desire to reduce dependence on fossil fuels, and rapid gains in battery technology is creating an ideal environment for electric vehicles," Chris Delaney explained: "We are working with automakers to introduce our Electric Drive Technology next year designed to address the unique performance requirements of this growing vehicle segment."
In addition to tyre durability requirements, carmakers are pressing for enhanced rolling resistance on electric vehicles. Increasing range is a high priority for consumers due to an underdeveloped electric recharging infrastructure in most countries. Quiet and comfort from tyres is another consideration as, at low speeds, electric vehicles generate as little as half the amount of noise as traditional vehicles.
To address these challenges, the EfficientGrip Performance prototype with Electric Drive Technology offers these performance solutions:
Extended Mileage from Innovative Tread Design: The tread's thinner sipes allow for a larger rubber contact patch on the road surface than traditional radial grooves. With more rubber on the road, the tyre can better cope with high levels of torque while maintaining high performance in wet conditions. The tread design also prevents sound waves from entering its grooves, reducing interior and exterior tire noise.
High-Load-Carrying Construction: The tyre cavity shape has been optimized to support the additional vehicle weight from batteries while maintaining an optimal tread footprint for high performance.
Extended Driving Range: The material properties of the tread compound have been tuned for ultra-low rolling resistance to extend the vehicle range while coping with high levels of torque. In addition, the sidewall has been designed to reduce aerodynamic drag and the profile yields less rotating mass, resulting in reduced energy consumption.