Magna Tyres Group: 'world's fastest growing OTR tyre company'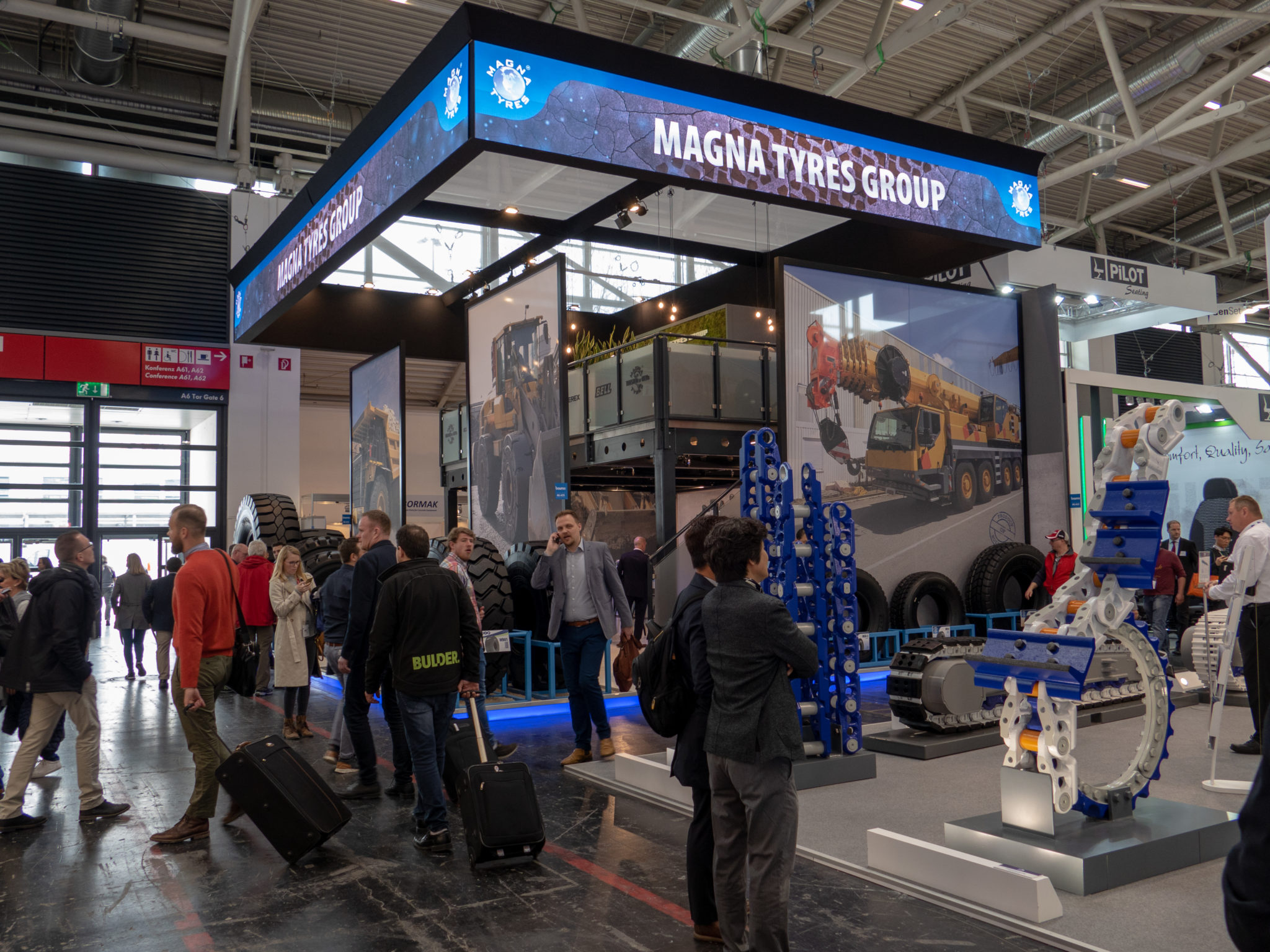 Magna Tyres Group's Bauma 2019 exhibition was used by the Dutch company to demonstrate its fast-growing position in the OTR tyre segment. Exhibiting its products, including 18 OTR, port, industrial, and truck tyres, from a two-level stand with a 30m screen, the show was also used as the platform for the official launch of its new construction range.
The new Magna construction range introduces 11 new tyres intended for a broad range of construction equipment. The company said it received a "massive influx of interested visitors," including customers and dealers. "The positive feedback from the visitors was encouraging and it will be only a matter of time before a large part from the construction industry is running on premium quality Magna Construction tyres," the company stated.
Michael de Ruijter, CEO of the Magna Tyres Group, commented: "Bauma 2019 is the event what it is all about for construction industry. Magna Tyres achieved what it set out to achieve with its appearance in Munich; we once again left an unforgettable impression and have shown our continuously increasing premium quality tyre range to the global construction industry.
"Visitors from all over the world found their way to our stand. It was overwhelming, extremely intensive, but above all a very successful event including many good conversations with customers, leading OEM manufacturers, and partners. Additionally, new major opportunities have emerged on which we will focus in the coming period. The year 2019 will result in a record year for the company in terms of turnover and profitability, including strong order books and a continues growth for the next coming years."
Latest Magna OTR tyres
Magna has introduced several new OTR products since the beginning of the year, including the Magna M-SKID2 and M-SKID4 for skid-steer loaders.
The reinforced sidewalls and nylon casing on the M-SKID2 offers many improvements, including more stability and a longer lifespan. Thanks to the technical improvements on the sidewalls, the tyre also allows for more load bearing performance and can handle a single load of up to 4565kg with pressure of 4.85 bar. The M-SKID2 will be available in the sizes: 5.70-12, 23X8.50-12, 27X8.50-15, 10-16.5, 12-16.5, 14-17.5, and 15-19.5.
The M-SKID4 has been designed with skid-steer loaders in mind that have to perform in tough conditions. Its casing, which contains nylon, helps the tyre increase various performances. The tyre also has good efficiency characteristics, helping to boost fuel consumption and price per hour, as well as improving load capacity. The tyre is available in a mixture of popular sizes.
The new Magna MR400 IND is suitable for backhoe loaders and telehandlers on any terrain. The MR400 IND has a radial design which includes a specially designed steel belt and unique compound. Both these properties provide an extended tyre life even under the harshest of circumstances. Superior protector plies applied to the MR400 IND boost load performance as well as operator comfort. The deep tread and traction pattern together improve performance and offer excellent self-cleaning properties, increasing the diversity of its application.
The MR400 IND is available to order in the following sizes: 17.5L(460/70)R24, 19.5L(500/70)R24, 540/70(21L)R24, 400(405)/70R24, 400(15.5)/80R24, 440/80(16.9)R28, 480(18.4)R26.
The New Magna M-RIGID is designed for rigid dump trucks. The radial constructed earthmover tyre is available in 27.00R49 / 33.00R51 / 40.00R57, with an E4 tread pattern designed to operate in the most demanding off-road conditions, including mining operations. It offers a balance of tyre performance and comparatively low purchase price, helping to reduce its cost price per hour.
The Magna M-RIGID has big rigid lug blocks that offer the traction and durability required in the most severe surface mines. The tread pattern design contains four major characteristics: weight reducing cut outs on the tread blocks and lugs, to reduce heat build-up and improve tyre life; a circumferential groove to improve steering control for enhanced heavy-load cornering performance and improved heat dissipation; interlocking shoulder blocks to reduce excessive movement during cornering, to reduce heat build-up, and to enhance operator comfort and tyre life; and an optimised contact patch to give even wear and higher tread life.
The M-RIGID is designed for modern RDT's such as Caterpillar, Komatsu, Terex and Hitachi, and is available from May 2019.