Trelleborg Wheel Systems introduces latest tyres, solutions at BAUMA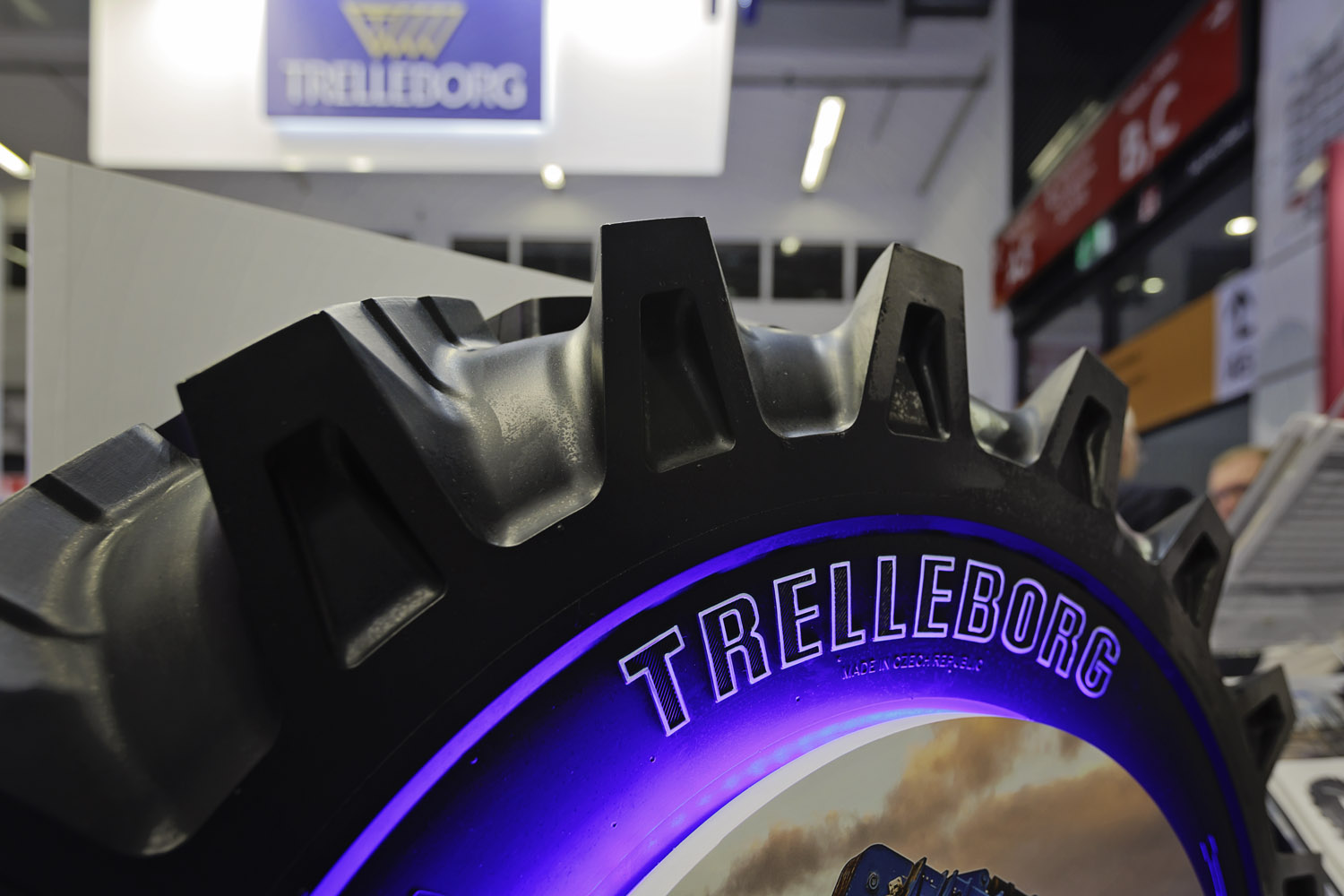 Phoenix TPMS system provides construction and mining industry with new cloud-based system
Trelleborg Wheel Systems has introduced its newest tyre range and systems to enhance productivity in critical OTR applications. The manufacturer's EMR, Earthmover Radial Series, was displayed at BAUMA in two sizes: 29.5R25 EMR 1030 and 17.5R25 EMR 1025. The range is designed to perform and to enhance productivity in construction applications, increasing both damage protection and durability. Its multi-surface tread design provides control and perfect grip on sand, rock, gravel or soil. It joined the multipurpose bias tyre, the MPX TB construction pneumatic designed for telehandler and compact loader applications in the most demanding environments.
Lorenzo Ciferri, VP marketing & communications at Trelleborg Wheel Systems, explains: "The introduction of the new EMR range stands as a key milestone for Trelleborg in the construction tyre industry. In all tyre segments that Trelleborg is operating in, our ambition is to become the customer's first choice, providing them with solutions that are truly able to accelerate performance in a sustainable way.
"The strong full-steel radial pneumatic carcass of the EMR tyre, as well as its advanced compound, assure long life. In addition, it offers equal load distribution for a comfortable drive while keeping fuel consumption low."
Designed for loader and dumper applications, the EMR range consists of 22 sizes from 24 to 33 inches and is suitable for open pits and quarries, underground mines, as well as general construction.
The new Trelleborg MPX TB range has a unique lug design delivers excellent self-cleaning and grip on muddy surfaces. Now available with increased load capacity for heavy duty applications, the MPX TB is also ECE 106 approved to meet European safety regulations.
Ciferri added: "The construction industry is changing fast with increasing focus on predictive maintenance, safety and machine performance, with the scope of reducing vehicles downtime and increasing the efficiency of the operations. Tyres play a fundamental role in the overall machine performance. Therefore, we want to offer our customers a game-changing solution to ensure that the abovementioned targets will be achieved, having all data under control through full connectivity."
Trelleborg Phoenix TPMS System
Visitors to this year's BAUMA construction and mining machinery trade fair were amongst the first to see Phoenix TPMS, a new cloud-based system for construction tyres from Trelleborg Wheel Systems. Trelleborg claims its Phoenix TPMS will "enhance productivity in critical applications and to make the operator's life easier in the most demanding environments."
Phoenix TPMS integrates tyre sensors, a central gateway on the machine and on-line platform to fully monitor fleet operations and optimise machine uptime.
"The construction industry is changing fast with increasing focus on predictive maintenance, safety and machine performance to reduce vehicle downtime and increasing operational efficiency," says Lorenzo Ciferri, vice-president of marketing & communication at Trelleborg Wheel Systems. "Tyres play a fundamental role in overall machine performance; therefore, we want to offer our customers a game-changing solution to ensure that the aforementioned targets will be achieved, having all data under control through a full connection.
"This is why we decided to develop the Trelleborg TMPS system: Phoenix," Ciferri adds before explaining the choice of name: "In Egyptian mythology, whoever received the gift of the Eye of the Phoenix had the power to predict future events. The tyre solution designed by Trelleborg, inspired by this myth, has the capacity to prevent failures and improve maintenance plans as well as the ability to precisely control in real time tyre pressure and temperature."
Phoenix allows operators to measure pressure and temperature every five seconds, providing instant access to vehicle status and monitoring data through a computer or mobile devices. Thanks to the full connectivity and cloud data transmission, the operator can benefit from automated email notifications in emergency situations and personalized vehicle warnings. Each sensor is mounted on the tyre with a resistant patch, which guarantees an easy installation. The battery of the sensor has an average life of five years.
The system is available in nine languages and can be configured on all machine models.
Trelleborg displays new industrial tyre compounds
Marking another of TWS's global innovations, three new Trelleborg industrial tyre compounds were shown at the ProMat 2019 show in the USA. Trelleborg Wheel Systems says all are designed to provide users with increased productivity, safety, sustainability and value. The compounds are: ProTEX, an electrically-conducting, non-marking compound; ProHD – a heavy duty compound for increasing load capacity; and Heat Shield – a flame-retardant super premium compound.
We first saw ProTEX at the CeMat exhibition in Germany last year. ProTEX is an electrically-conducting, 100 per cent non-marking compound that is engineered for use on materials handling applications operating in potentially explosive environments. Compliant with EN1755 safety regulations and safer than fixed earthing strips, the ProTEX compound allows for material handling equipment to be used safely in applications where this is flammable gas, vapor, or dust. ProTEX is also available with the Pit Stop Line feature, the Trelleborg Wheel Systems unique innovation that indicates to operators and fleet managers when it's time to replace tyres.
The new heavy-duty compound, ProHD, is designed to boost operational efficiency by increasing the load capacity by as much as 15 per cent for material handling applications. ProHD also increases driver safety as it is engineered to enhance truck stability and prevent overloaded tyres from cracking or melting. Restricting heat build-up in the tyre, the ProHD improves fuel economy/battery life. Like ProTEX, ProHD is also available with the Pit Stop Line feature.
The new flame-retardant Heat Shield tyre compound is designed to withstand the highest temperatures, eliminating the need for expensive tyre protection chains used in applications in the metal processing industry. Trelleborg says users will realise significant savings by eliminating downtime associated with the fitting and maintenance of chains. Suitable applications for Heat Shield include wheel loaders, aluminium tapping vehicles, bath tapping vehicles, cavity cleaners, crust breakers and furnace charging vehicles.