Made in Holland: Magna Tyres starts production at reopened Obo factory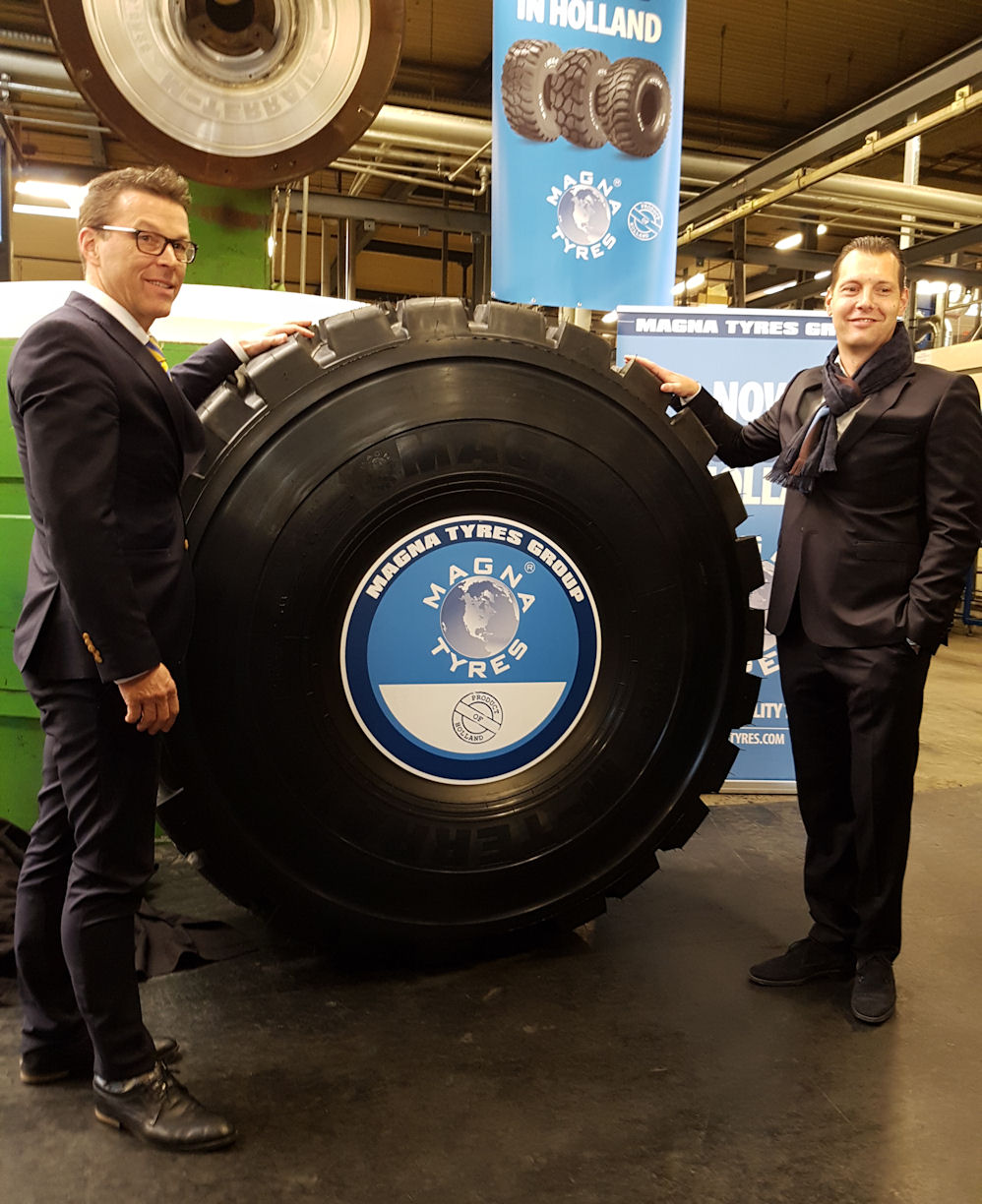 European manufacture of certain products in the Magna Tyres range began last week at the company's Obo Tyres plant in the Netherlands. Tyrepress.com was there and will report on the reopening of the Obo site as well as Magna's plans for the facility, but the headline news is that three Magna Tyres products will now be made in Holland. These are the Magna MA02 in size 29.5R25, Magna M-Terrain in size 26.5R25 and a new tyre line, the Magna AG24 in size 24R20.5.
The new Magna first tyre out of the mould at the facility in Hardenberg was an M-Terrain. This was unveiled by Michael de Ruijter, chief executive officer of the Magna Tyres Group, together with Hardenberg municipal alderman René de Vent on the afternoon of 11 January.
The 29.5R25 Magna MA02 is an E3+ / L3+ tyre and is designed for wheel loaders, dumpers, scrapers and bulldozers. It features a wide shoulder area to increase the contact surface and thus provide more traction. The rubber compound, which is used for all Magna OTR tyres, offers protection against cuts and abrasions and also minimises tread wear. Magna Tyres says the reinforced shoulder and sidewall protection offers excellent resistance against impacts, while the all-steel radial casing and belt layer construction contributes to improved comfort and heat build-up resistance, thus longer service life.
The 26.5R25 Magna M-Terrain is an E4 tyre with a deep and robust profile, designed for heavy dumper applications in day mines, excavations, scrap processing sites and use in underground mines. The same wide shoulder area that is so characteristic of the MA02 is also found in the M-Terrain and provides grip in challenging off-road conditions.
The 24R20.5 Magna AG24 is the progressed development of the OBO Transport HD. The profile has been developed in collaboration with professional end users and is said to offer an optimum balance between comfort, long service life and low rolling resistance. The tyre features an open shoulder design with 24 mm tread depth and continuous rubber in driving direction in the centre. The casing offers a load capacity of 7,500 kilogrammes at 65 km/h, which Magna Tyres comments is the highest in its class. Whereas the OBO Transport HD was available as a retreaded tyre, the Magna AG24 is only available as a completely new tyre – a retreadable tyre, of course.