Continental considering delivery robots to accompany autonomous pods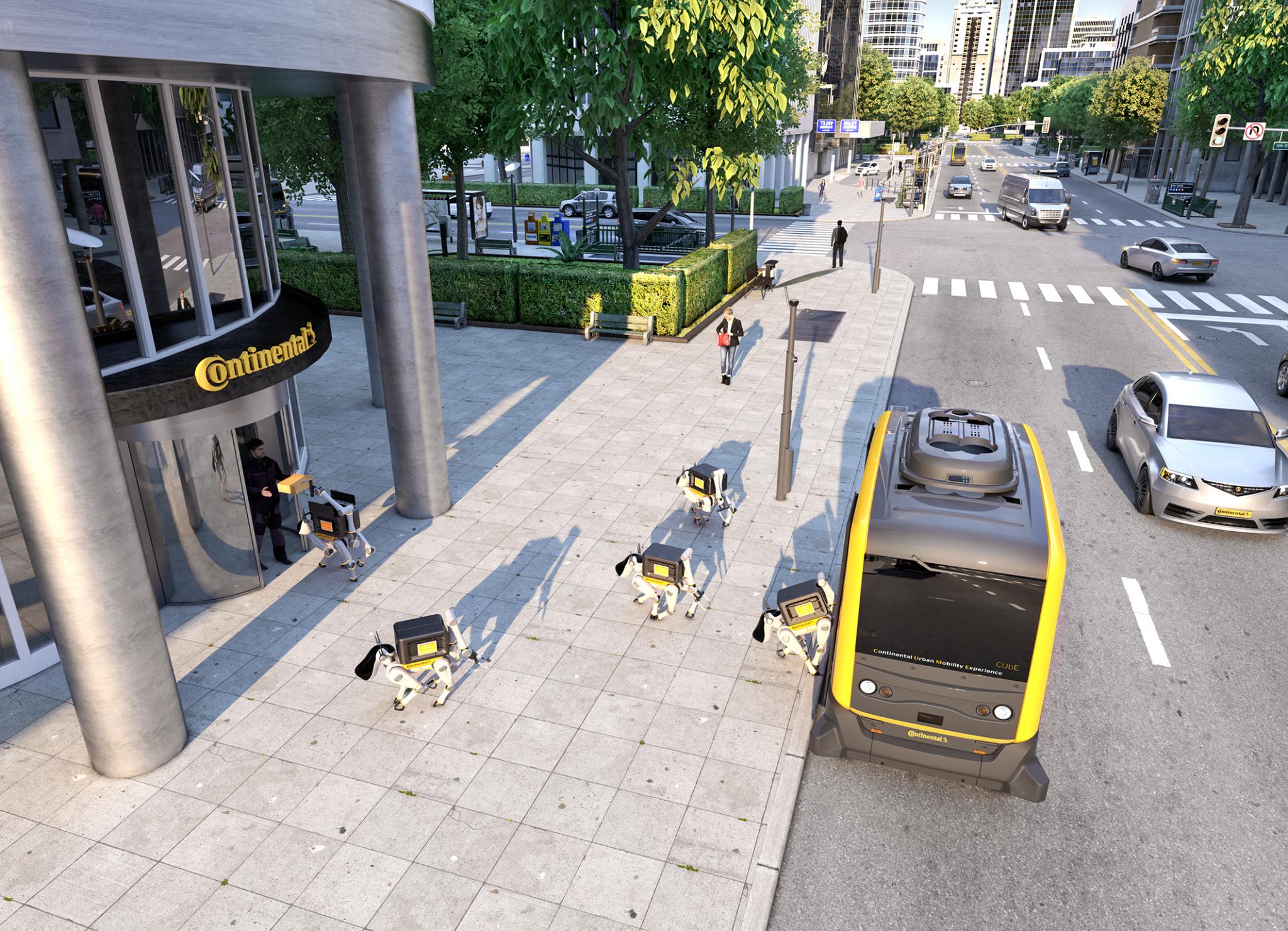 During the CES 2019 technology show in Las Vegas, Continental is exhibiting how a driverless vehicle could be paired with a robotic delivery hound. No it's not 1 April, but do think "deliverwoof".
According to the company, the integration of a driverless vehicle – in this case, the Continental Urban Mobility Experience (CUbE) – and a delivery robot present a more effective and efficient distribution of goods. The CUbE, Continental's autonomous electrified development platform, is generally considered as a solution for urban "first or last mile" mobility. Conti estimations show "the need to transport goods will
even outpace the strongly growing need for people transport in densely populated areas".
"With the help of robot delivery, Continental's vision for seamless mobility can extend right to your doorstep. Our vision of cascaded robot delivery leverages a driverless vehicle to carry delivery robots, creating an efficient transport team," said Ralph Lauxmann, Head of Systems & Technology, Chassis & Safety division, Continental. "Both are electrified, both are autonomous and, in principle, both can be based on the same scalable technology portfolio. These synergies create an exciting potential for holistic delivery concepts using similar solutions for different platforms. Beyond this technology foundation, it's reasonable to expect a whole value chain to develop in this area."
In short, Continental views automated goods delivery as "an integral part of future urban mobility as an addition to conventional goods delivery". The CUbE can carry one or multiple delivery robots and deploy them to handle the last yards of the goods and parcel delivery logistics chain.
"Industrializing the automation of goods delivery requires reliable, robust, high-performing and best-cost technology – a mix perfectly reflected in the automotive equivalent of automation. It is this very profile of expertise that has made Continental one of the industry-leading suppliers of advanced driver assistance systems and vehicle automation," Lauxmann said.