EU publishes definitive anti-subsidy and updated anti-dumping rates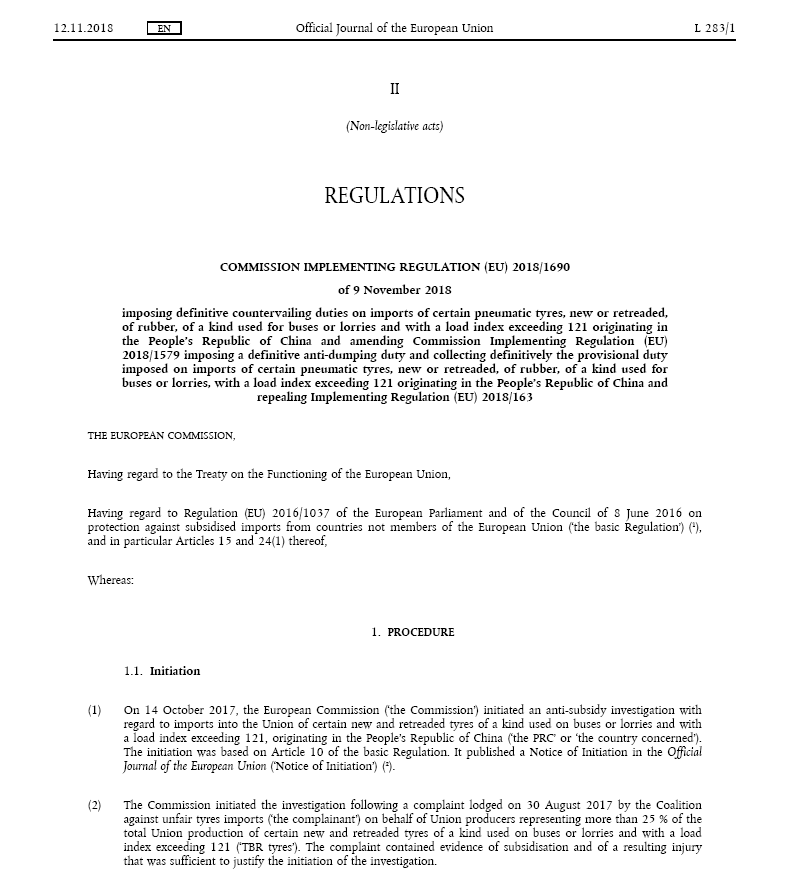 The European Union has published its definitive decision relating to anti-subsidy duties imposed on Chinese-produced truck tyres imported into the continent. This follows the EU's final decision on anti-dumping duties, which was released on 18 October 2018. In short, the latest document (which runs to well over 120 pages) demonstrates how large subsidies have supported some Chinese tyre makers. However, it doesn't mean the overall per tyre rate importers have to pay will change.
According to both legal and executive sources connected with the discussions as well as industry sources, the final financial impact of both anti-dumping and anti-subsidy measures will be equal to the financial impact of the dumping measures announced 18 October. In order to achieve this, the latest announcement sees the anti-dumping part reduced in the latest announcement by an amount equal to the anti-subsidy part introduced today.
The goal throughout the process has been to achieve a consistent "injury elimination level".  On 18 October this was done through anti-dumping measures only, now it is achieved through the combination of anti-dumping and anti-subsidy (otherwise known as countervailing) measures.
As the document itself says in somewhat labyrinthine language in paragraph 929:  "The anti-subsidy investigation was carried out in parallel with an investigation concerning the anti-dumping measures, limited to the injury elimination level. In view of the use of the lesser duty rule, and the fact that the definitive amounts of countervailable subsidies expressed on ad valorem basis are in some cases lower than the injury elimination level, the Commission will impose the definitive countervailing duty at the level of the established definitive amounts of countervailable subsidies and then impose the definitive anti-dumping duty up to the relevant injury elimination level."
In other words, anti-dumping rates have been reduced to account for anti-subsidy rates. And therefore the overall injury remedy remains the same.