EU begins registering Chinese truck tyre imports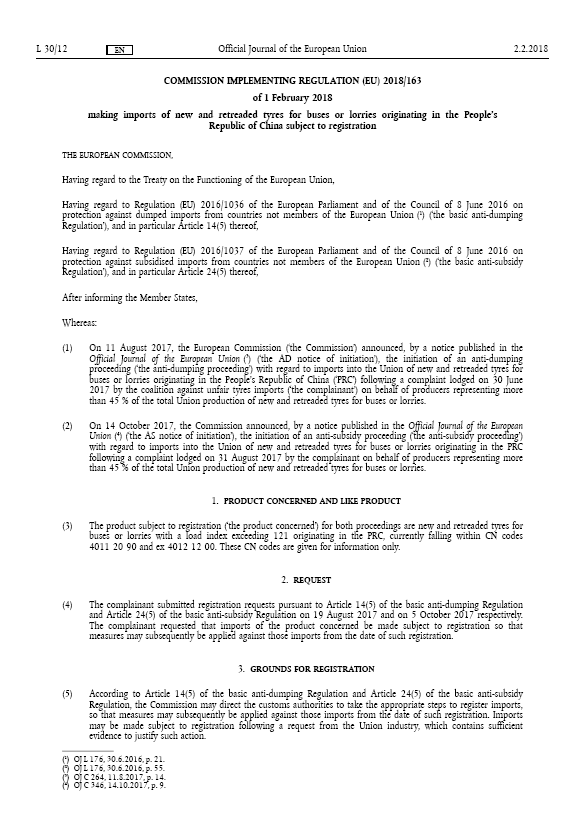 On 1 February the European Commission began implementing regulation (EU) 2018/163, making imports of new and retreaded commercial vehicle tyres originating from China subject to registration. The news follows the initiation of anti-dumping proceedings on 11 August 2017 and anti-subsidy proceedings on 14 October 2017.
According to the commission, the purpose of registration is that, "should the investigation result in findings leading to the imposition of anti-dumping and/or countervailing duties, those duties can, if the necessary conditions are fulfilled, be levied retroactively on the registered imports in accordance with the applicable legal provisions."
The allegations in the initial antidumping complaint estimate an average dumping margin of 74 – 152 per cent and an average underselling margin of 26 – 37 per cent for the product concerned.
Explaining its reasons for implementing registration across member states, the commission explained that it has at its disposal "sufficient evidence that imports of the product concerned from PRC are being dumped."
This includes evidence regarding the price and volume of imports showing "a massive increase of imports in absolute terms and in terms of market share in the period between 2013 and 2016. Specifically, the evidence available shows that Chinese exporters have almost doubled the volume of the product concerned imported into the Union, from 2.3 to 4.4 million units (+ 2.1 million units), which resulted in a sharp increase of market share from 13.2 per cent to 20.9 per cent."
It is not yet clear exactly how Chinese tyre registration is going to be implemented across the continent, but it is now clear that it is here, with action relatively swiftly following the initial complaint. Questions of how this will be specifically implemented in the UK – which are further complicated by Brexit – also remain. Chief amongst them is what the duty costs are likely to be and if this will run from 1 February 2018 or be backdated. However, with investigations still underway, the estimated average dumping margin of 74 – 152 per cent and average underselling margin of 26 – 37 per cent are all we have to go on.