Doublestar car tyres on-sale in Carrefour Spain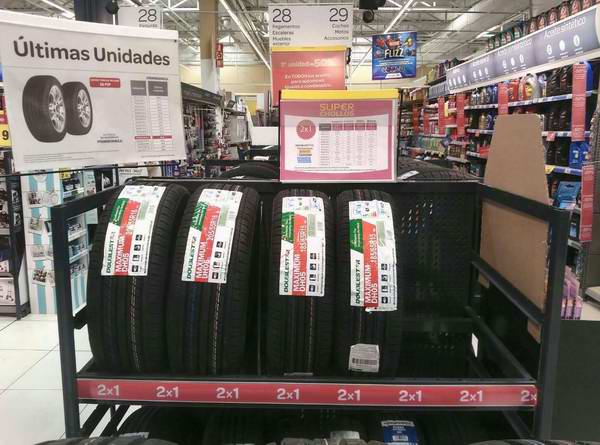 Doublestar Tyres, the new majority shareholder of Kumho, recently announced that its tyres are on-sale alongside premium brands at Carrefour supermarkets in Spain.
According to Doublestar, which compared Carrefour founded in 1959 to Walmart in the USA, the supermarket chain is Europe's favourite. Having pioneered the so-called hypermarket approach in Europe Carrefour has developed into the largest retailer in Europe and the second largest international retail chain group in the world, with business scope covering more than 40 countries and regions. Carrefour owns 17 large chain stores in Spain, which covers the Iberian area and radiates to the whole pan-European region. With an annual population of 400 million, Carrefour is a perfect channel for product sales and a perfect platform for brand exposure.
Therefore Doublestar sees it as something of a coup that its DH05, DH02 and DU01 patterns, covering most of the mainstream specifications of the local market, such as 185/65R15, 205/55R16, 225/45ZR17, are on-sale at Carrefour.
Indeed orders are said to have been so successful that customers are booking ahead as far as the summer of 2019.
At the same time local customers have said they will continue to "increase the Doublestar brand in the local propaganda, [with] timely feedback to the local market" in a bid to make Doublestar "the local leading brand".
The news that Doublestar are on-sale at Carrefour Spain follows a new product launch on 12 September 2018. This reportedly took place at the Hilton Hotel in Frankfurt. Here, the Doublestar team prepared special gifts for customers, signed their names on a Chinese scroll and offered an experience of traditional Chinese culture.
During the course of the meeting, Doublestar representatives shared the strategy of Doublestar overseas in 2019, introduced its best-selling products and newly launched specifications, and "emphatically introduced highly differentiated DSU02 products to create comfortable and silent high-end driving and ride experience for European users."
The conference also saw Bekaert global marketing manager give a presentation on how Doublestar and Bekaert work together as a team.