Suretrac embedding RFID in truck tyres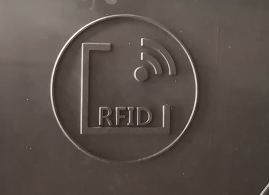 The Suretrac brand, which is manufactured in China by Beijing-based Staridge Inc, reports that it is now embedding radio frequency identification (RFID) chips inside commercial truck tyres and retreads, enabling fleets to better manage their tyre assets throughout the full life cycle.
According to the company, the RFID chips are built into the tyre in "a well-protected area" during the manufacturing process. Unlike other manufacturers, the chips are cured into the product and are not stuck on under a patch after the tyre goes into service.
RFID labels are also said to be used in the mixing process where such labels can be applied on the big bags of chemicals, rubber and an RFID reader fixed on the loader. Again, according to the company, the moment the wrong chemicals are recognized by the reader the loader will stop, and an alarm is activated. As a result accuracy is improved and mistakes are avoided before they occur.
RFID also helps with regulatory compliance. Within the United Arab Emirates (UAE), current law requires individual tyre production data to be directly associated with a car and therefore, an end-user. This can be achieved by bar code or QR code, but is certainly more easily and more accurately achieved with RFID. These regulations are expected to be implemented within a number of other regions too, increasingly the compliance benefit of the technology. Distributors and fleet owners are also increasingly recognizing the value of RFID to support their processes.
As we have seen, the Suretrac name is one of a number of tyre brands manufactured and registered by Staridge Inc, a Chinese tyre manufacture based in Beijing. Staridge representatives report that
Suretrac tyres "meet strict local and international standards, and are sure to satisfy anyone who chooses to take them for a spin!" Suretrac's range includes product designed for passenger cars, SUVs, CUVs, light trucks, special trailers as well as medium and heavy trucks.
Therefore the range includes high-performance tyres, UHP tyres, all-season products as well as all-season light truck tyres and those with all terrain and mud-terrain durability. In addition the portfolio includes tyres with full-sized white sidewall lettering designed for all weather use and an "ever-increasing" selection of steer, drive, all-position, trailer and mixed-service commercial truck tyres.
Products are exported into a number of markets around the world, but appear to have been particularly successful in North America. In the US, Suretrac tyres are sold in some of the largest tyre retail operations going, including Simple Tire and Walmart.