Gary Paffett is 2018 DTM champion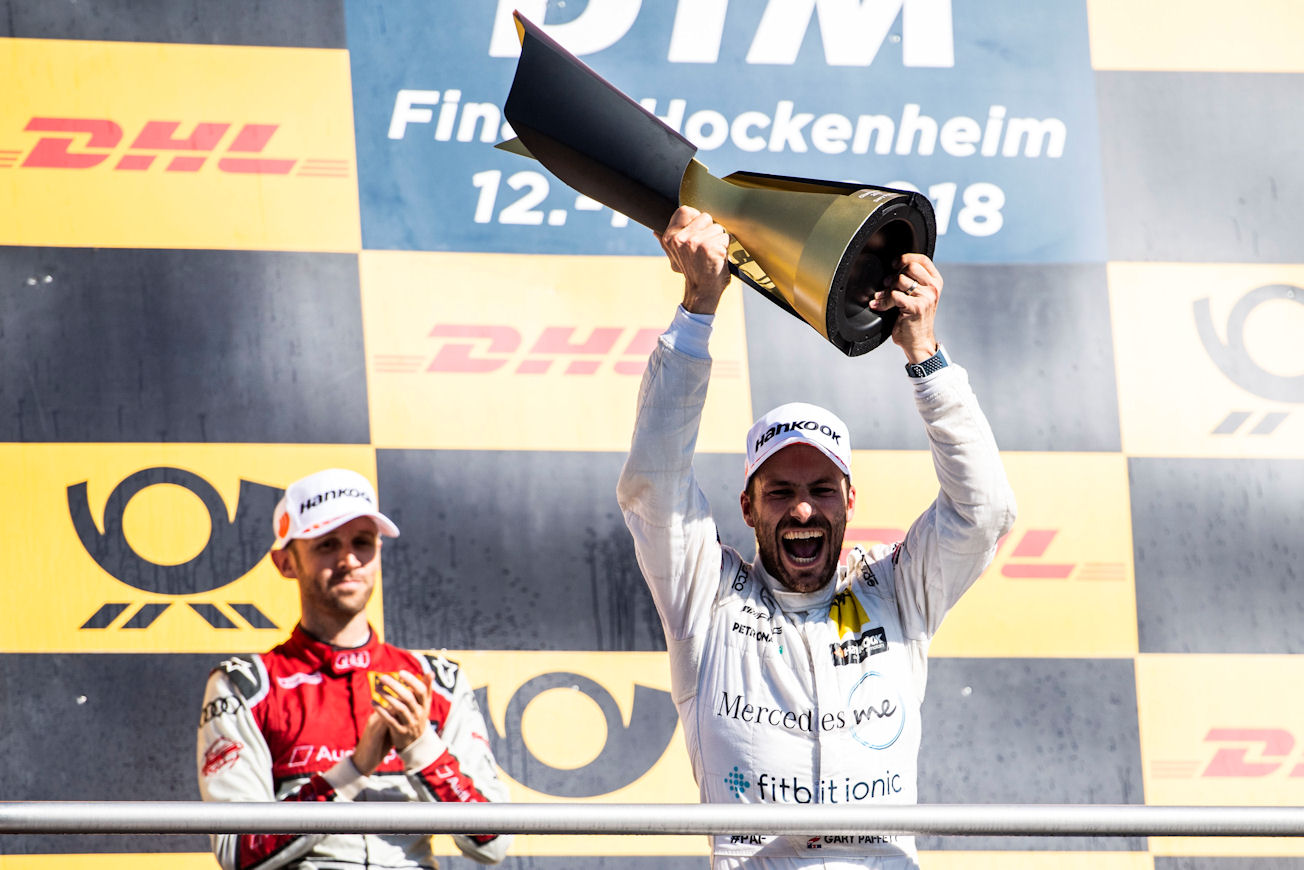 A third-place finish at the Hockenheimring in Germany yesterday sufficed for Gary Paffett to clinch his second DTM title. The British driver ended the season with 255 points, four points ahead of last year's champion René Rast. This year's victory in the touring car championship comes 13 years after Paffett won his first DTM title.
Fans attending the final race of the 2018 DTM season were treated to unseasonably warm autumnal weather. The action began immediately with a lightning-quick start from René Rast; starting from second on the grid, the Audi driver immediately passed pole-sitter Marco Wittmann (BMW). He then defended his lead brilliantly through to the finish. Rast's sixth win in a row saw him climb into second place in the championship, but even with this string of victories he was unable to topple Mercedes-Benz driver Paffett, who started in third before coming in early for a fresh set of Hankook tyres on lap eleven. Paffett would have walked away with the title even had he finished the race in fourth, but after a perfect stop he drove a controlled race and avoided any unnecessary battles for position.
Paffett drove – as did all DTM drivers during every race – on Hankook Ventus Race tyres, and Hankook Tire comments that its rubber "performed flawlessly at the finale in Hockenheim, supporting all the drivers with a lot of grip, high levels of consistency and maximum safety."
"I am overjoyed with my second DTM title. Today is one of the best days of my life," exclaimed Gary Paffett after his victory was in the bag. "The Hankook tyres worked perfectly for us all year in qualifying. We once again had incredible pace on the Hankook tyre in qualifying at the finale here in Hockenheim. It was not easy in the race. We have struggled a little compared to our rivals since the introduction of the minimum air pressure. In the end, however, everything worked out perfectly. Now it is time to celebrate."
Manfred Sandbichler, Hankook's motorsport director Europe, added: "Looking at the season as a whole, Gary is a worthy DTM champion. René made it really exciting in the end, with a great fightback and six wins in a row, but Gary drove a tactically clever final race and, as has so often been the case, produced a flawless drive. The spectators have enjoyed a spectacular 2018 DTM season, which was a great advertisement for motorsport and, in particular, the DTM. The Hankook race tyre contributed to this. It supported the drivers perfectly from the first race to the last and allowed individual race strategies. We are already looking forward to next year and more high-class DTM racing on Hankook race tyres."