Vacu-Lug begins manufacturing Hankook's Alphatread range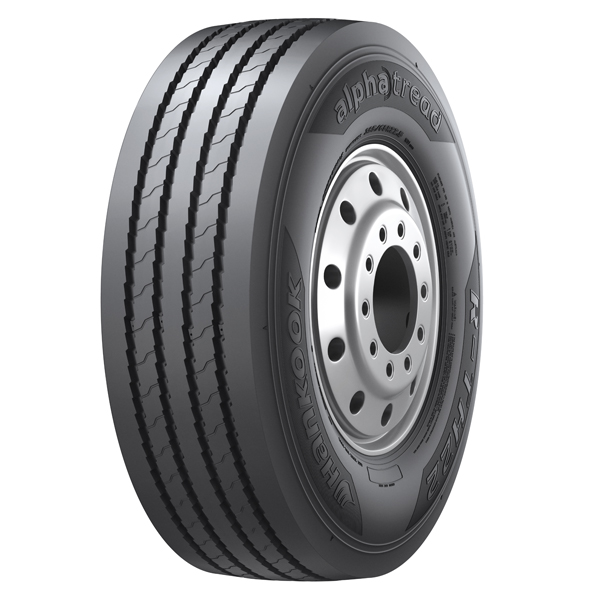 Vacu-Lug has begun production of Hankook's Alphatread truck tyre range at its factory in Grantham, Lincolnshire. The bead-to-bead retread tyre range is designed for medium haul fleets, and consists of four sizes. For drive axles, the R-DH05 is available in 295/80R22.5, 315/80R22.5 and 315/70R22.5 and for trailer axles, the R-TH22 is available in 385/65R22.5.
The R-DH05 pattern mirrors Hankook's existing DH05 pattern. Its compound provides high levels of wet and dry performance and stability, and more even wear. Its new tear-resistant tread design also helps to reduce the chance of delamination.
The Alphatread range is constructed using Hankook's first-life A1 grade tyres only. It has been designed to meet customer demands for reducing fleet running costs and to provide end users with a 'cradle to grave' tyre solution.
As the UK's leading independent retread tyre manufacturer, Vacu-Lug produces to the same ECE109 standards as that of new tyres. As a leading proponent of retreading, the company states that operators can considerably reduce their fleet's tyre expenditure, as well as reducing the effect their transport operations have on the environment.
It adds that the production of a retread truck tyre requires 68 litres less oil than that of a new tyre, while the Vacu-Lug factory is working constantly to reduce its carbon emissions. The company has invested heavily in reducing its energy use with a 16 per cent reduction in electricity use and a 14 per cent reduction in gas use within three years.
"With many uncertainties within the tyre market at the moment, there has never been a better time to invest in a retread tyre. We are pleased to be working closely alongside Hankook to assist them with developing their own retread range, which will ultimately save operators money and benefit the environment for all," says Tim Hercock, managing director at Vacu-Lug.
Read more about Vacu-Lug's new Hankook Alphatread deal and other recent news from its appearance at the CV Show 2018 here, or in the June Retreading Special supplement with Tyres & Accessories magazine.