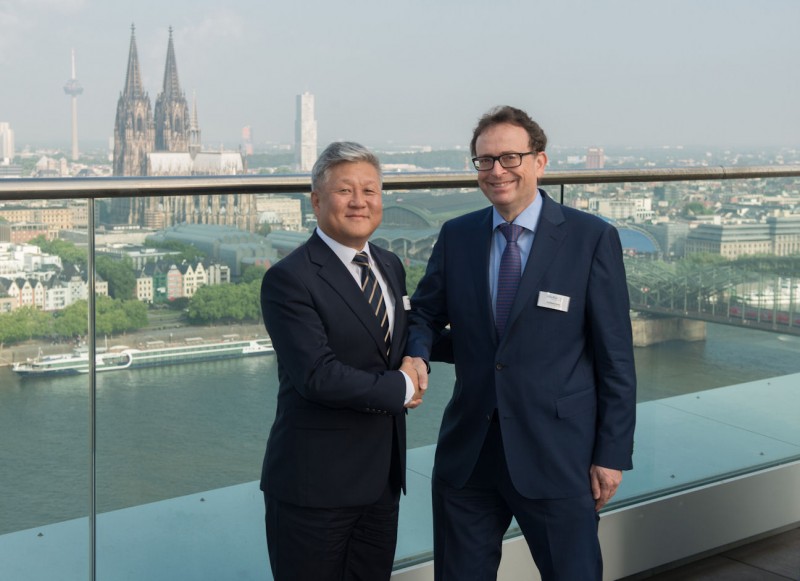 (l-r): Hyung Nam Kim, CTO Hankook Tire und Dr Matthias Gotta, head of global marketing & sales within Arlanxeo's TSR unit
A Memorandum of Understanding (MoU) covering the co-development of synthetic rubber technologies has been signed between Hankook Tire and Arlanxeo. Under the terms of the MoU, the two companies will jointly study and develop new high-performance synthetic rubber grades and applications, with the aim of increasing tyre performance from the early stages of product development.
This new agreement builds upon the strategic technical partnership that commenced between Hankook Tire and Lanxess, 50 per cent partner in the Arlanxeo joint venture, a decade ago. Lanxess began supplying materials such as solution styrene butadiene rubber (S-SBR) and neodymium performance butadiene rubber (Nd-PBR) to Hankook Tire in 2008. They two companies signed a MoU in 2014 to expand and collaborate on the development of core synthetic rubber solutions for high-performance tyres.
"Continuous R&D efforts and investments were made to further solidify Hankook Tire's position as a global top tier company," states Hyung Nam Kim, chief technology officer of Hankook Tire. "The strong relationship with Arlanxeo has been great and will continue to result in great technological advancement between the two companies."
"This new agreement strengthens our long-standing trustful co-operation with Hankook Tire," said Jorge Nogueira, chief executive officer of Arlanxeo. "As before, we will continue to assist Hankook Tire as a reliable partner to develop its market position as key global tyre maker with innovative high-quality products."
Category: Company News