Ronal displaying new products, technologies at The Tire Cologne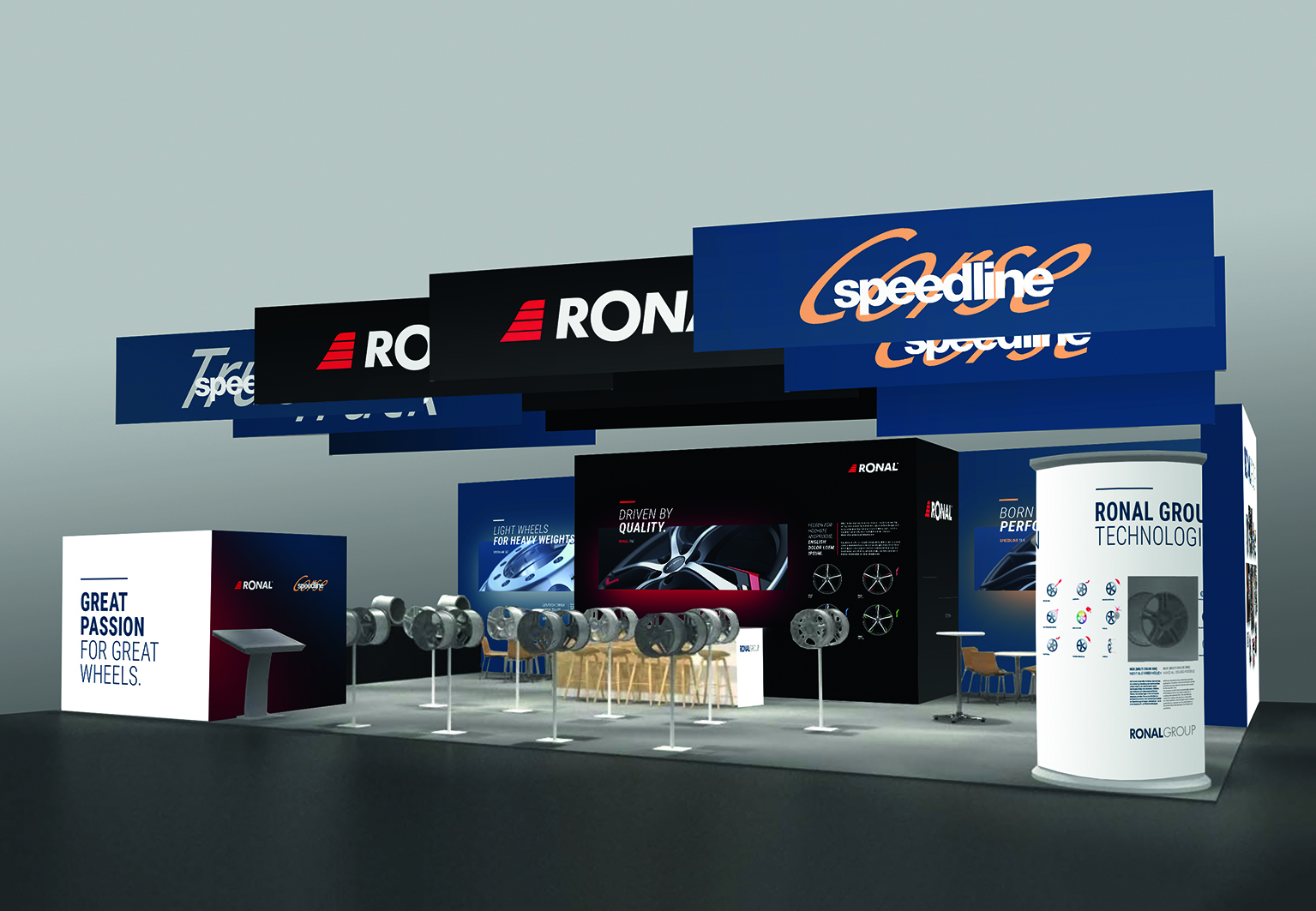 At its 150 square metre exhibition space (Hall 7.1, Stand A010/B011), the Ronal Group will present products from its Ronal, Speedline Corse and Speedline Truck ranges, including a trio of new additions to the portfolio. These newcomers are the Ronal R64 and R65 as well as the Speedline Truck SLT 4015.
The first of these is a light commercial vehicle rim designed for use with heavy payloads. It will be available in a 17-inch, five-hole fitment with silver-front diamond cut and jet black matt-front diamond cut finishes. The aim with the Ronal R64 is to offer a very robust rim that also features an aesthetically pleasing design; Ronal comments that the R64 is the "perfect enhancement" for compact vans and all-terrain vehicles.
The Ronal R65 is initially available in 16- and 18-inch sizes with silver and jet black matt finishes. The design consists of five slim double spokes that extend to the edge of the rim flange – Ronal describes the styling as "elegant and dynamic." The wheel manufacturer reports that the R65 is an "easy-care" rim, particularly suited to winter use.
For commercial vehicle operators, the company is introducing the Speedline Truck SLT 4015 for tractor units and trailers. Measuring 19.5 x 8.25-inches with an 8×275 mm mounting hole and ET 146, it is available in 26, 30 and 32 mm bolt hole diameters. The new Speedline Truck wheel has a load capacity of 3,150 kilogrammes as a single wheel, and 2,900 kilogrammes in a twin wheel configuration.
Another focal point at the Ronal stand will be colour patterns and technologies. Ronal says the stand will be "ablaze with colour" thanks to the red, blue and green version of the Ronal R62 as well as the recently-introduced Speedline Corse SL6 Vettore in bronze and multicolour variants. In addition, the numerous technologies used in aftermarket and OEM manufacture will be showcased. These range from flow forming and MCR (multi-colour rim) to the Smart Core innovation that debuted with the Ronal R63 towards the end of last year.