Chinese truck/bus tyres: EU introducing anti-dumping duties tomorrow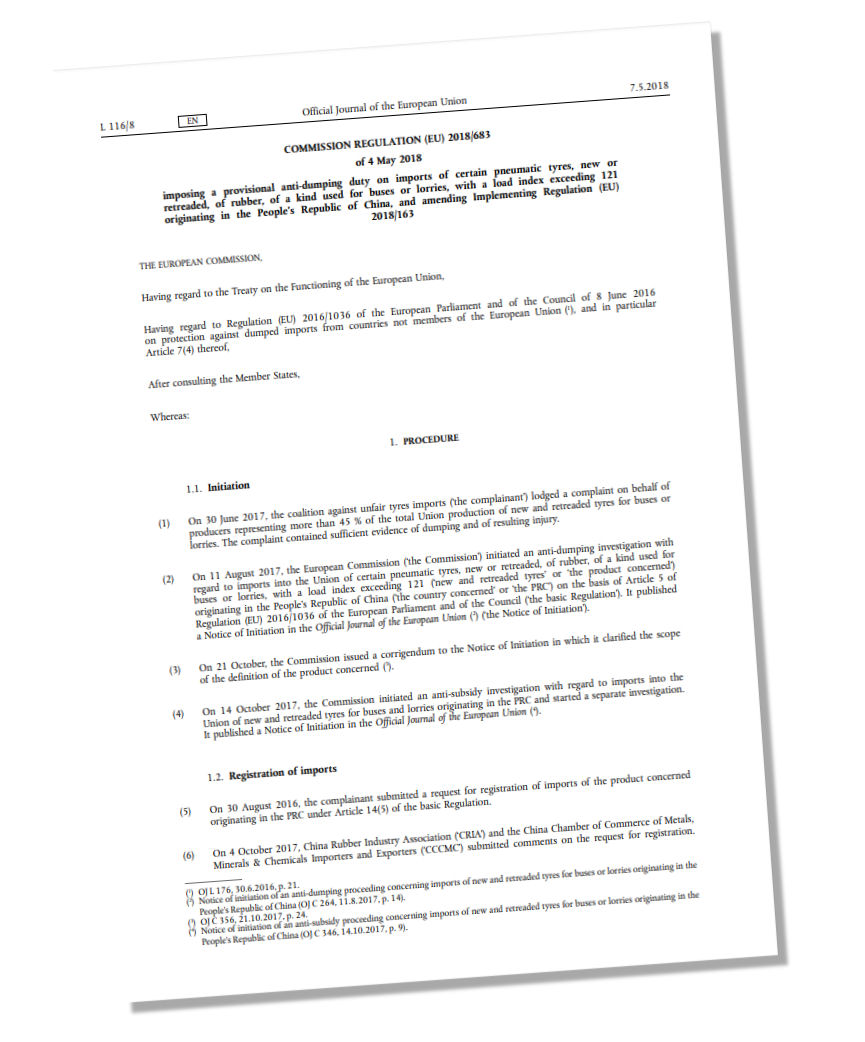 As of tomorrow (8 May 2018), the European Union will apply anti-dumping duties to certain Chinese-made truck and bus tyres entering the European Union.
The Official Journal of the European Union (Volume 61) published this morning states that as per Commission Regulation (EU) 2018/683 of 4 May 2018, provisional anti-dumping duties of between 52.85 euros and 82.17 euros per tyre will be levied on new and retreaded tyres for buses or lorries with a load index exceeding 121, currently falling within CN codes 4011 20 90 and ex 4012 12 00 (TARIC code 4012120010) and originating in the People's Republic of China. The Regulation enters force the day after the Official Journal's publication and shall apply in all member states for a period of six months.
The European Commission opted to introduce fixed, per unit anti-dumping duties rather than ad valorem or percentage duties as it considered that penalising companies with an ad valorem rate of duties creates an incentive for companies to sell the lower end of their product mix, a move that would place additional pressure upon the tier three market sector here in Europe. "It is precisely that tier of the market which needs the most protection against fierce unfair competition," the Commission noted in Regulation (EU) 2018/683. By the same reasoning, ad valorem duties may have discouraged imports of higher-priced tier one and tier two tyres, thereby robbing Europe's retreading industry of retreadable casings.
The lowest rate of duties is 52.85 euros, and this rate applies specifically to tyres coming from two Hankook Tire factories in China. Truck and bus tyres produced by Giti Tire in China will be charged duties of 57.42 euros per tyre, while tyres made by "cooperating Chinese exporting producers" – including plants operated by Bridgestone, Goodyear, Michelin, Toyo and Triangle Tyre – will be levied at a rate of 62.79 euros per tyre. Pirelli products and other tyre brands made by ChemChina companies will attract duties of 64.13 euros per tyre, while the highest levy of 82.17 euros will be applied to products from Xingyuan Tire Group and "all other companies."
Any party seeking facts regarding the Regulation, wishing to submit written comments or wanting to request a hearing can do so within 25 days of the Regulation coming into force.
Commission Regulation (EU) 2018/683 can be read in full here.