Yokohama announces 2018 motorsports programme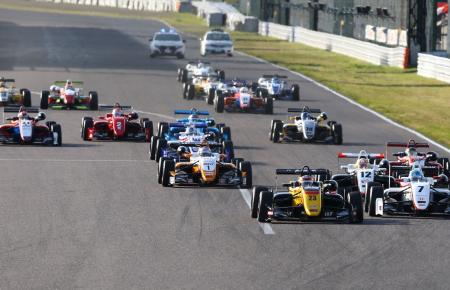 The Yokohama Rubber Co., Ltd. has announced its plans for supporting motorsport events in 2018.
WTCR
The tyre maker has served as tyre supplier to the World Touring Car Championship since 2006 and will continue acting in this capacity for its successor series, the FIA World Touring Car Cup (WTCR). Yokohama Advan A005 tyres will be supplied in size 250/660R 18 for use on dry tracks and the Advan 006 in the same size for running in the wet. In addition to the WTCR, Yokohama Rubber will support numerous other racing series using TCR regulations in 2018, including regional series such as TCR Europe and TCR Middle East, and national series, such as TCR UK, TCR Portugal, and TCR Benelux.
Other touring car races
Yokohama will again supply Advan racing tyres to participants in a number of touring car races held around the world, such as the VLN Endurance Championship (including the ADAC Zurich 24h Race), the Porsche GT3 Cup Challenge USA, the Ultra 94 Porsche GT3 Cup Challenge Canada, and the Inter Proto Series in Japan.
Formula Races
Yokohama's Advan racing tyres will be used as control tyre for the Japanese Super Formula Championship for a third consecutive season. This year, Yokohama Rubber will supply two difference specs of tyre, a medium-compound and a new soft-compound tyre. The control tyres are the same as used last year, the Advan 005 for dry tracks and Advan A006 for the wet. Sizes also remain the same – 250/620R13 at the front and 360/620R13 for the rear.
Yokohama Rubber is continuing the relationship it began with the Japanese Formula 3 Championship in 2011 and is supplying its Yokohama Advan A005 and A006. The supplied tyre sizes are 200/50VR13 for the front and a 240/45VR13 rear tyre.
Japan's Super-FJ Formula racing series is a domestic regional championship that Yokohama has supplied its Advan tyres to since 2010. It will continue to do so this year.
Super GT
Super GT races are contested in two classes, GT500 and GT300. GT500 is dominated by works teams from major automakers while GT300 teams tend to be more varied and individualistic. GT500 machine specifications are being brought in line with the regulations of the Deutsche Tourenwagen Masters (DTM) series that began in 2014, and since 2017 all racing teams must enter machines that meet the new regulations, including reduced downforce. GT300 races feature competition by a variety of cars made in Japan and overseas.
In this year's GT500 races, Yokohama Rubber will again support the teams it sponsored in 2017 – Kondo Racing's Forum Engineering Advan GT-R, Lexus Team WedsSport Bandoh's WedsSport Advan LC500, and Team Mugen's Motul Mugen NSX-GT. In the GT300 class, it will sponsor numerous teams, including last year's champion, Goodsmile Racing & TeamUKYO. In this class, teams running on Yokohama tyres won two consecutive titles.
Rally
For the Japanese Rally Championship, teams will be provided with a range of tyres centring on the Advan A052 for races run on paved roads and the Advan A053 for those run on gravel.
Off-road races
Yokohama will again supply its Geolandar SUV tyres to teams participating in off-road races around the world, including the desert races in North America and the Asia Cross Country Rally in Southeast Asia.
Kart racing
Teams competing in the OK class of the All Japan Karting Championship, the country's premier kart racing series will be supported; this year, five teams will race on Yokohama tyres. In addition, Yokohama will again support the FP-Junior Cadets category of the Japanese Junior Karting Championship by providing the Advan SLJ as control tyre. Yokohama Rubber began marketing the Advan SLJ as a dry-surface tyre for Cadets class karts. Outside Japan, Yokohama Rubber will supply the control tyre for the Asian Karting Open Championship as well as tyres for circuit races in the Philippines and other countries.