Magna: New & retreaded, under the same roof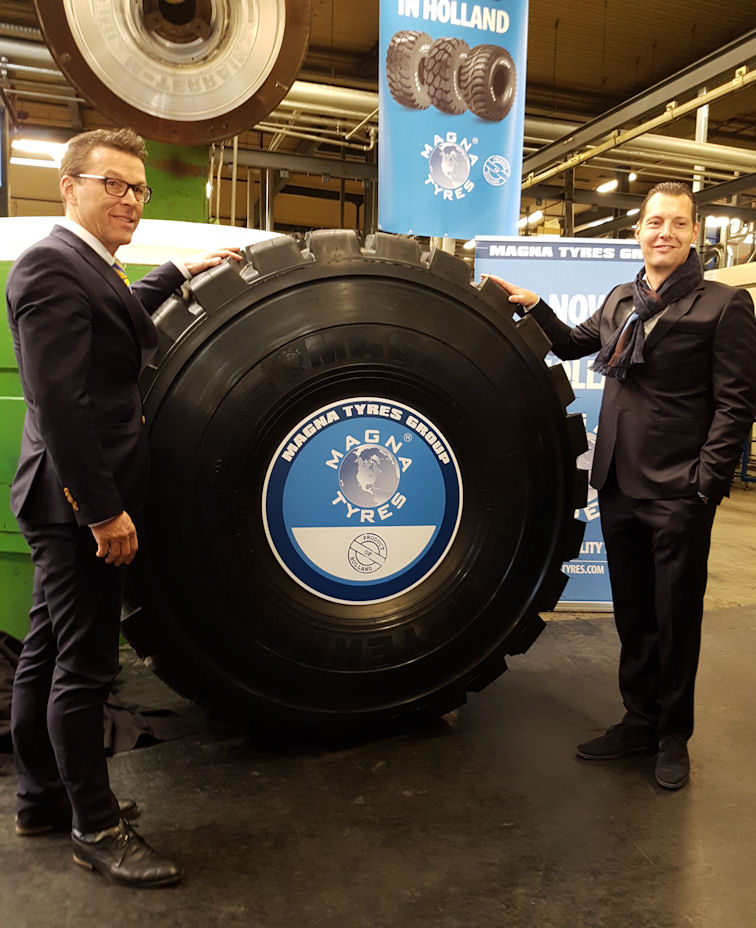 A complaint often voiced by European retreaders is that their margins have been squeezed flat by imports of new tyres, especially products from China. But while many players have redirected excess capacity to Europe in the hope of claiming market share from retreaders, one tyre company has embarked upon a different approach. Instead of shipping its entire product range halfway around the world from the Far East to Europe, Magna Tyres Group has begun making some of its tyres within our region – and has teamed up with a retreader to do so.
The retreader is Obo Tyres, a company that several years ago reached a point where – in the words of its general manager, Peter Schrijver – "it had to make a choice for the future." Pressure from new, low-cost tyres upon the traditional European retreading model had driven Obo to retreat into niche markets and to reduce costs wherever possible. Schrijver opines that holding onto that business model "wouldn't have ensured continuity" for Obo Tyres.
Enter Magna Tyres Group, which agreed to acquire the retreader in late 2016 and integrated Obo Tyres into its organisation the following January. With the new owner came a new vision. At a ceremony held on 11 January 2018 to mark the start of Magna production in Europe, chief executive officer Michael de Ruijter reminisced that Magna Tyres began life in 2006 with two employees – and with a dream that it firmly held onto for more than a decade: "An obstacle we faced in our early days was customer perception of production in Asia," he elaborated. "People preferred European products, regardless of whether they were better or not. We dreamed of making tyres in Europe but weren't able to at the time. You need millions and millions of dollars to make this happen."
Between 2006 and 2017, Magna tyres were exclusively made in Asia, and with sales on the rise – last year Magna Tyres sold 50,000 earthmoving tyres (20-inch and larger) – the funds needed to realise Michael de Ruijter's dream were finally available. Magna Tyres approached Obo Tyres in November 2016 and proposed purchasing the retreader, and de Ruijter shares that within two days of first meeting Obo Tyres' owner, he was convinced that this acquisition would be his means of establishing a European production base.
Peter Schrijver comments that becoming a Magna Tyres Group company gave Obo a "whole new future direction." Plans were drawn up in the spring of 2017 to entirely re-route production flow within the Obo Tyres plant in Hardenberg, the Netherlands, and orders were placed with Italian machinery manufacturer Italmatic for new, fully-automated buffing and tyre building machines. The latter can make tyres in rim diameters up to 29.5-inches and apply nine to ten kilogrammes of rubber a minute; working as a pair, the machines can reduce per tyre production time by 50 per cent. Both units were installed in December 2017 and entered operation in January.
Re-routing work within the factory building has completely separated the buffing and rebuild phases of production, and Schrijver says this has led to a "great improvement in quality" as well as shorter lead times. Other major investments include those made to install exhaust systems, electrical installations and compressed air facilities in the plant, and this year Magna will turn its attention to the factory's exterior. From the outside the Obo Tyres plant still looks as it did prior to Magna's acquisition of the company, however redecorating is scheduled for 2018.
European production is very cost effective
Casings for the new, Netherlands-made Magna tyres are manufactured in Asia, however the rubber used in production is sourced from Europe and mixed here using European technology to create a compound unique to Magna. The tyres are cured in recently-purchased moulds that have identical profiles and contours as the moulds used in Magna's Asian production. Not all moulds were operational when we visited the Hardenberg plant on 11 January; at least one eight-section mould remained in its packing container, awaiting installation later that month.
New moulds have also been obtained for Obo retreading. With the start of Magna tyre production in the Netherlands, Magna Tyre Group has formalised its strategy of marketing new tyres under the Magna brand name and retreads as Obo products. To reinforce this branding, the previously blank sidewalls of Obo retreaded tyres will be blank no longer. Moulds for these products now feature the Obo logo. As Peter Schrijver shared on 11 January, "from today, Obo retreads also have the appearance of a new quality tyre."
The two-stage technique that Magna Tyres uses for its Hardenberg production is similar to a typical one-stage production process, but Peter Schrijver points out substantial differences in the vulcanisation technology and tread building technology that Magna Tyres uses. He considers the technology used for vulcanising and for opening and closing the presses to be unique.
Magna tyre production in the Netherlands will initially focus upon three specific tyres – the Magna MA02 in size 29.5R25, Magna M-Terrain in size 26.5R25, and a progressed development of the Obo Transport HD tyre, the Magna AG24 in size 24R20.5. Peter Schrijver refers to this trio as "our flagships" and shares that further sizes will be added later in 2018. "This can't be done with existing press capacity, therefore investments in additional press capacity will be implemented soon," he adds.
Schrijver says some people questioned the economic viability of producing new tyres in two stages, especially in the Netherlands, and were surprised by the general manager's answer: "Higher efficiency, lower transport costs and lower import duties make it very cost effective to produce locally here and to invest in more production capacity." A two-shift production system has recently been implemented at the Obo Tyres plant, and Schrijver adds that tests are now underway for a continuous three-shift system. "This would almost double capacity. But first we need orders."
Further capacity growth planned
Not a problem. Orders, notes Michael de Ruijter, are rolling in. "At the moment we could sell more than we can produce," he tells Tyres & Accessories. Although the 50,000 earthmoving tyres his company sold in 2017 represented Magna Tyres Group's highest-ever annual unit sales, the company anticipates a 40 per cent growth in sales in 2018. "That's an astounding number, especially in a global market that may be as small as US$5 billion or even less," comments the CEO. Of course, most of this growth won't be met by production in Hardenberg – de Ruijter says output in Asia will also continue to grow, and this will be boosted by the start of Magna production in Thailand from September 2018.
The official launch of production in Hardenberg was marked by the unveiling of the first tyre to be cured there (an M-Terrain) by Michael de Ruijter and Hardenberg municipal alderman René de Vent on the afternoon of 11 January. Output of new Magna tyres in the Netherlands will reach around 1,000 pieces this year, rising to at least 3,000 to 4,000 in 2019 under a three-shift system operating 24/7. Further ahead, de Ruijter considers an annual capacity of 10,000 tyres in Hardenberg realistic within three to four years. "We have additional equipment coming," he adds. "What we need for growth is presses, and we've ordered new presses for 23-, 26- and 29-inch sizes. These are bigger earthmoving tyres."
With Magna production under way, Michael de Ruijter says "now the only thing we need to do is expand, expand, expand." He concludes: "We have the orders, we have the demand, the prices are right. We're making it cost-efficient – that's the key point. You can produce in the Netherlands, but if your tyre's 50 per cent more expensive, it'll be unsellable. We can sell our tyres." stephen.goodchild@tyrepress.com