ZC Rubber hosts dealer meeting in Thailand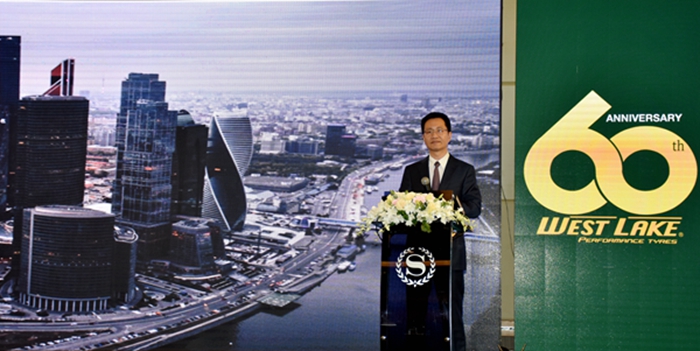 ZC Rubber hosted a meeting for dealers and partners in Bangkok, Thailand on 28 Januaruy. The distributor conference was headlined, "More Progress More Achievement", focusing on improving market share in local tyre markets. Ge Guorong, vice president of ZC Rubber, shared the great achievement in the 2017 that the company's sales revenue was up for 2017, by about 22 per cent.
According to the company, ZC Rubber expanded production capacity for truck and bus radial tyres by 13.6 per cent to 17.2million units a year; its passenger car and light truck tyre capacity 20.7 per cent to 32.5 million units; and its two-wheel tyres 14.6 per cent to 94.1 million tyres.
"Our sales of TBR in 2017 hit a historic record ranking as one of the top global manufacturers and the 32.5 million PLT sales includes 11 million China sales that ranking as number one in China. It is great result for us with the effort of all members of ZC family. Thank you for your support & contribution in 2017," Ge Guorong said.
He also introduced the Thailand factory, which will play an important role in the company's global market expansion, with 4.4 million PCR/LCV tyres and 1.4 million TBR tyres, including improving ZC Rubber's market share in Thailand. In the coming year, ZC Thailand will continue to expand the product lines as well as the capacity for its global customers.
For the development of two-wheel tyre, ZC Rubber' bicycle business revenue increases to over 30 million US dollars. Newly developed SOT tyres are accepted by Mobike and OFO, two of the most popular bicycle sharing companies in China. At present, Mobike is also in Thailand. Furthermore, ZC Thailand 'motorcycle production starts by the end of 2017 to meet the demands of the Asian markets.
ZC Rubber will also support the operation of Auto Space project, including consumer flagship store and commercial flagship store. Now more than ten thousand of the stores have opened in mainland China and in Thailand, two Auto Space stores covering Goodride and Westlake opened last year. "Expansion of the Auto Space… means the improvement of service from tyre manufacturer. ZC Rubber's Auto Space devotes to be the professional, reliable, vigorous express service provider to perfect the service for local customers," Ge Guorong said.