Dunlop adds to hypersport range with D213 GP Pro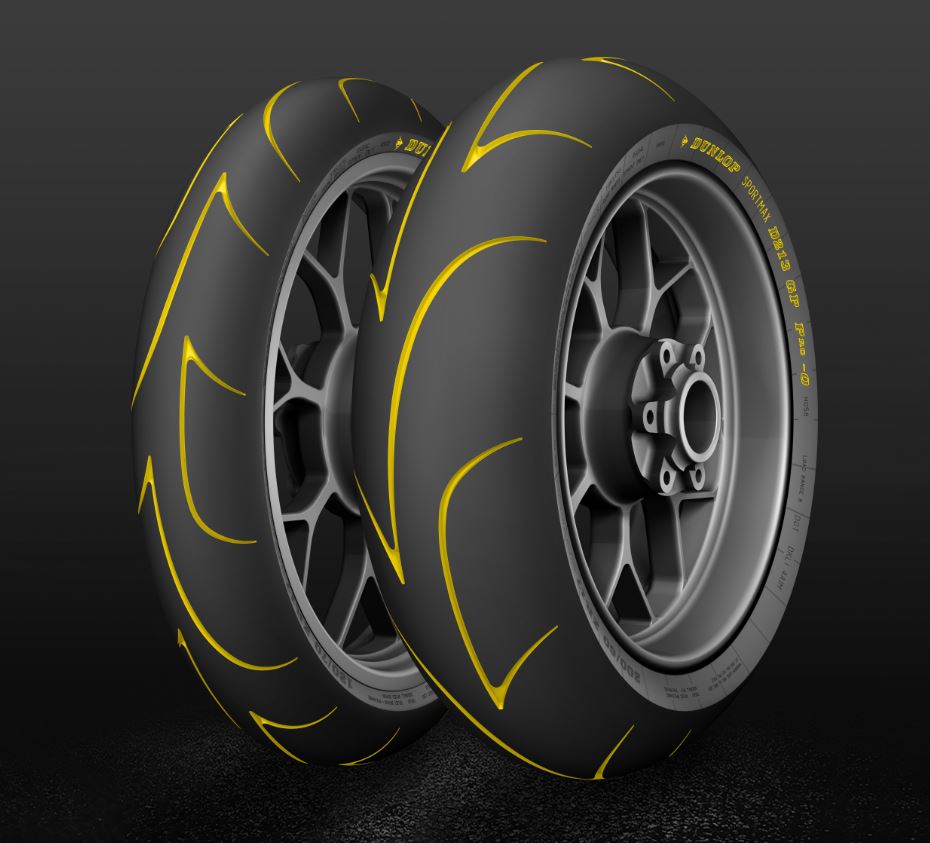 Welcome to the third Dunlop hypersport tyre launch within six months. This latest addition, the all-new D213 GP Pro, has been designed for serious 'pro' riders and is the successor to the Isle of Man TT winning D212 GP Pro. Following a race debut of key sizes and compounds in major motorsport championships, Dunlop has brought forward the introduction of the full range to July.
The tyre maker says the D213 GP Pro is designed for the type of rider who has race team technical support and a full race set-up on their sports bike, and it claims to have introduced a range of new technologies in this latest-generation product.
Front tyre construction
Following successful tests in motorsport, Dunlop has introduced the next evolution of its Jointless belt (JLB) construction to the front tyre. The latest JLB design features three plies that control tyre deformation under high centrifugal forces and when leaning over into corners at speed. This new JLB construction has also been designed to provide additional precision and stability under heavy braking.
The JLB construction has been introduced together with a new front profile shape. This combination of technologies provides a greater contact patch at all lean angles, reduced steering effort and a highly responsive turn-in.
New rear tyre construction & endurance option
The use of Dunlop's JLB continues in the rear tyre construction. Here, the Mono Ply high tensile Aramid JLB provides the benefit of a strong but lightweight casing providing an extremely high level of predictability, feedback and performance consistency.
Dunlop has also added an endurance rear option to the D213 GP Pro range. Lessons gained through tyre supply to the FIM Endurance World Championship were drawn upon when developing the bespoke endurance rear tyre, a fitment that features Dunlop's latest Heat Control Technology in order to increase its resistance to tearing. Heat Control Technology includes a two-layer compound with a strong and enduring outer compound complemented by base compounds which optimise running temperatures in all seasons and track configurations.
Fin-shape pattern with optimised groove angles
Dunlop says the D213 GP Pro's distinctive tread pattern has been designed to optimise warm up times and provide maximum road contact in dry conditions.
Race debut
In the opening round of the CIV National Trophy 600 Championship at Imola, Italy on 22 April, Stefano Casalotti (Yamaha) gave the D213 GP Pro its first championship win. This victory was followed by Kevin Wahr's win on his Yamaha R6 at the first IDM Supersport round of the season at Nürburgring the following month. The tyre is currently being put through its paces in what Dunlop considers the most demanding road race of them all, the Isle of Man TT, after being tested and selected by several leading teams.
Full hypersport portfolio
The launch of three new hypersport tyres in the past six months comes in response to increased segmentation in the hypersport market. The brand's European marketing manager, Andy Marfleet, explains Dunlop's targeting of their all-new range: "The D213 GP Pro is the pinnacle of the road legal range, chosen by the top Superstock and Supersport teams and riders in both circuit racing and road racing. For regular track day riders, we have the new GP Racer D212, which also had a race winning debut in French Superbike last year. For the occasional track rider who uses their bike on the roads, we have also introduced the SportSmart2 Max which combines high performance with impressive road mileage capability. With three newly developed tyres we have the freshest and most innovative range to cater for every type of hypersport rider."