Dunlop launches Geomax MX12 sand and mud tyre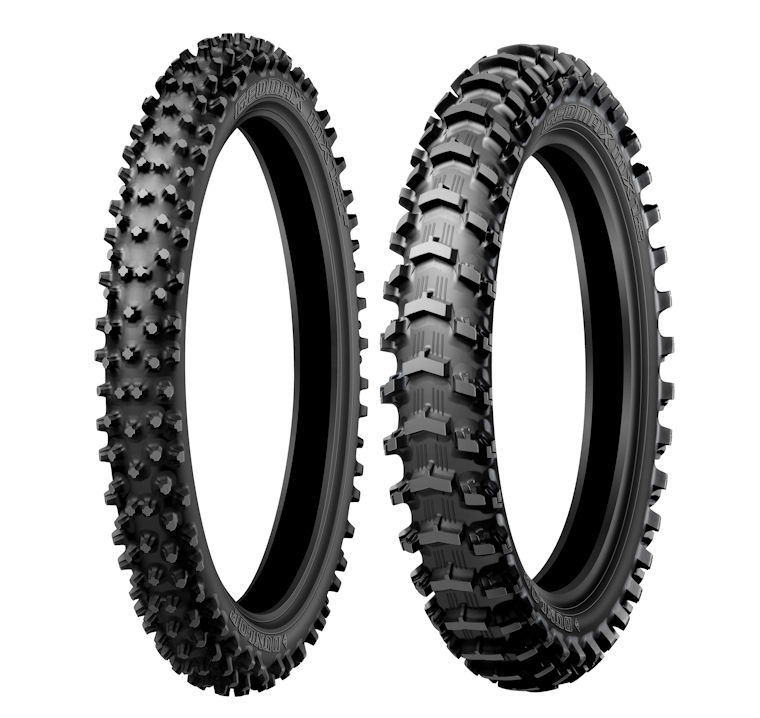 Thanks to experience gained with the Geomax range in MXGP competition, Dunlop says its newest product, the Geomax MX12, benefits from three new design features that deliver a "significant step forward in performance over its MX11 forerunner."
The Dunlop Geomax MX12 is designed for sand and mud conditions, and the three aforementioned design features relate to tread and casing design. First, Dunlop has improved performance in sand and mud conditions by optimising the tyre's profile and pattern; the introduction of new 'V-Block' technology is said to give better traction upon exiting corners and an increased contact patch, helping braking stability.
The second feature is a new tread pattern for tough mud and sand conditions that focuses on enhancing traction and slide control. The rear tyre features 'Progressive Cornering Block Technology', which according to Dunlop provides stable cornering due to enhanced side grip and slide control.
Finally, the tyre's casing has been redesigned in order to improve traction and shock absorbability. The redesign introduced Dunlop's 'Carcass Tension Control System', which creates an enlarged diameter of providing a greater footprint. This, combined with an evolution of the MX11's proven macromolecular polymer, is said to provide high durability.
"Our development work in FIM World MXGP has helped Dunlop riders get to the top step of the podium six times in the last twelve months. In such intense competition, we are always pushing to bring a higher level of performance," comments Andy Marfleet, marketing manager, Dunlop Motorcycle EMEA. "We've included technologies such as Progressive Cornering Block Technology and our latest Carcass Tension Control System to help give riders at all levels the grip, durability and control they need to win in the toughest conditions."
With the launch of the MX12, Dunlop offers a full portfolio of MX tyres. In addition to the new sand and mud tyre, the Geomax range includes the MX3S for soft-to-intermediate terrain and the MX52 for intermediate-to-hard terrain conditions.