Dunlop launches Geomax Enduro EN91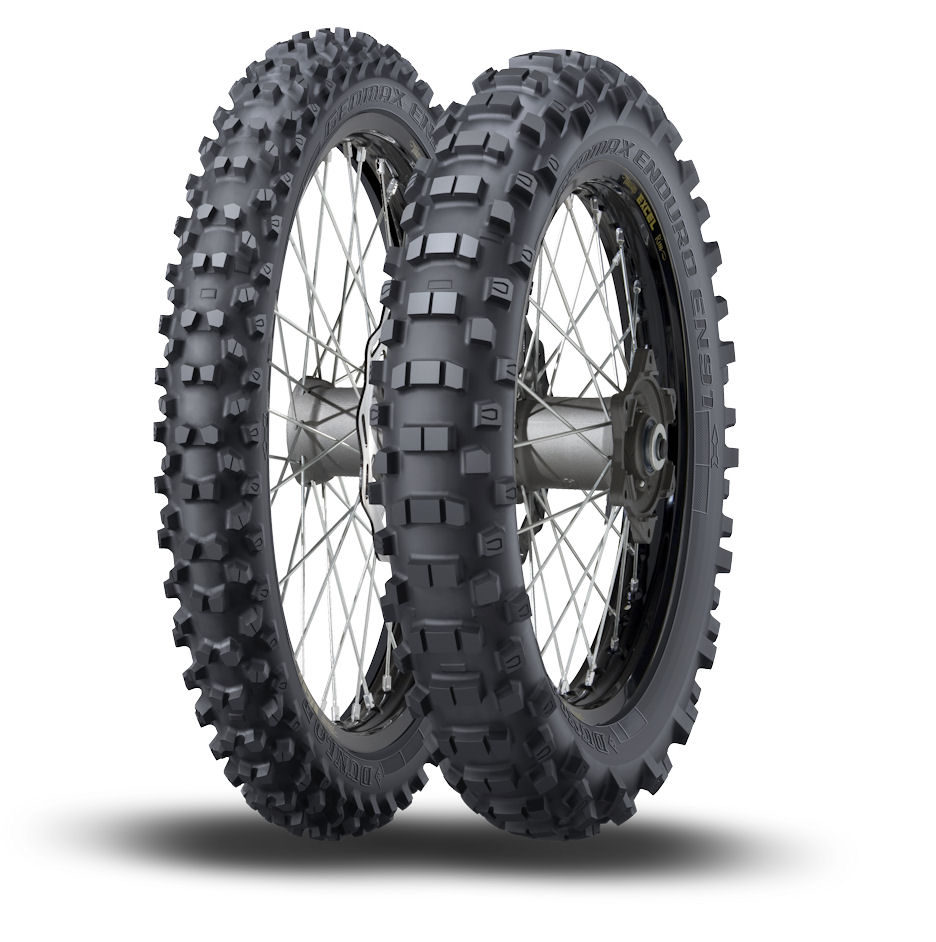 A new generation of Dunlop enduro tyre has arrived. Dunlop says its Geomax Enduro EN91 builds on the knowledge the tyre maker has gained at world championship level to deliver "incredibly versatile performance for a wide range of off-road riders." The EN91 replaces the Geomax Enduro D909.
Enduro racing is characterised by long-distance time trials. The distance covered means a wide variety of terrain will be encountered, so the versatility of the tyre is crucial for success. With the Geomax EN91, Dunlop aims to bring its experience together into a package that offers the highest levels of performance and durability, whether for long-distance leisure rides or professional level competition. The EN91 is also road-legal.
The EN91 features a new tread pattern designed to optimise traction in sand and mud. The front tyre features a shoulder pattern developed to deliver more nimble handling, thereby reducing rider fatigue. The 'Hex Shape Blocks' it uses have additional edges that generated more grip at varying angles. Tilt Crown Block technology was developed for the rear tyre to help provide higher grip on hard terrain, such as rocks. The tilted blocks improve terrain bite, aid directional stability and increase traction by forcing rocks and dirt to gather around the centre of the crown blocks.
Durability is important for long-distance trials. Dunlop has developed a new compound with increased shearing resistance. However, it points out that this durability doesn't compromise performance. By using a high-performance compound with a race-winning pedigree, Dunlop reports it has also been able to significantly improve the rebound properties of the tyre. This helps maximise grip on rocky terrain. Dunlop's Casing Tension Control System has been incorporated into the construction design. This gives greater compliance on bumps and improves the feedback to the rider.
"We've already had feedback from top riders and teams that the EN91 gives them enhanced performance over a very wide range of terrain," states Luca Davide Andreoni, marketing manager, Dunlop Europe. "It proves that our objective of widening the versatility of the tyre has been achieved. From soft mud to hard rocks, EN91 has the ground covered."
The Dunlop Geomax Enduro EN91 complements the Geomax Enduro Soft D907F which is designed for the softest conditions such as sand and wet mud. Available in 90/90-21 Front and 120/90-18 or 140/80-18 rear, the EN91 goes on sale this month across Europe.