KTM, Husqvarna select Dunlop Geomax MX-33 for 2021 motocross ranges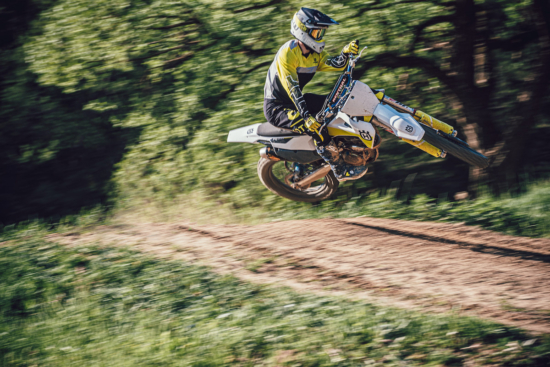 Dunlop's versatile Geomax MX-33 tyre has been selected as original equipment on every KTM and Husqvarna 2021 motocross range. The tyre has proven its race-winning performance in top-level motocross races around the world. Dunlop signed a three-year extension to its MXGP World Championship tyre partnership in February 2020.
The Dunlop Geomax MX-33 will be fitted on all 2021-spec KTM SX bikes, from the flagship KTM 450 SX-F down to the lightweight two-stroke KTM 125 SX and its Sportminicycle range. Husqvarna's full 2021 range also benefits from the wide range of Geomax MX-33 performance, including on the top-level Husqvarna FC 450.
The two leading motocross manufacturers selected the Geomax MX-33 after extensive testing, due to its versatility and performance window. The tyre is designed for soft, mud and intermediate terrains. Dunlop says it can perform on an even wider range of surfaces to give riders an advantage in mixed conditions and more opportunity to push their bike to the limits.
Geomax MX-33 development
Dunlop developed the Geomax MX-33 in close collaboration with riders in the FIM Motocross World Championship. The tyres equipped to KTM and Husqvarna's 2021 ranges are identical to the product trusted by the world's best motocross racers in MXGP.
Its design features a thinner and longer apex shape to provide enhanced stability and feedback coupled with an improved construction to improve shock absorption and more effectively control casing deformation. Dunlop has also proven its Progressive Cornering Block Design across the Geomax product line, and MX-33 was the first tyre in the range to have this technology on the front as well, to help riders control slides and benefit from additional grip.
Geomax MX-33 has gone on to take some of the championship's top riders to several race victories, forming a vital part of Dunlop's motocross range. Dunlop-equipped bikes won five of the last eight 2019 MXGP races and every round of this year's AMA Supercross Championship, as well as supporting Courtney Duncan's FIM Women's Motocross World Championship title win last year.
Miguel Morais, original equipment manager, Dunlop Motorcycle EMEA, says: "We're very proud that KTM and Husqvarna have chosen Geomax MX-33 as original equipment on each of their new 2021 motocross ranges. It's a testament to the unrivalled versatility of the tyre which has been proven by the valuable role it has played in our racing success. We're confident that the technology in Geomax MX-33 will allow KTM and Husqvarna's customers to enjoy their 2021 motocross bikes to the fullest, extracting maximum grip and control, just as our world-class motocross riders do."