Dunlop promises 'multi-surface performance' with Geomax MX33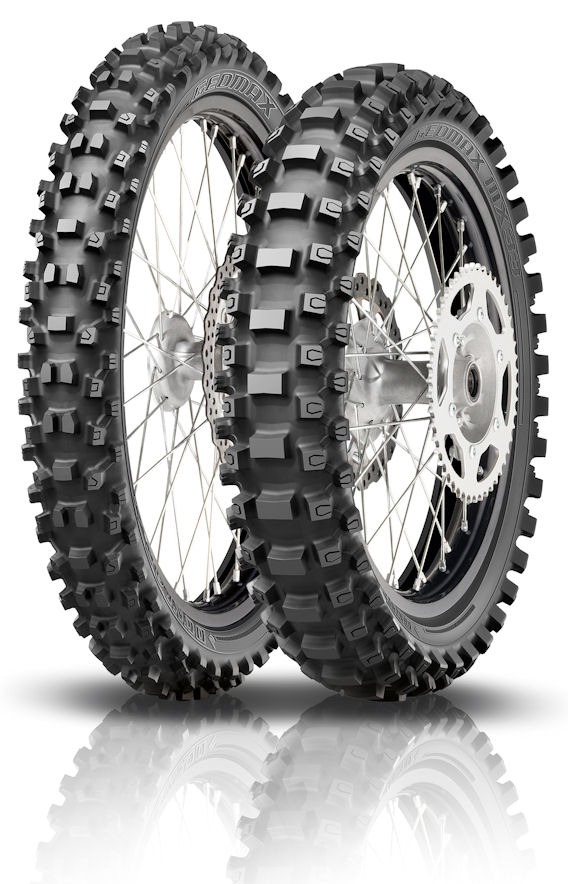 One of the technologies Dunlop race-tested during its engagement in FIM World Motocross Grand Prix Championship (MXGP) last year was an improved tread pattern with tie-bars between shoulder blocks. When coupled with a new block arrangement, this configuration provided higher resistance against cracking when ridden on firm intermediate terrain. Dunlop also found this resistance was further helped by an all-new compound with higher shear resistance. It has now incorporated these developments into a new multi-terrain MX tyre, the Dunlop Geomax MX33.
Other features found in the new range include Dunlop's patented 'Progressive Cornering Block Design'. Sometimes better known as "block-in-a-block technology," Dunlop says this has been proven across the Geomax range and helps riders control slides. It is used in the Geomax MX33 front tyre.
Dunlop says Geomax MX33 performance has been optimised "at both ends of the terrain spectrum." This means that unlike predecessor tyre the Geomax MX3S, which was focused on providing grip in soft conditions, the Geomax MX33 also excels on harder intermediate surfaces. Dunlop reports that this development focus was undertaken to give competing riders an advantage in mixed conditions and also to give regular off-road riders a much more versatile 'multi-terrain' tyre.
Close liaison with top MXGP riders guided Dunlop to focus on improving rider feel, comfort and control on the Geomax MX33. Dunlop shares that it found a thinner and longer apex shape enables the sidewall to deflect evenly when a load is applied to the tyre, thus providing enhanced stability and feedback. Combining this design feature with a more compliant tyre construction gave a better controlled casing deformation and improved shock absorption. Dunlop also included this 'Carcass Tension Control System' to improve rider feel and control. Coupled with the all-new ultra-fine particle compound, Dunlop says it provides much enhanced grip.
"Our success in FIM World Championship MXGP has helped Dunlop riders win at the highest level. But it is a two-way benefit," says Dmitri Talboom, Dunlop Motorcycle Europe product manager. "Top level riders have also given us clear feedback on what they need from a tyre to win. That's why we have focused on widening the versatility of the Geomax MX33 and producing an industry first – a true hybrid tyre for soft and intermediate conditions."
This successor to the Geomax MX3S is available in six front and eleven rear sizes. The launch of the Geomax MX33 rounds out the Dunlop MX tyre portfolio after the Geomax MX12 sand and mud tyre recently joined the Geomax MX52 tyre for intermediate-to-hard terrain conditions.