Nokian CT tyre range extended to five sizes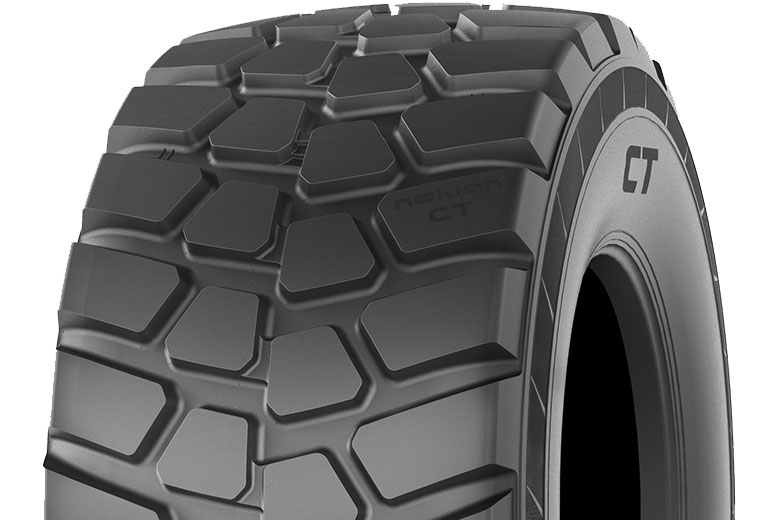 Four new sizes have joined the Nokian Heavy Tyres' CT trailer tyre line-up, complementing the 650/55R26.5 CT tyre introduced at the Agritechnica exhibition three years ago. The new sizes –560/60R22.5, 600/50R22.5, 600/55R26.5 and 600/60R30.5 – are available as of this month.
Nokian CT tyres are designed for extremely heavy loads and demanding agricultural and contracting tasks, and are suitable for a versatile range of uses, high loads and uneven surfaces. "The size of agricultural loads that are being transported these days is really big, both on fields and on the road," comments Tero Saari, project manager at Nokian Heavy Tyres. "In addition to agricultural tasks, customers often perform a wide range of contracting tasks. Traditional agricultural tyres may not be suitable for such extreme use, or it may not be economical to use them due to their fast rate of wear and susceptibility to punctures. This is why we developed our CT range of tyres."
The tyre maker names durability as a key advantage the CT range delivers. Depending on dimension, CT tyres have treads of 22 to 27 millimetres, a depth that Nokian Heavy Tyres notes is "five to 29 per cent more than the corresponding tyres of competitors." Combined with the rubber compound used, this deeper tread depth is said to extend tyre life.
CT tyres have three steel belts under the tread instead of the usual two, which increases load capacity, improves stability and helps prevent punctures. This structure allows the tyres to carry much higher loads than tyres with two belts, even over rocky terrain.
According to Nokian Heavy Tyres, the tyres' contact area on hard surfaces is more than ten per cent greater than similar competitor tyres on the market, which means less soil compaction and greater stability. The greater contact area and solid structure is also said to enhance comfort and safety on roads, where heavy slurry trailers and earthmoving trailers are subject to extreme lateral loads when cornering. The increased contact area also enables a tractor to pull even heavier loads.
The tread pattern features an asymmetric block array that is designed to considerably reduce noise levels. In addition, the tread pattern has been designed for very good self-cleaning as it prevents rocks and soil from accumulating between the grooves.
"We wanted to design a tyre for farmers and contractors that is as reliable and long lasting as possible, making it also the most economical choice. In addition, we wanted to make the tyre as versatile as possible, as our customers are often engaged in a wide range of different tasks, from farming to earthmoving and everything in between," Saari adds.