Yokohama HPT stocks full winter tyre range ahead of UK's cold season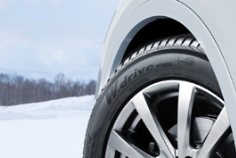 Yokohama HPT says it has stocked one of its most comprehensive winter tyre ranges ever ahead of a season that weather forecasters predict will be the coldest UK winter for 35 years. Available for next day delivery from its central UK distribution centre, the range is suited for drivers of all cars and light commercial vehicles, and is targeted in particular at those who need to guarantee their mobility in the harshest of conditions, such as emergency services, utility companies, community nurses and doctors.
"Our extensive range of winter tyres work particularly well across the entire winter months when the roads are damp and temperatures drop below seven degrees, giving drivers improved levels of safety and mobility," explains David Seward, managing director, Yokohama HPT. "Furthermore, if the latest Met Office forecast through to the end of January is correct, then we are in store for some severe weather which will undoubtedly impact on the majority of UK road users. In general winter conditions when the roads are cold and damp it makes sense to take precautions by switching your vehicle onto winter tyres which are better suited. By making the change to Yokohama winter tyres now, drivers can benefit throughout the entire winter period and not just when the severe weather predicted by the Met Office arrives."
Developed in conjunction with the world's leading vehicle manufacturers, Yokohama states that its range of winter tyres is particularly suited to those driving high performance and rear wheel drive cars. For drivers of performance cars, medium sized cars and SUVs, the directional Yokohama W*drive V905 is available in sizes from 15-22". The tread has wide grooves and a new compound to provide improved wet grip and snow evacuation.
Available in sizes from 14-21", Yokohama's W*drive V902 tyre fits a wide range of vehicle applications. The tyre's rigid asymmetric design provides a high balance of performance on dry, wet and snow covered roads. A runflat version of this tyre, the V902 ZPS, is also available in a range of BMW fitment sizes.
For drivers of smaller and compact cars, the Yokohama W*drive V903 is available in sizes from 13-16", giving a direct feeling on snow and wet surfaces as well as superior stability during high-speed cruising.
For van and other light commercial vehicles needing to ensure they remain safe and mobile in the winter, Yokohama has developed the W*drive WY01 tyre which is available in sizes from 14"-17". The tyre has been optimised for wet braking and handling, delivers excellent performance on both snow and ice, and provides excellent durability.
"Such is the concern about the harsh weather this winter that forecasters are even briefing the Cabinet Office, emergency services, councils and transport bosses about how best to respond to extreme icy conditions," adds Seward. "Without a doubt, fitting winter tyres on their vehicles should be one of the recommendations and I'm pleased to report that we're ready to support our retail partners in this activity."