Giti appoints European sales and marketing directors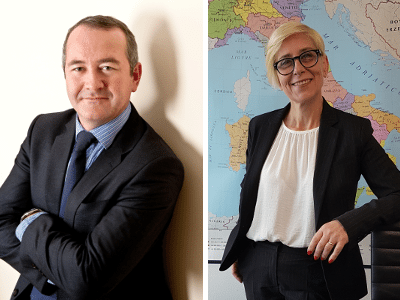 Giti Tire has appointed Brian McDermott and Daria Sala della Cuna as sales and marketing directors – Europe for passenger car and light truck tyres (PCR) and truck and bus tyres (TBR) respectively. Both directors will work closely with major clients and partners around Europe to increase sales and marketing activities, handle brand strategy, and channel development and product portfolio extensions for the Giti, GT Radial, Primewell and Runway brands, Giti states.
McDermott joined Giti Tire in November 2011 as general manager – UK, a role he will continue to fulfil in conjunction with his new duties. Before joining Giti he was a key account manager with Pirelli.
Sala della Cuna joined Giti Tire in December 2013 as country manager – Italy, Spain and Portugal, and she too will maintain that position. She has more than 20 years' experience in the tyre industry, joining from Continental Italia.
They will report directly to Torsten Gehrmann, senior managing director – Europe for Giti Tire. He said: "Both Brian and Daria have excellent track records, and have already proven to be extremely knowledgeable, diligent and well-respected both within the company and the wider automotive industry.
"The next phase of the company's European business operations is key to hitting our projected global financial targets. They have been pivotal in creating a very clear direction and strategy for PCR and TBR, and with the talented European sales and marketing teams at their side these plans will now be implemented."