Pirelli opens first P Zero World outlet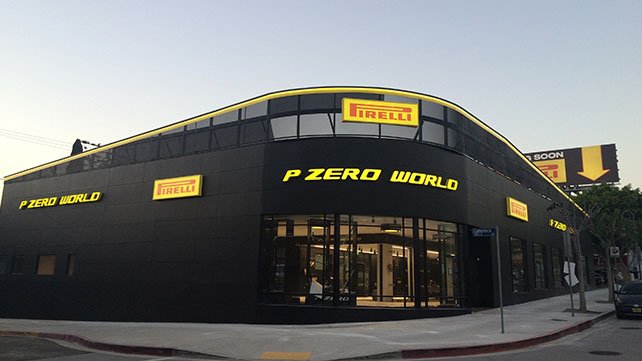 How do you reach the "most discerning" consumers within a market and become the "undisputed leader" in premium-tier products and services for this group? For Pirelli, the answer is to offer an entire "brand experience," and the tyre maker is now putting this concept to the test in North America with the opening of its first P Zero World retail outlet. The tyre maker has chosen Los Angeles as the P Zero World launch location, and considers its Santa Monica Boulevard address the "perfect fit" for this new brand initiative. Further P Zero World locations will be opened in locations around the globe where high-end luxury vehicle ownership is heavily concentrated.
In addition to selling tyres – products Pirelli calls "the heart and soul of the brand" – P Zero World will offer consumers and enthusiasts the ability to experience the latest developments, collaborations and innovations the brand has or will bring to market. The 750 square metre Los Angeles location features state-of-the-art equipment and three service bays for tyre changes, and includes an open concept waiting area complete with rare supercars, an espresso bar, and in-store displays that showcase Pirelli's motorsports history, original equipment partnerships, the Pirelli Calendar and vintage advertising.
The abovementioned displays offer an insight into the thinking behind the new retail concept. Pirelli has positioned its first P Zero World at the point where its own brand evolution meets Southern California's climate and car culture, and states that both factors must be looked at in order to understand the P Zero World strategy: "At this intersection between company and culture, P Zero World will begin the next chapter in Pirelli's storied history."
The tyre maker points out that Southern California boasts an "impressive concentration" of prestige vehicles – 14 per cent of the world's total can be found there – and it views the region as home to a "thriving automotive culture at the forefront of industry trends." Pirelli considers Los Angeles a peerless "hot spot" of automotive activity, and states it will use "geotargeting and advanced digital marketing approaches" to connect potential consumers with the brand and its dealers.
"Los Angeles serves as the perfect backdrop for the launch of this project, as it provides the perfect mix of business related strategic elements – such as the high concentration of prestige vehicles – with an exciting and active car culture which produces passionate consumers and tastemakers," shares Paul Hembery, Pirelli's Global Motorsports and Prestige Project director.