Pirelli: 'no better place to showcase F1' than Circuit of the Americas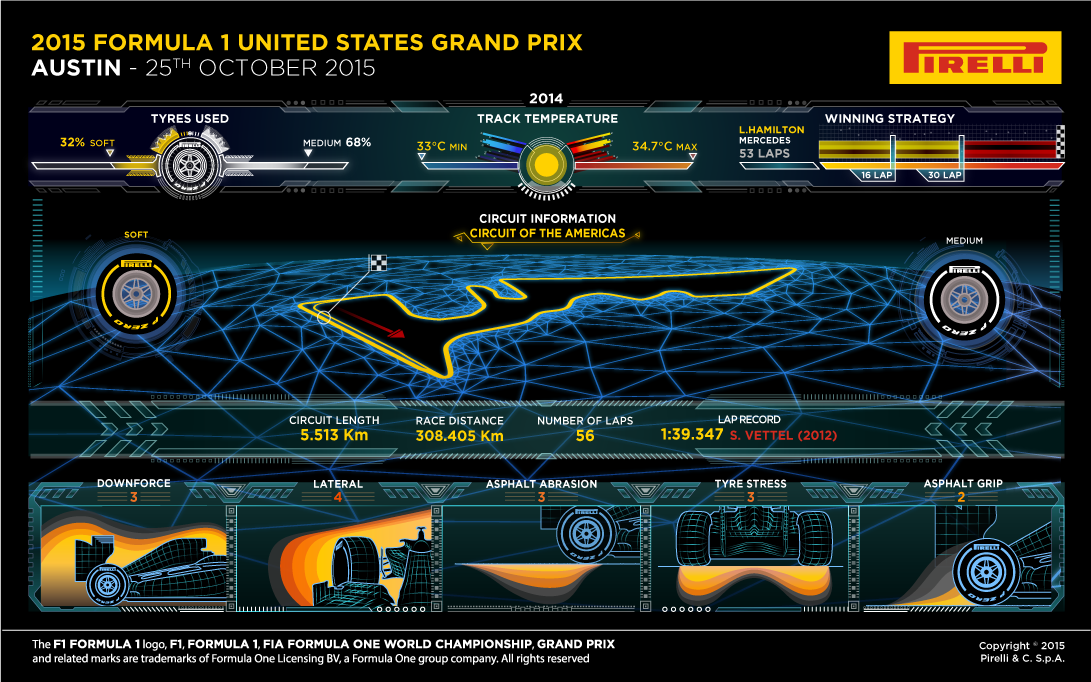 Pirelli will supply its P Zero Yellow soft and White medium compound tyres as Formula One visits the "crucial market" of the USA on 23-25 October. Austin's Circuit of the Americas is the tenth venue to have hosted a Formula One grand prix in the United States. The track is well known for its spectacular elevation changes of up to 40 metres, with an uphill run to the distinctive turn one, which is a hairpin bend and the signature corner. Paul Hembery, Pirelli motorsport director said: "The United States always offers us a very warm welcome and a fantastic race weekend. Like all the other stakeholders in Formula One, America is a crucial market for us so it's very important for us to have a race there."
The track contains an ample variety of corners, which incorporate some of the best elements from other circuits, making it a wide-ranging challenge that tests every aspect of tyre performance. The weather is equally variable, with warm conditions common during the afternoon but frequently cool temperatures in the mornings, making it reasonably hard to get an accurate read on track conditions.
20 varied corners, including a tricky uphill braking area for the unusual turn one (the highest point of the track), give the anticlockwise circuit a distinctly different feel for the drivers. The track limits are deliberately wide at the corners, in order to encourage different lines and provide opportunities for overtaking. There are three long straights that tend to cool down the tyres, making the braking areas critical, as tyre temperature will have dropped slightly. This also then affects the turn-in into fast corners, as the compound has to get back up to temperature very quickly. In the past, track temperatures have varied from 18 to 37 degrees centigrade within one day, making tyre temperature management a vital skill.
Pirelli says that the set-up tends to be medium downforce with an emphasis on mechanical grip from the tyres; especially at the front to aid a rapid turn-in during the fast direction changes that characterise the first half of the lap. There is roughly 60 per cent full throttle and 10 braking events: about average for the season.
Last year's strategy and how the race was won: Lewis Hamilton won for Mercedes from second on the grid with a two-stop strategy (in previous years, the winning strategy in Austin was a one-stopper). He started the 56-lap race on the soft tyre and then pitted for mediums on laps 16 and 33, although an early safety car affected his strategy. The manufacturer expects the performance gap between the two compounds to be aroud 0.8 seconds per lap.
"It's a track that contains a bit of everything in terms of what it asks from the tyres, so we've brought the soft and medium compounds, which are versatile enough to cope with a wide range of demands and weather conditions. With the driver's championship entering a decisive phase there's obviously going to be a lot of attention on the race, and we can think of no better place to showcase Formula One. The track configuration and tyre choice offer plenty of opportunities for overtaking and strategy, with a reasonably short pit lane time loss too, so we could be on for quite an unpredictable race, which is what people want to see. It's rarely an open and shut competition, as we saw from the wide variety of strategies used last year."