Silverstone could not be more different to Austria – Pirelli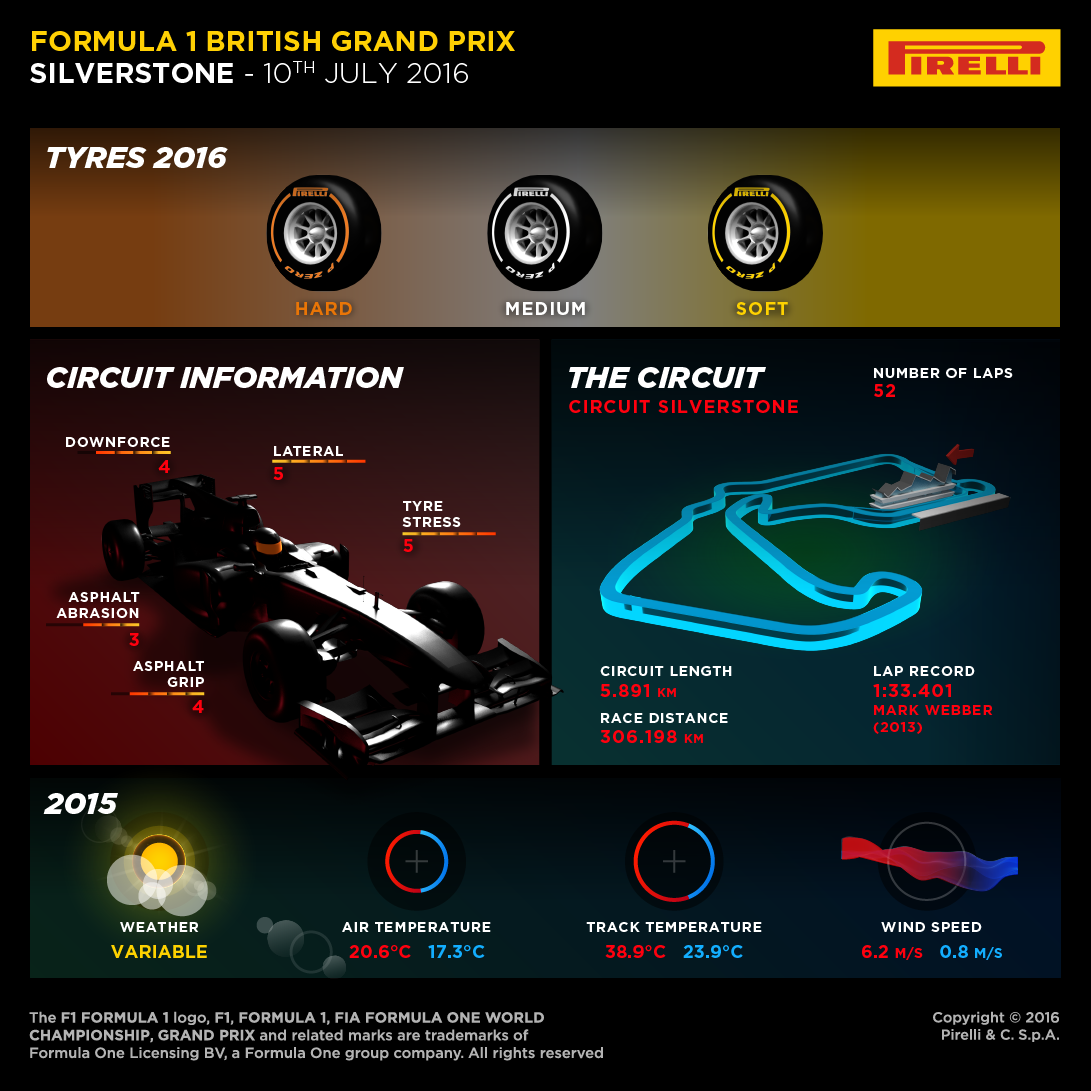 The British grand prix takes place at Silverstone the weekend after Pirelli's visit to Austria, but the manufacturer's tyre selection is an indicator of the different challenges posed by famous circuit. The Formula One tyre supplier will bring its P Zero Orange hard, White medium, and Yellow soft tyres to the UK – its hardest possible tyre selection – the week after supplying its softest selection to teams in Austria. Accordingly, Pirelli states tha the two events "could not be more different." The Orange hard tyre has been sparingly used so far in 2016; this is its second outing after Spain, but with Silverstone's high-energy, high-speed demands, including fast straights and rapid changes of direction, Pirelli has opted to make its hardest compound available.
Paul Hembery, Pirelli motorsport director, said: "With the majority of teams choosing mostly the softest compound available – a consistent trend we have seen all year – it's clear that the intention of many drivers is to run quite an aggressive strategy, which on a track like Silverstone could result in multiple pit stops. As last year showed, the weather is also a typically British variable, which means that we are likely to be in for an unpredictable race."
Analysing the circuit, Pirelli states that Silverstone is one of the circuits that take the most lateral energy out of the tyres all year; including the high levels of downforce, the tyres face forces from all directions. The weather is notoriously unpredictable too, making the number of stops required less easily forecast, though Pirelli expects at least two due to tyre wear and degradation. Silverstone's asphalt offers high levels of grip, which works the surface of the tyre even harder.
Pirelli will remain at Silverstone after the grand prix to host a two-day in-season test.
In 2015's rain-affected race, Lewis Hamilton stopped twice, going from medium to hard on lap 19 then to intermediate on lap 43, though this was inspired by sudden rain. This also helped Sebastian Vettel, who opportunistically made an early change to intermediates, allowing him to make up two places and finish on the podium.