Pirelli previews Belgian grand prix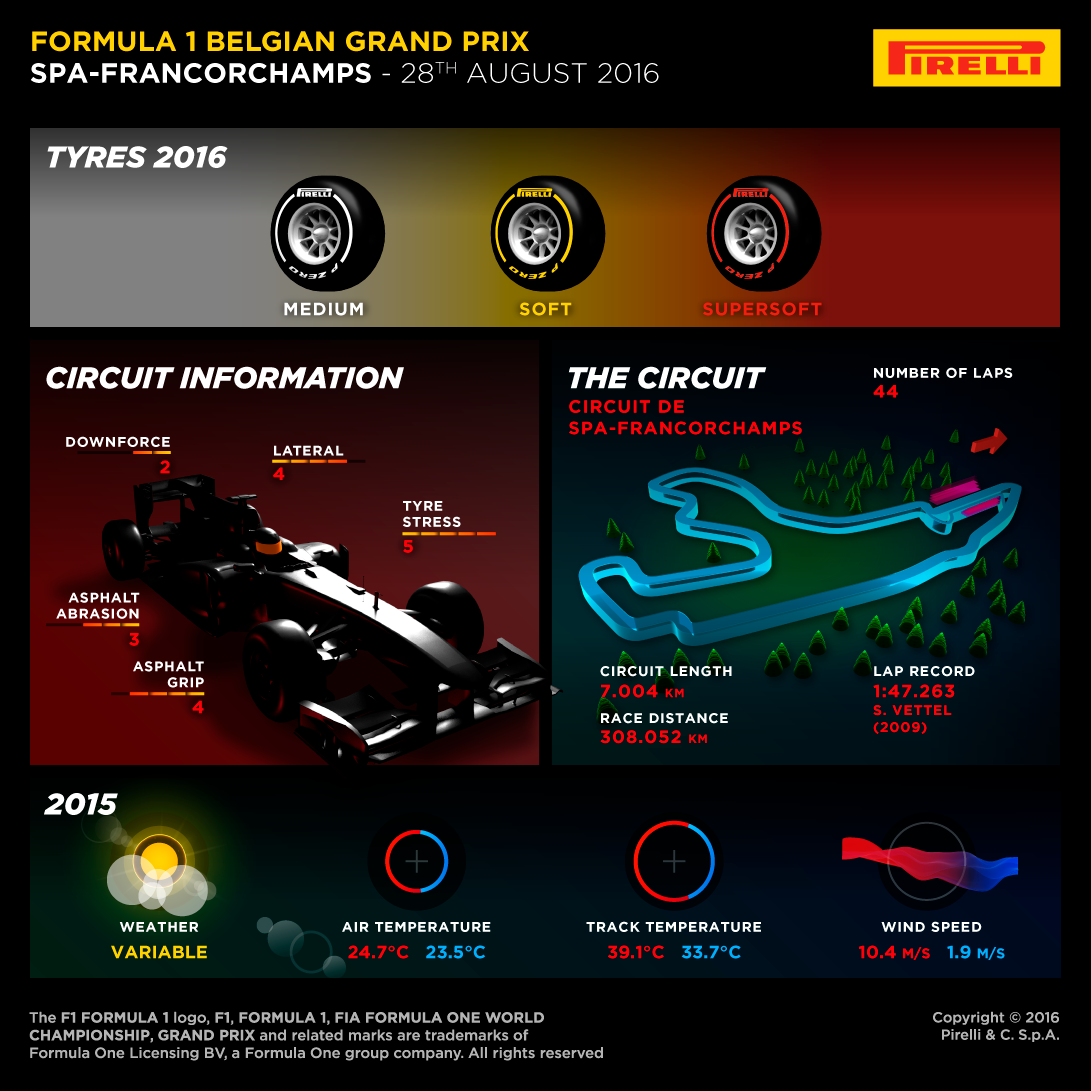 Recommencing the Formula One season following a short summer break, Pirelli will supply its P Zero White medium, Yellow soft, and Red supersoft compounds to teams at the Belgian grand prix. Held at Spa-Francorchamps on 25-28 August 2016, Pirelli calls the track "one of the most epic drivers' circuits of them all," comprising as it does the longest lap of the year at 7.004 kilometres, which places high energy loads through the tyres. Pirelli calls the challenge of Spa multi-faceted for the tyres with a changeable microclimate providing a constant additional parameter for the strategists to consider.
Paul Hembery, Pirelli motorsport director, said: "Spa-Francorchamps needs no introduction as one of the most iconic circuits out there. For the tyres, it's a demanding track with the sort of high-energy loads that make it absolutely thrilling to drive. It's not easy to find the right set-up but with such a long lap and plenty of overtaking opportunities, there are a number of different strategy permutations possible. During the summer break we've started testing the 2017-size tyres, and we look forward to a busy second half of the season as we continue the testing campaign and also move straight on to our home race the weekend after Belgium."
Long and fast corners are not the only challenge for the tyres, with elevation changes also creating vertical forces for tyres through compressions like Eau Rouge. Set-up is a compromise between low drag for straights and downforce for corners, while the multiple overtaking opportunities mean that strategy options are quite open.
Lewis Hamilton won comfortably in 2015 with a two-stop strategy, changing tyres on laps 13 and 30, while Max Verstappen finished eighth from 18th on the grid, having adopted an alternative three-stop strategy, passing several cars on track.