Pirelli travels to Canadian grand prix with P Zero Purple ultrasoft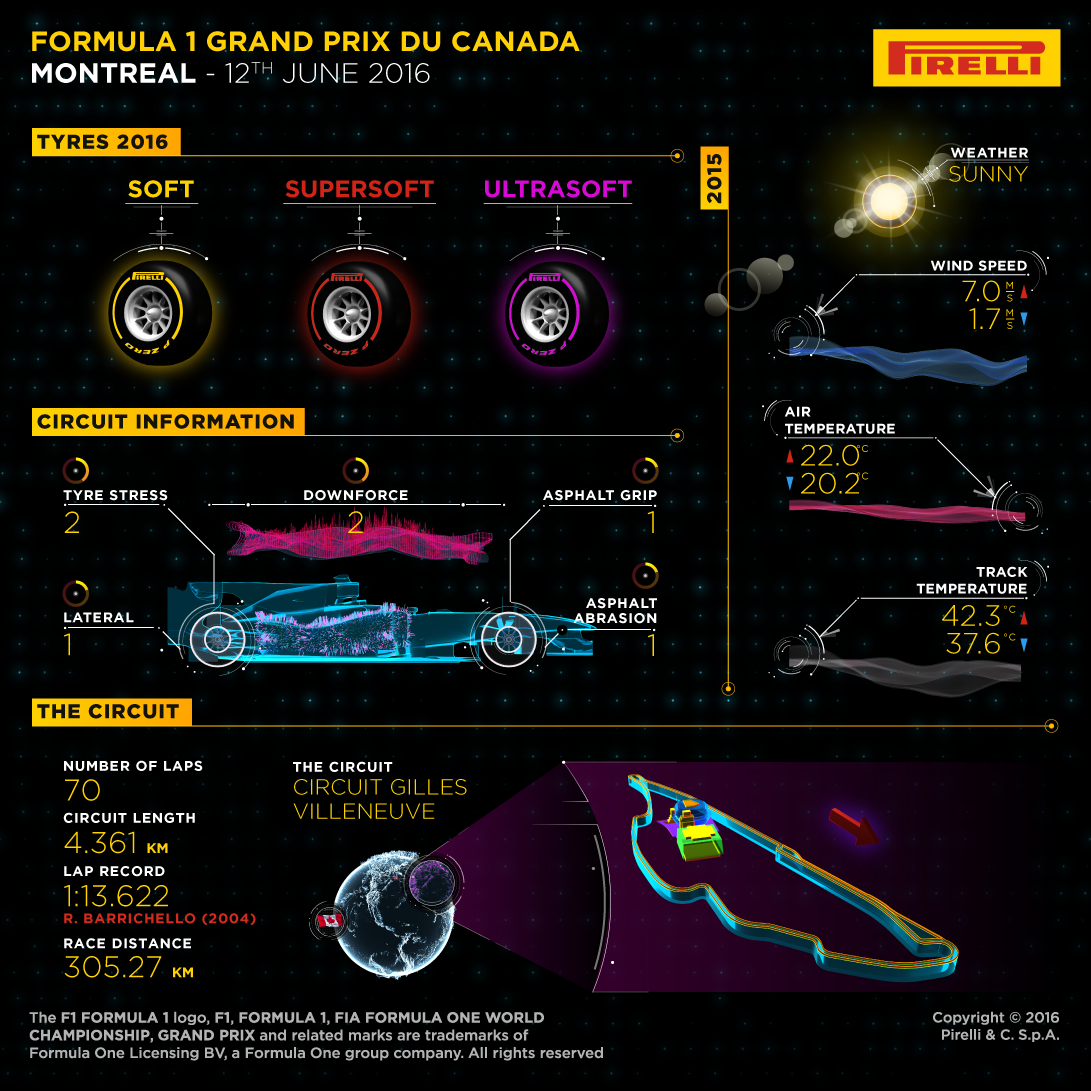 For the seventh round of the 2016 Formula One World Championship, Pirelli will supply its new P Zero Purple ultrasoft for the second time, following its debut in Monaco. As a low-grip circuit with high track evolution, Canada's semi-permanent Circuit Gilles Villeneuve provides a good opportunity to test out the Monaco tyre allocation (the three softest Pirelli P Zero F1 tyres) in a different context; the tyres will be used at higher speeds and with higher loads, generating higher temperatures and putting increased energy through the tyres. The circuit is also known for its high kerbs, making it a test of the tyres' construction as well is their tread compounds.
Lewis Hamilton won the 2015 Canadian grand prix with a one stop strategy, starting on supersoft, and changing to soft on lap 32 (of 70), which was closely followed by the rest of the podium. Kimi Raikkonen, who finished fourth with two stops, started and finished the race on the supersoft tyres with a middle stint on the soft tyre.
Paul Hembery, Pirelli Motorsport director, states: "In Canada there's the potential for some quite mixed weather conditions, as we also saw in Monaco, so this could make it a very complex race as has often been the case in the past. The compounds that we have nominated mean that there is plenty of scope for strategy, on a circuit where it's definitely possible to overtake on the track as well. The ultrasoft made its mark when it first appeared in Monaco but Canada is a very different type of circuit with more demands on tyres. This could lead to a number of different tactics coming into play, as evidenced from the tyre choices made by each team prior to the race."
Pirelli anticipates the P Zero Yellow soft compound to play an important role in the race, while the Purple ultrasoft has been extensively chosen. The Red supersoft has not been nominated at all by two teams – Renault and Haas.