Pirelli to take softest compounds to Austria grand prix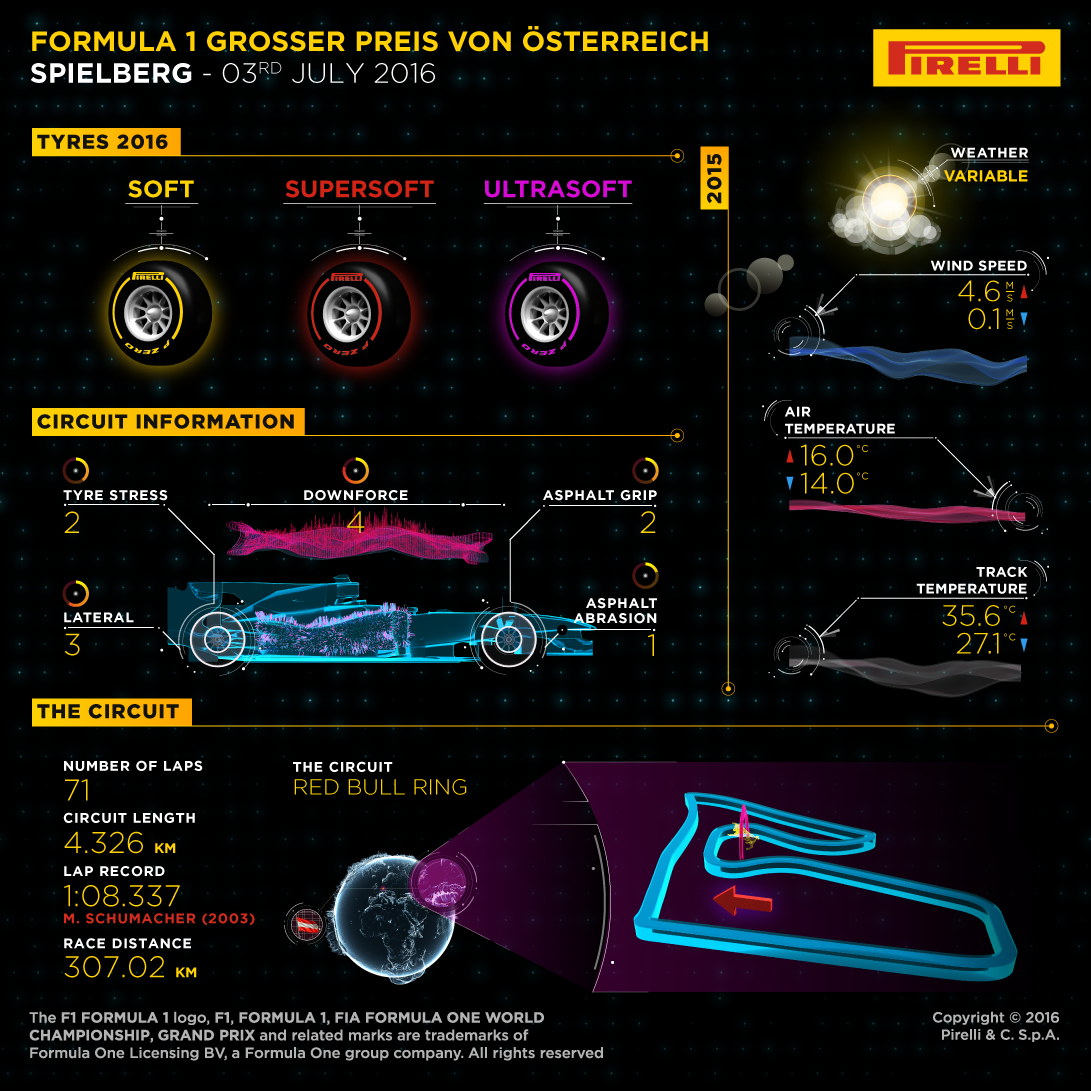 Pirelli will bring its three softest P Zero F1 compounds – soft, supersoft and ultrasoft – to the Red Bull Ring, Spielberg, describing the track as "probably the closest that Formula One comes to a rally stage." Big changes of elevation and a sequence of fast and twisty corners coalesce with unpredictable weather and the grand prix's roots in the 1969 Osterreichring, which gives the track quite an old-school character.
Important considerations for the tyres include two primary fast sectors with a final slower, more technical sector, testing a wide spectrum of a tyre's ability, especially in terms of lateral and longitudinal loading. However, wear, degradation and temperatures are quite low, leading to Pirelli's decision to supply the softest tyres. The circuit has been completely re-asphalted this year, with the new asphalt having a similar level of abrasion to before. The fresh bitumen may offer a different amount of grip though, Pirelli said; the manufacturer's engineers will measure this on Wednesday before the race. Judging braking points is quite complex, with a number of uphill braking areas, with a low-grip and low abrasion surface that is bumpy in places. Spielberg is also the shortest lap time of the year with only nine corners, making precision vital.
Last year, a one-stop strategy proved key to victory, although this was influenced by an early safety car. Nico Rosberg started on the supersoft and then switched to the soft on lap 38 (of 71). The best-placed alternative strategy was employed by Pastor Maldonado, who finished seventh from 10th on the grid after starting on the soft tyre and doing a long opening stint.
Paul Hembery, Pirelli Motorsport director, states: "Austria is one of the most picturesque and individual tracks on the championship, which asks a lot from the tyres in terms of all-round mechanical grip and performance, which is why the ultrasoft has been resoundingly favoured here. As a result, we may have a two-stop race this time, even though last year was a one-stopper. However, this venue is always quite unpredictable: we had a safety car period right at the beginning of the grand prix last year, while rain as well as bright sunshine seems to be an equal possibility. The ultrasoft compound should be well-suited to the Red Bull Ring, which means that we will almost certainly see the fastest laps ever of this current circuit configuration this weekend."