TyreSafe issues advice to scooter commuters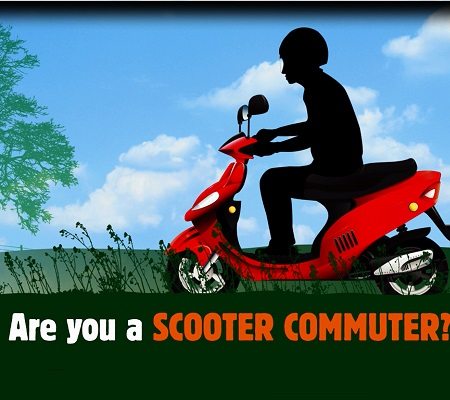 This week, with more commuter-sized motorcycles and scooters being sold than ever before, TyreSafe has unveiled dedicated materials to help keep riders safe on their daily travels. Launched to coincide with the Motorcycle Industry Association's (MCIA) Ride to Work Week, the potentially life-saving advice for scooter commuters includes choosing the right tyre, essential routine maintenance and understanding when a replacement should be fitted.
The campaign's launch follows a significant increase in the sale of 101cc to 125cc motorcycles and scooters, which are the class most commonly used for commuting to and from the workplace, college or train station. MCIA figures show this type of motorcycle achieved more sales during 2015 than for any other year since comparative records began in 1983. Those 43,759 new registrations over the course of last year have already been joined by a further 18,096 so far in 2016, making another annual sales record for this class of motorcycle likely.
However, commuter scooters are in the class of vehicle which most frequently fails its first MoT due to tyre defects. According to figures from the Driver and Vehicle Standards Agency, on average 5.2 per cent of all motorcycles in Class 1 fail their first MoT for defective tyres, while for cars it's 4.9 per cent. That strongly implies owners are using the practical and economical two-wheeler as a workhorse and not paying enough attention to essential maintenance which could potentially be a life saver.
Stuart Jackson, chairman, TyreSafe, said: "While many commuters travel short distances, they need to be aware just how essential roadworthy tyres are to their safety on every journey. With just two tyres in contact with the road, the handling and braking of a motorbike are critically dependent on adequate tread depth and correct inflation. Even though scooters and commuter bikes are a cost effective way to get to work, riders should never scrimp on their safety but should regularly check their tyres to ensure they are in roadworthy condition."
In Britain, the minimum limit for a tyre's tread depth on motorcycle's with an engine capacity of 51cc and over is 1mm throughout a continuous band around at least three quarters of the breadth of the tread. For those below 50cc the tread pattern must be clearly visible around the entire circumference and across the whole breadth of the tyre. A rider will need to use an accurate tread depth gauge to check their tyres are legal.
In addition to advising riders to perform damage and pressure checks, TyreSafe also reminds users that new motorcycle tyres have a thin, slippery residue on them when new as a result of the manufacturing process, so riders should allow 100 miles of cautious riding to 'scrub' them in before they will reach optimal performance.