2016 TyreSafe Tyre Safety Month briefing to be 'comprehensive forum on tyre safety'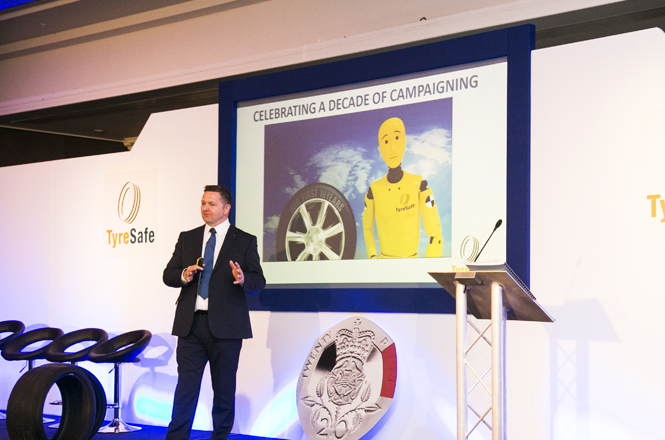 TyreSafe has shared details of the Tyre Safety Month Briefing, which is billed as a 'comprehensive forum on tyre safety in Britain'. In addition to the annual launch of Tyre Safety Month materials, the briefing will include results of the second phase of the 'Tread depth survey at the point of replacement'. Presentations from influential guest speakers and policymakers from the tyre and road safety community will also feature, along with the unveiling of "an innovative engagement tool for TyreSafe members and supporters".
Now in its 10th anniversary year, the TyreSafe event (which will be held at The Belfry Hotel and Resort, West Midlands on 14 July) incorporates presentations revealing research into tyre safety in the UK. Last year, the first phase of the tread depth survey at the point of replacement, in partnership with Highways England, revealed as many as 10 million vehicles on Britain's roads could potentially have an illegal and dangerous tyre in 2015.
Attendees at the Tyre Safety Month Briefing in July will be the first to hear details of the results of the second phase, which has more than tripled the total number of tyres surveyed. The presentation will be delivered by Stuart Lovatt, Safety Action Plan Coordinator, Highways England, along with TyreSafe chairman, Stuart Jackson.
They will be joined by influential speakers from the Fire and Police Services. Superintendent Paul Keasey, chairman of the National Roads Policing Intelligence Forum (NRPIF), will present an overview on the latest developments regarding the Police Service's approach to promoting tyre safety. Shaun McKeown, Forensic Vehicle Examiner, Cumbria Police will give an insight into the tyre-related issues witnessed by accident investigation teams at incidents and share some case studies. Colin Heyes, Station Manager, Cheshire Fire & Rescue, will give an overview of the tyre-safety partnerships' his Service has developed and how to engage with Fire Services for similar activities.
The event will also feature the first demonstration of an innovative engagement tool which will be available to TyreSafe supporters and stakeholders. Further details will be revealed on the day.
Stuart Jackson, chairman, TyreSafe, said: "Tyre Safety Month is the focal point of the tyre safety campaign calendar and, for TyreSafe, the Briefing is the biggest event of the year. As we mark our 10th year raising awareness on the importance of tyre safety, we have an exceptional programme of speakers, research and innovation to share with our stakeholders."