Triangle Tyre celebrates 40th anniversary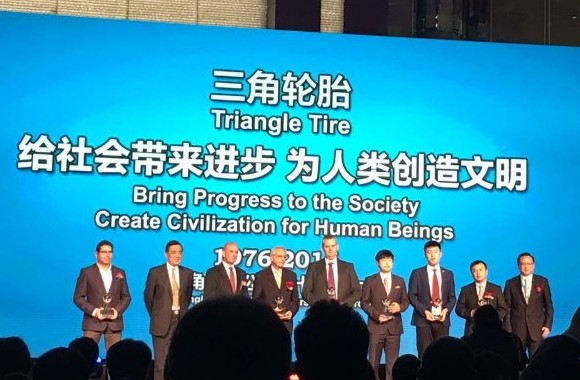 Chinese tyre manufacturer Triangle Tyre celebrated its 40th anniversary on 8 April. According to the company, over the past 40 years, Triangle Tyre has enjoyed "a big improvement in the tyre production" both in terms of quality and quantity.
Triangle Group was founded in 1976 and has grown rapidly since then. Part of this development saw the firm upgrade from bias tyre production to radial tyre technology between 1992 and 2000. The range of radials now on offer includes passenger car, truck and bus, OTR and large OTR tyres. Triangle reports that it sells 25 million tyres annually to customers in over 170 countries and the export share of its production has reached 60 per cent. The company has ongoing OE relationships with leading players – especially in the OTR sector – such as Caterpillar, Volvo, Terex, Liebherr, GM, Daewoo, Doosan.
International tyre distributor and private brand marketer Zenises congratulated Triangle on its 40th Anniversary. To this end, Zenises CEO Harjeev Kandhari flew into China for lunch with Triangle CEO Pierre Cohade, to whom he presented a specially made Pure gold amulet, which says "may all your dreams come true".
At the end of January 2016, Zenises confirmed that it had begun distributing Triangle truck tyres in Germany.
New factory up and running
In March 2016 Triangle announced that the first high-performance car tyres had been produced at its Huayang factory in Weihai Nanhai New District in China. This "Industry 4.0" facility is said to be equipped with production machinery from suppliers in Germany and Holland. As a result, the number of employees has been reduced by 40 per cent compared with traditional production facilities.
The production line employs integrated information-based manufacturing technology such as a MES system and it uses RFID, barcode and other technologies for real-time monitoring of raw materials, in-processes and products.
Triangle Group reportedly invested 6.7 billion yuan (£725 million; 908 million euros; US$ 1038 million) in the project. At the same time as construction a manufacturing plant, the Weihei project also includes plans for a proving ground as well as staff living facilities.