Schrader brings retrofit TPMS kit to Europe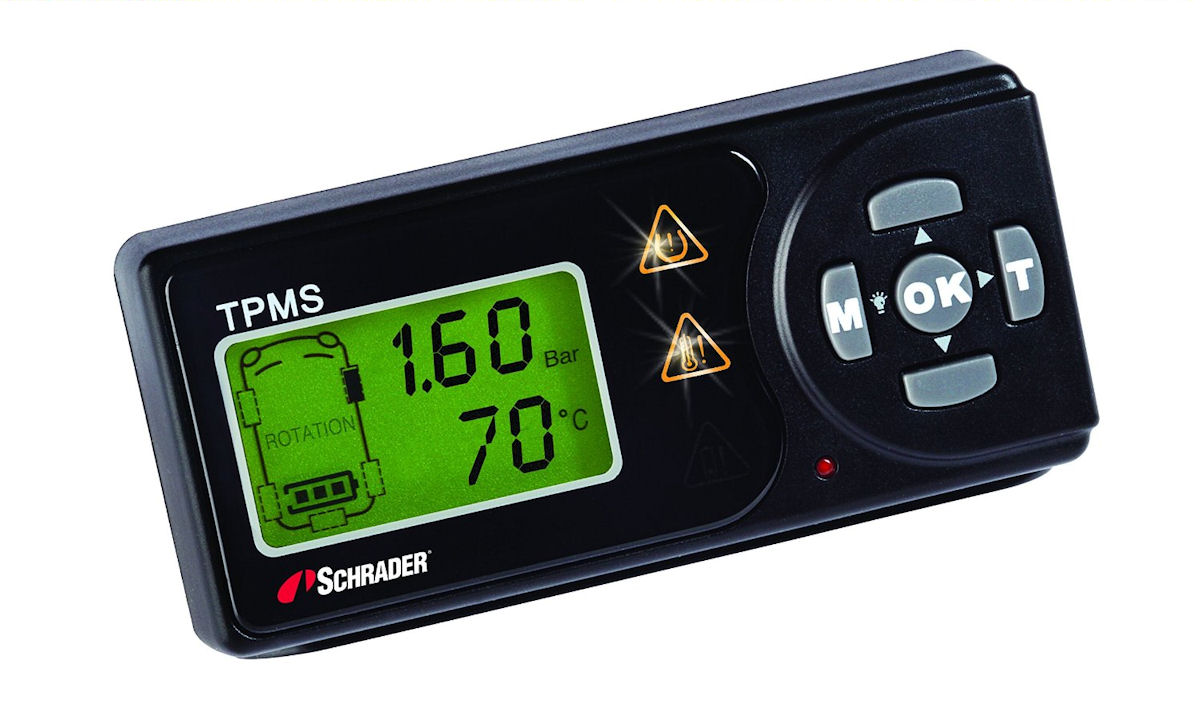 Although fitment of a tyre pressure monitoring system (TPMS) is now mandatory in all new cars sold in the EU, the technology is still absent from a sizeable section of the car parc in the UK and other European countries, and the high (and increasing) average age of vehicles on the road means that cars lacking TPMS will remain with us for some years to come. Schrader now offers European motorists a retrofit kit that can add direct TPMS to these vehicles.
The TPMS Universal Retrofit Kit contains radio sensors for all four wheels – Schrader points out that these are OEM quality units – as well as a battery-operated display with wireless control. Schrader notes an "important quality aspect difference" to similar products offered by some competitors; the sensors are mounted inside the wheels rather than externally on the valves, providing drivers with the "same reliability, quality and comfort as factory-fitted systems."
The set is suitable for nearly new cars as well as for older used cars, modern classic cars and even classic cars, allowing the owners of vintage and exotic cars to make use of TPMS technology. Schrader says the system is capable of easily managing top speeds of up to 155 mph or 250 km/h in combination with metal valves, extending its suitability to most high-powered cars.
"The kit therefore represents an active contribution to the safety of all drivers, as in general only few drivers regularly check their own car tyres, despite the high relevance to safety," comments Schrader in reference to various studies that show half of all passenger cars have, on average, at least one tyre with dangerously low pressure.
The Schrader retrofit kit not only warns the driver when the pressure is too low, it also shows the corresponding value in bar for each individual tyre on the LCD display. Tyre temperature is another critical value that is recorded. "This makes the Schrader product clearly superior to systems with indirect measurement which only provide a simple warning signal in case of strong loss of pressure in a tyre."
The retrofit is available for purchase at major online retailers and through the Schrader's tpmseuroshop.com sales portal.