Pro-Align Ireland opens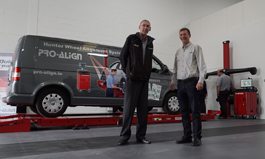 Wheel alignment equipment specialist Pro-Align has opened its inaugural facility in Ireland. Located in Plato Park, Dublin (just off the M50), the facility provides a new base for its sales, servicing and installation teams, and includes demonstration and training areas which allow the company to demonstrate the Hunter range of complete wheel servicing equipment to workshops.
Speaking at the launch event of the new facility, Paul Beaurain, managing director, Pro-Align, commented: "We're delighted to be opening up our brand new facility in Dublin which will help provide an even more comprehensive service to customers. We've already experienced a strong demand from workshops for our range of Hunter equipment and this new facility will help to showcase its capabilities and potential as well as train technicians so they can provide the very best levels of service to their customers."
The company hosted an open day to launch the facility, with visitors from workshops in the North and the Republic in attendance. Hunter's range-topping HawkEye Elite TD four wheel alignment system in its Quick Check configuration, the Hunter QuickTread drive-over tread depth measurement system, the fully automatic Revolution tyre changer, and the Road Force Touch balancer were all shown to Pro-Align's guests.
In addition to the Hunter systems on display, visitors were able to see the Pro-Align sponsored historic Mk2 Ford Escort which recently competed in the West Cork Rally. Attendees also had the chance to take part in a prize draw for a Nextbase dash cam which was eventually won by Jonathan Crozier of Crozier 4×4 Ltd.
Hunter representative Kevin Dillon who attended the launch event added: "We're very proud of the investment that Pro-Align is making into Ireland. Thousands of workshops around the globe are benefitting from more efficient ways of working and additional servicing opportunities through the use of our equipment and it's incredibly exciting that workshops in Ireland can now share in this opportunity."