Pro-Align a 'five-star' Hunter Platinum Partner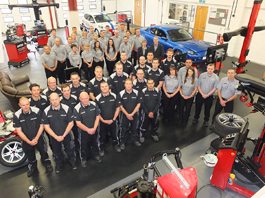 Wheel servicing specialist Pro-Align has been awarded a five-star rating by leading garage equipment manufacturer Hunter Engineering for the first time. Pro-Align said this reflected the significant progression and development of the Hunter brand in the UK. The company was also presented with Hunter's "Platinum Partner" award for the ninth consecutive year, indicating the Towcester-based company as one of Hunter's most successful and important global distributors.
"We're delighted to have received such a high level of award from Hunter," comments Paul Beaurain, managing director, Pro-Align. "Our tireless work in promoting the importance of four wheel alignment and the Hunter name has gained significant traction in recent years with more workshops than ever before recognising the benefits and quality of Hunter wheel servicing equipment. However, to receive such a significant award from Hunter really does put the icing on the cake and I'd like to pay thanks to the entire team at Pro-Align for their continued dedication and hard work."
Pro-Align has been the exclusive UK distributor of Hunter equipment since 1996 and since then has championed the need for high quality wheel alignment and the service opportunities it presents for workshops, tyre shops and bodyshops.
Although Hunter alignment systems, tyre changers and wheel balancers are already extensively deployed in workshops throughout the UK, Pro-Align has initiated a number of key strategies in the past 12 months – see here for more details – which have seen growth levels increase significantly.
As well as expanding the business into Ireland, Pro-Align has also extended its product range and offering to include commercial vehicle products which culminated in the company's debut appearance the CV Show in April. The company continues to educate and nurture new talent into the vehicle servicing industry through its involvement with The Skills Show and it recently launched a wheel alignment consumer awareness campaign via its new AlignMyCar Racing motorsport team.
"We're delighted with the growth we've shown over the last year and with some more incredibly exciting products from Hunter in the pipeline, we look forward to presenting these new opportunities to workshops over the coming months and hopefully replicating our success into 2016 and beyond," concludes Beaurain.