Pro-Align to open new facility in Dublin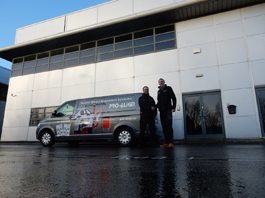 Garage equipment supplier Pro-Align will continue the development of its operations in Ireland with the opening of a new facility in Dublin. The new premises will provide demonstration and training facilities, enabling workshops to see and experience the Hunter range of complete wheel servicing equipment at first hand. A full alignment bay and wheel servicing area will be included, similar to its Towcester base in the UK, alongside a dedicated service area and warehousing.
"We're thrilled to be making this further commitment to aftermarket workshops across Ireland," comments Paul Beaurain, managing director, Pro-Align. "The Hunter range has a growing reputation for helping workshops expand their business and this new facility will allow potential customers see for themselves just how Hunter equipment achieves this."
This increased commitment comes less than two years after the creation of Pro-Align Ireland, which is headed up by Shane McGinty in the Republic of Ireland and Eddie Magill in Northern Ireland. Since the expansion into Ireland, the Pro-Align team stated that it is "delighted with the levels of interest and significant success of the Hunter range of products." The company distributes premium imaging wheel alignment and Quick Check systems, alignment lifts, advanced wheel balancers and tyre changers produced by the American brand.
The new facility is located in Plato Park, Dublin and following extensive refurbishment is expected to be fully operational from mid-April.