Triangle Tyre joins the "63-inch" club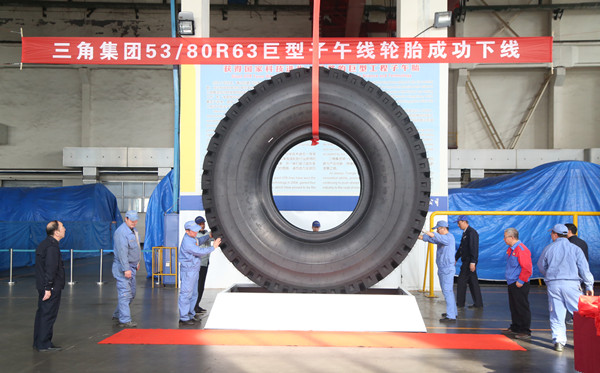 The 63-inch OTR radial is a standard fitment on many large mining vehicles, yet the limited customer base for these behemoths and the complexities involved in their production means only a handful of tyre makers deal with this particular tyre size. The list of 63-inch OTR tyre manufacturers may be a short one, but one further name has now been added – Triangle.
The Chinese tyre maker reports completing its first 63-inch tyre at the Triangle (Weihai) Huasheng Tire Co., Ltd plant on 28 March. The occasion was witnessed by Triangle Group chairman Ding Yuhua, senior company management and members of the press. Each size 53/80R63 giant OTR tyre weighs 5.6 tons and is capable of carrying a load of 82.5 tons at a maximum speed of up to 50 km/h or 31 mph. The 53/80R63 fitment is typically fitted to rigid dump trucks capable of hauling loads of 300 tons and above. Triangle says its 63-inch tyre "provides excellent traction" thanks to a deep tread pattern, while providing high levels of driving comfort, low fuel consumption and extended tyre life.
"Since producing its first OTR tire in November 2002, Triangle has strived to produce world class OTR products through developing its technology in many fields of expertise such as tyre structure, patterns and materials," shares the tyre maker in a statement. "By developing in-house core technologies and applying them to products and processes, today Triangle has the capability of producing high quality radial jumbo OTR tyres ranging from 49-inch to 63-inch. The success and quality of Triangle's Jumbo OTR tyres can be confirmed by a number of key fitments to world-renowned international heavy industrial vehicle manufacturers." Triangle has ongoing original equipment relationships with leading machinery manufacturers, including Caterpillar, Volvo, Terex, Liebherr, GM, Daewoo and Doosan.