Logger King LS-2: Nokian Tyres' new full-tree forestry workhorse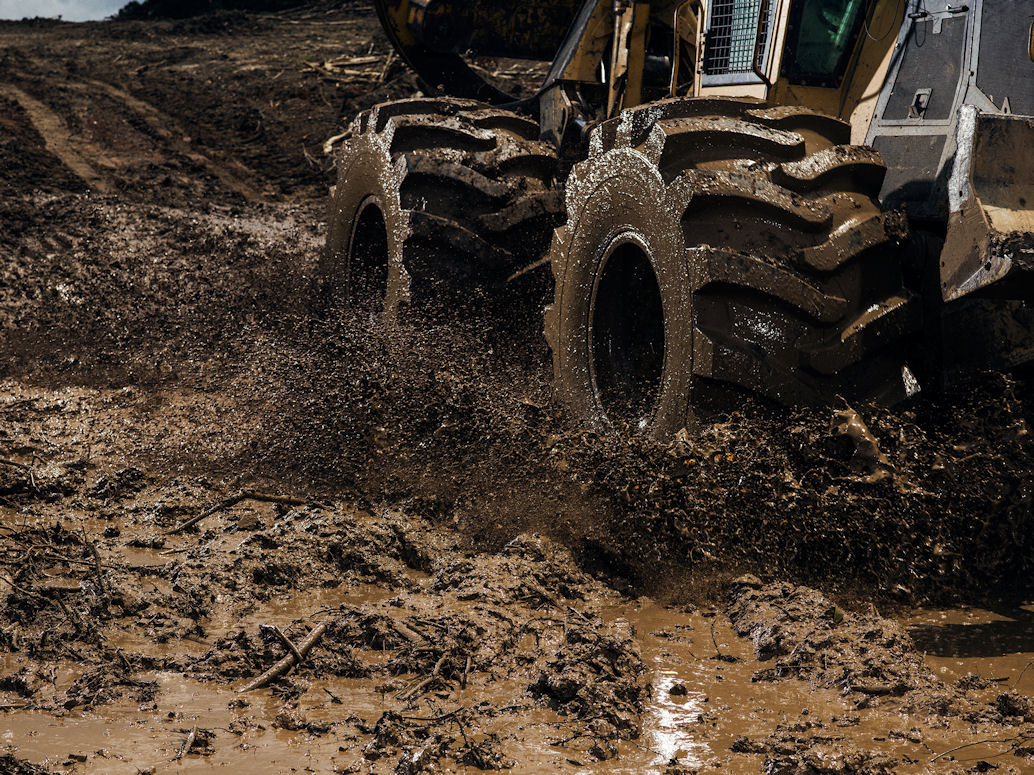 Nokian Tyres describes its new skidder tyre, the Logger King LS-2, as the "ultimate workhorse for full-tree forestry work." The all-new range is available in five sizes – 23.1-26, 28L-26, 24.5-32, 30.5L-32 and 35.5L-32 – with an 'Extreme' version available for extra demanding forestry applications at times when, as Nokian says, "normal is just not enough."
"We wanted to renew and update our previous product family for the full-tree forestry application," says Teemu Vainionpää, forestry tyres product manager at Nokian Heavy Tyres. "We have strong knowledge of forestry applications and we wanted to make the best product for the market. Logger King has already been tested for a couple of years in the hardest conditions all over the world, reaching from New Zealand to the US. With this product, we wanted to focus on durability and a long service life without compromising traction capabilities. These machines often operate in very distant locations and the tyres must be trouble-free."
As mentioned, two versions of the new range are available: Logger King LS-2 and Logger King LS-2 Extreme. The standard version is built around high strength textile casing that contains wide steel reinforcements under the tread, and is suitable for the majority of the environments and machines, starting from small to medium sized-skidders. Both versions feature a new rubber compound that Nokian developed after years of testing in what it says are the "most demanding conditions all over the world." The Logger King LS-2 Extreme, which is aimed at heavy machinery and severe environments, is manufactured on a more robust casing structure and contains additional layers of steel breakers under the tread, giving it a higher ply rating and superior protection against punctures. The largest size in the Logger King line-up, 35.5L-32, is available only as an Extreme fitment.
Aggressive tread and rim protection
Nokian Tyres calls the Logger King tread "open and aggressive" and says the shovel-shape lug pattern offers the "best possible self-cleaning and traction." The high tread depth, together with a wide and sharp lug design on the shoulder, aims to give excellent lateral grip and effectively protect the tyre when chains are used. The protectors at the bottom of the tread grooves also serve to protect the tyre against damage when chains are fitted. Traction and balance, says Nokian, have been improved by designing the tread to be flatter, thereby giving a broader contact patch. The new design also features straighter sidewalls; Nokian notes that the new lug design, in conjunction with the sidewall structure, forms a wide and strong "push bar" to the side of the tyre, which helps protect against impacts.
The Logger King features a "proven and tested" single wire bead design. According to Nokian, the hexagon-shape bead wire distributes the load evenly to the rim flange and prevents tyre slippage on the rim. The tyre maker adds that a single wire construction also simplifies the tyre mounting process in comparison with a conventional tyre design, and prevents the Logger King from being damaged during mounting. The tyre's bead area features a specially-developed stiffer, sturdy rubber, and a rim protector serves to protect against sticks and stumps that can lodge between the tyre and the rim during operation. "Special attention was given to rim protection when designing Logger King," comments Nokian Tyres.
Nokian Heavy Tyres boasts being the world's leading manufacturer of forestry machine tyres. Since the 1960s, the company has designed tyres specifically intended for use on Nordic Cut to Length (CTL) system machines. Today's Nokian Heavy Tyres portfolio includes forestry tyres for both CTL method machinery and Full Tree method machines, such as skidders. The range also covers tyres for tractors that are partly or predominantly used in forestry applications. "The products are known for their extremely high quality that provides the user many operating hours and reliable functionality in varying forestry conditions," states the manufacturer.