Nokian Ground Kare – a "good compromise" for excavator applications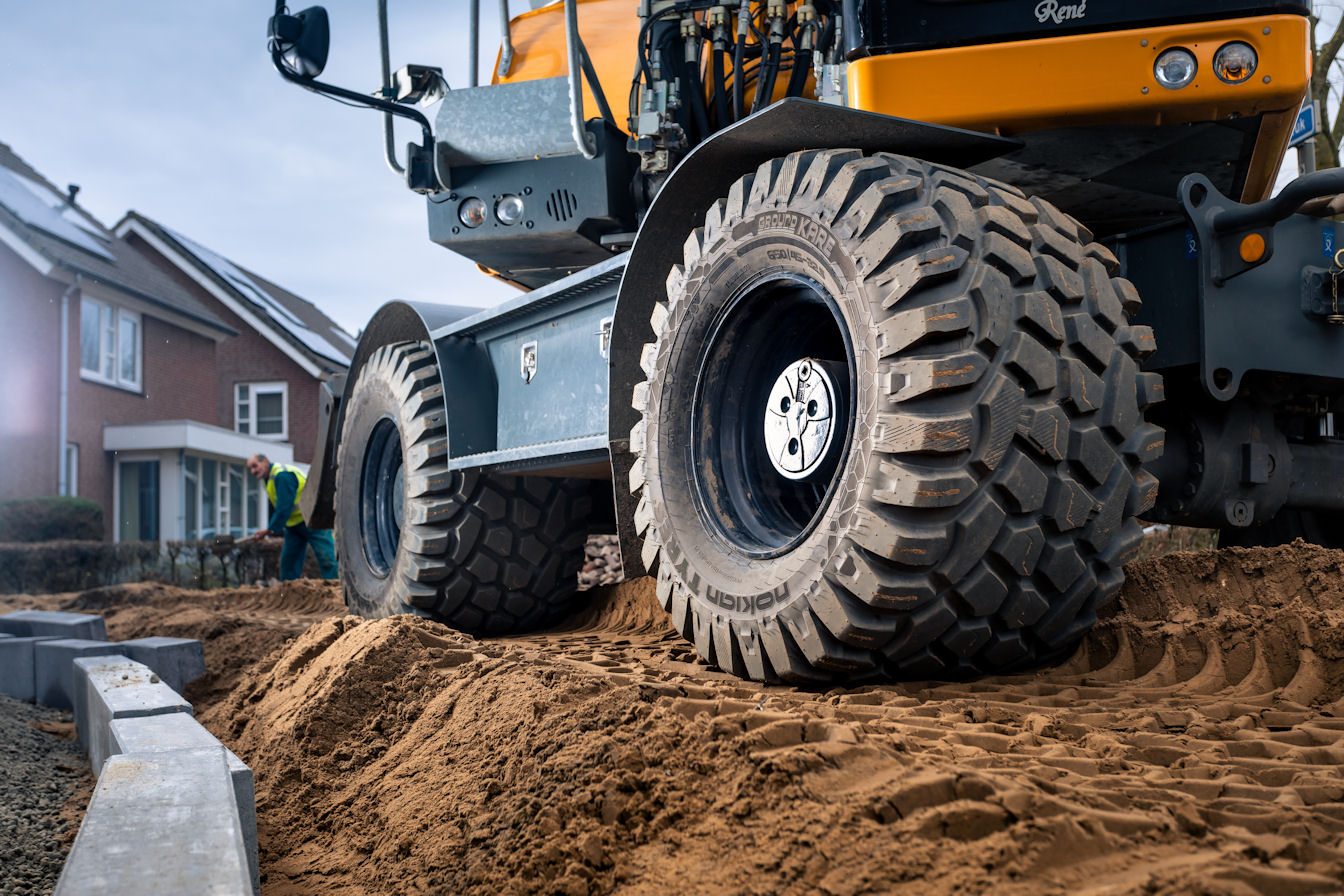 A single tyre solution is seldom optimal for all excavator applications, and that is why Nokian Tyres aims to offer a range that covers different surfaces and demands. The latest addition to its line-up is the Nokian Ground Kare.
Recent trends in earthmoving include a move towards large, multi-function machines with heavy work attachments. These units demand greater loadbearing capacity from their tyres. Another change is that excavators increasingly cover longer distances on the road, and at higher speeds, which means their tyres must provide good on-road handling and wear characteristics. A third trend centres on accuracy and the need to protect the soil. Nokian says the Ground Kare was designed from a clean sheet of paper with these requirements in mind.
"Of course, there is more than that," notes Eva-Leena Varpe, product manager at Nokian Tyres. "Grip and stability on site are also the two defining tyre features."
The right tyre for each site
Each excavation site is different. While Nokian recommends its Armor Gard 2 tyre in instances where the highest levels of stability are required and suggests using the Nokian Excavator on very soft surfaces, it positions the Ground Kare as a "good compromise" between these two demands. The tyre features a block-patterned tread which Nokian says provides good grip on soft surfaces, low surface pressure for minimal impact upon soil surfaces as well as excellent stability and on-road properties.
"The Nokian Ground Kare tyres feature a purpose-built new tread design for good endurance and low ground pressure," comments Varpe. "To bring the important stability for safe and accurate excavating work, the tyres have a special rubber compound that absorbs swings and shocks as well as a very sturdy carcass that allows high operating pressure."
Nokian Tyres relays end-user experience in order to confirm the tyre's stability and the positive effect this has on work efficiency. It passes on comments made by a Netherlands-based Nokian Ground Kare user, Mark Geurts, who reports improved stability and casing damping. Geurts says this "saves time, as every stroke in grading is right the first time." Geurts is also impressed by the Ground Kare's "friendliness" to the soil. "This tread does not move sand side wards. It saves me the time-consuming levelling of my track."
All-round ruggedness is needed on rocky excavation sites. The Nokian Ground Kare features a steel belt construction that protects against cuts and cracks. Load bearing capacity per tyre is 7,500 kilogrammes.
"Heavy auxiliary equipment on multi-function machines can really put tyres to the test," comments Varpe. "Nokian Ground Kare tyres give you more margin, and the tire tread wears slowly and evenly for economical use."
Mark Geurts also notes the Ground Kare's slow rate of wear: "The tyre performs very well, and it promises a good lifetime in working hours." In addition, the tread's self-cleaning characteristics are "better than expected" and the tyre's comfort and low noise on the road are a "true joy."
Ground Kare semi-slick for railways
Sizes within the Nokian Ground Kare range were selected with both wheeled excavators and backhoe loaders in mind. A special tyre variant is also available for the backhoe loaders, and Nokian Tyres comments that this tyre is the first of its kind in the world.
"In railroad use, a special backhoe loader is driven on tracks," explains Varpe. "The other half of the tyre runs on steel, causing uneven tyre wear. Nokian Ground Kare tyre is available as a special semi-slick version to counteract this and increase the tyre service life"
Sizes and availability
The Nokian Ground Kare range will be available from June 2019 onwards in sizes 650/45-22.5 for excavators and 620/60B34 for backhoe loaders. The semi-slick railway variant 620/60B34 Nokian Ground Kare will be available from December 2019.