Sales of European consumer, truck tyres up, imports enjoy higher growth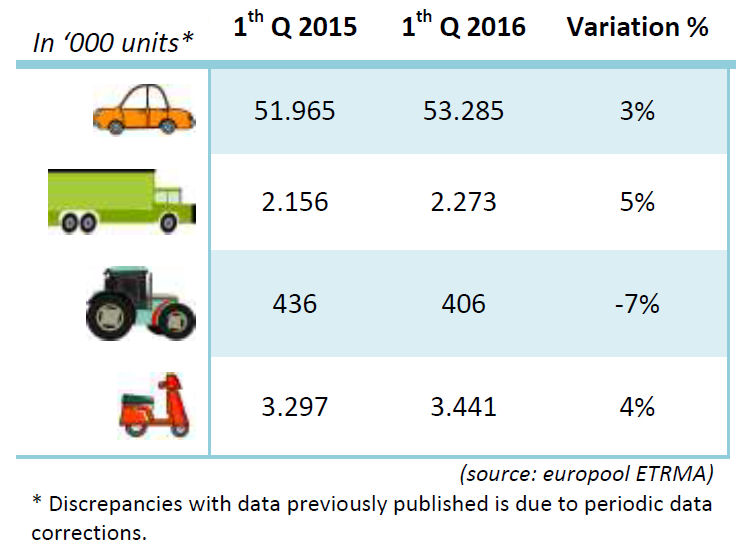 Sales of car, truck and two-wheeler tyres amongst European Tyre and Rubber Manufacturers' Association members increased year-on-year during the first quarter of 2016, however agricultural tyre sales continued to decline.
Passenger car tyre sales for manufacturers belonging to the ETRMA were up three per cent to 53.29 million units, this year-on-year rise came despite the mild weather's negative influence on winter tyre sales. The news isn't all good, however: The ETRMA notes that imports of consumer tyres into the EU increased six per cent year-on-year in the first quarter of 2016, while imports of tyres from China grew by nine per cent.
Sales of truck tyres amongst ETRMA members rose five per cent year-on-year in the first three months of 2016, and amounted to 2.27 million units. Again, this positive result was overshadowed by a growth in truck tyres imports into the EU; these rose ten per cent compared with Q1 2015. China remains the main exporter of truck tyres to the EU, and sales of these products rose 12 per cent during the quarter.
Agricultural tyre sales for ETRMA members declined seven per cent to 406,000 units. Shrinkage within the agricultural tyre market was also confirmed by a 19 per cent year-on-year drop in imports of agricultural tyres into the EU. The notable exception to this negative trend is India, whose exports to the EU increased by one per cent.
As recent developments in the UK steel industry show, European manufacturers are highly vulnerable to foreign suppliers of cheap (and potentially subsidised) products. The region's tyre makers don't enjoy the level of tariff protection currently offered to their counterparts in the US, for example, and this shows when comparing the development of China's tyre exports to global markets and into Europe. Referring to figures from US trade publication Tire Business that show exports of tyres from China to global markets have reduced by four per cent, ETRMA secretary general Fazilet Cinaralp commented "this confirms the high exposure of the European tyre market to competition from third countries, whilst other parts of the world are putting in place protective measures."