Goodyear Fuelmax truck tyres in Mercedes-Benz Efficiency Run 2015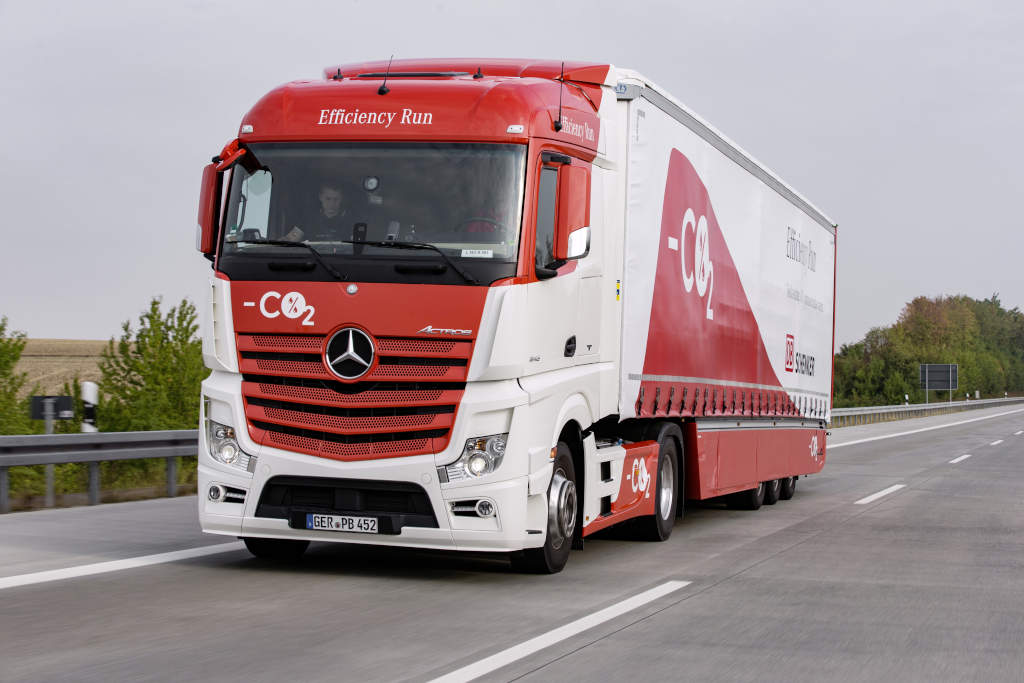 Goodyear reports that its rolling resistance optimized Fuelmax tyres on trucks taking part in the Mercedes-Benz Efficiency Run 2015 contributed to an overall reduction in fuel consumption of up to 14 per cent.
Transport companies DB Schenker Logistics and Grosse-Vehne took part in the tests using standard semi-trailer combinations equipped with Goodyear Fuelmax truck tyres. The tractor units were a Mercedes-Benz Actros 1842 and an Actros 1845 optimized exclusively using components that are currently available on the market and equipped with Predictive Powertrain Control (PPC). Weight-optimized Krone Eco semitrailers, which are also available on the market, were used and fitted with aerodynamic equipment to reduce drag.
The truck tyres used were 315/70R22.5 Goodyear Fuelmax S on the front axles, 315/70R22.5 Goodyear Fuelmax D on the drive axle and 385/55R22.5 Goodyear Fuelmax T on the trailer axles. Fuelmax is Goodyear's most fuel-efficient range of truck tyres.
The two semi-trailer combinations each consumed around 12 to 14 percent less fuel than standard semi-trailer combinations from the respective transport companies based on their 2014 figures.
"We are delighted that our fuel efficient Goodyear Fuelmax truck tyres were chosen for the Efficiency Run project," said Peter Platje, director OE Sales Truck Tyres Goodyear Europe, Middle East and Africa.
"The results from Efficiency Run 2015 show clearly that fleets can reduce their fuel consumption and CO2 emissions by using equipment that is available on the market today. Simply choosing premium low rolling resistance truck tyres like Fuelmax can have a huge positive impact. Another example of this was demonstrated by internal tests carried out by German fleet Spedition Bartkowiak. Their results confirmed a fuel saving potential of up to 1.6 liters per 100 kilometres per truck with Goodyear Fuelmax tyres. Combined with other technologies the reduction is even higher as demonstrated by Mercedes-Benz in their Efficiency Run 2015."