MAN and Goodyear expand driver training cooperation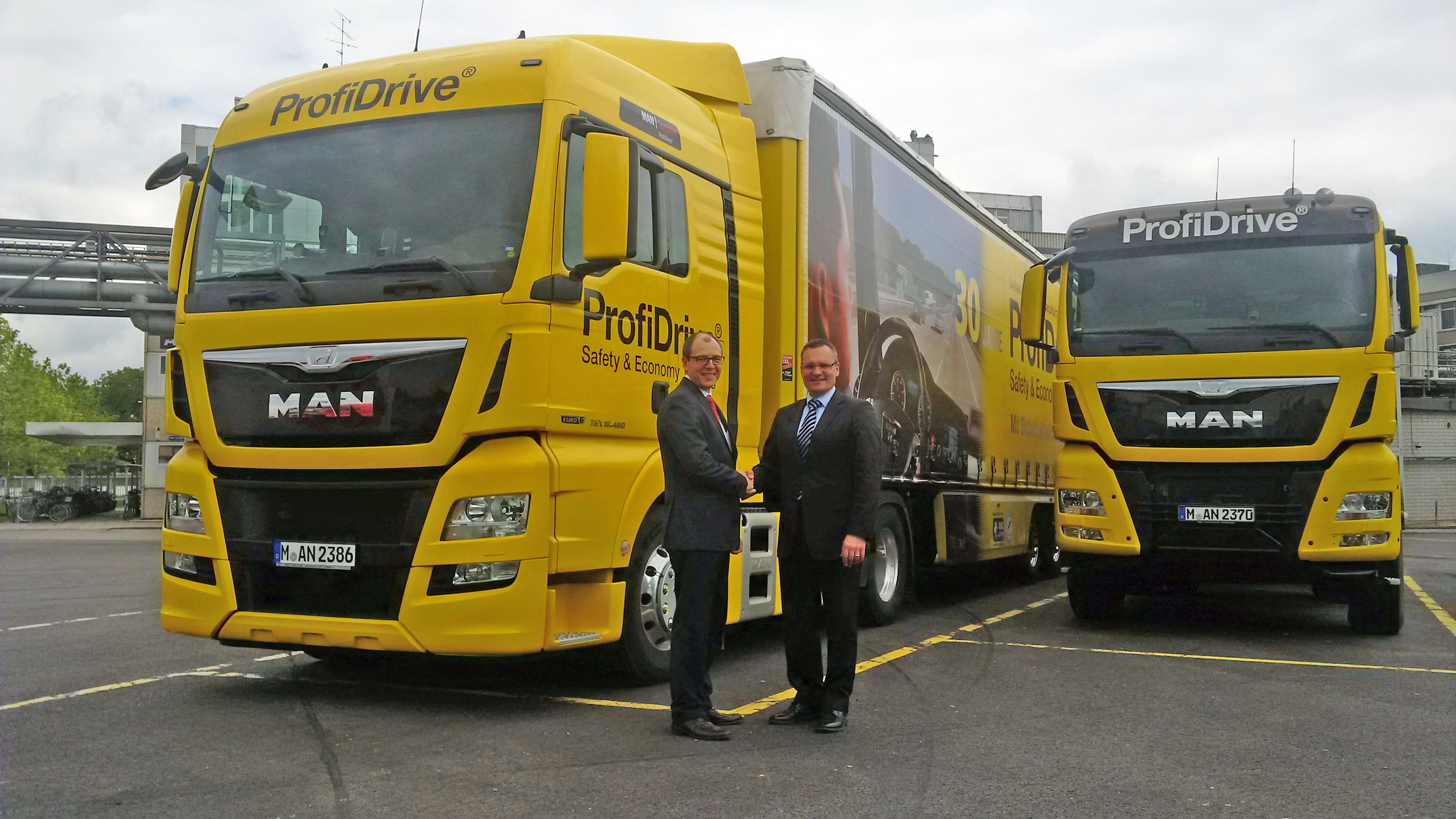 Goodyear has become MAN's exclusive tyre partner for its MAN ProfiDrive driver training initiative across Europe. The partnership includes equipping all 25 tractors and trailers used by MAN ProfiDrive with the latest Goodyear premium tyres. These comprise the fuel-efficient Fuelmax, the dedicated mileage line Kmax and the mixed service Omnitrac II for use both on and off road.  Goodyear will maintain the tyres, which includes taking over the tyre repair shop.  The partnership further involves Goodyear training the MAN trainers in tyre matters.  This builds on Goodyear's and MAN's long-term close collaboration related to original truck equipment. The two companies have worked together for some time with events such as the MAN Trucknology Days.
"We are very pleased to expand our existing partnership with MAN by exclusively equipping the MAN ProfiDrive vehicles with our premium Goodyear truck tyres," explained Peter Platje, director OE Sales Truck Tyres Goodyear Europe, Middle East and Africa. "MAN ProfiDrive gives us another valuable point of contact with the users of our products and explains to them how important truck tyres, tyre management and tyre choice are. During the MAN ProfiDrive training across Europe, the truck drivers will not only learn this theoretically but also, and even more importantly, practically."
"Goodyear is an excellent partner for us and we can look back on the long and successful history our companies have enjoyed together," said Andreas Griem, Head of MAN ProfiDrive. "Our world-class professional and practical training is clearly profiting from the cooperation with Goodyear.  The combination of premium Goodyear truck tyres and the dedicated training of our ProfiDrive trainers in truck tyre related topics is of real value."
MAN ProfiDrive provides professional drivers with a qualified training system that puts the needs of the driver in the centre – and at the same time takes into account the needs of fleet operators. On one hand, the range of courses covers theoretical professional driver qualification requirements as well as professional and practical training to make every day driving safer and more economical. On the other hand, all participants are trained from more than 30 years' experience in the teaching of theoretical and practical knowledge about safety and efficiency in road transport.
At the end of September Goodyear Dunlop announced that its Dunlop brand would be partnering the Road Haulage Association (RHA) in its HGV heroes campaign, which is also connected to driver training.