Trelleborg Dealer Locator launches on smartphones with 5,000 dealers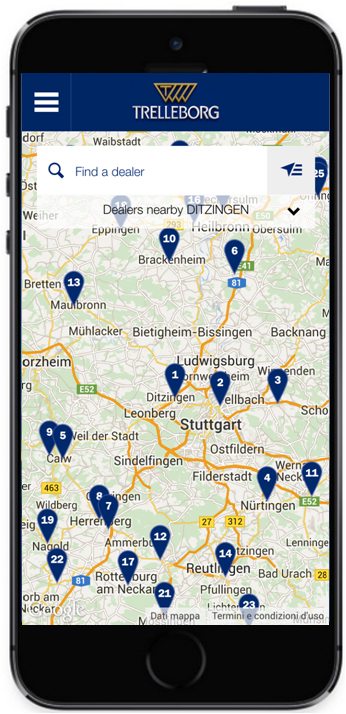 Trelleborg has optimised its Dealer Locator app for iOS and Android smartphones, adding the details of more than 5,000 professional agricultural tyre and machine dealers. Already available on tablets, the Trelleborg Dealer Locator is offered in five languages and identifies the Trelleborg tyre dealer nearest to a selected location. The manufacturer has been expanding its suite of mobile device applications throughout 2014, having identified this area as a valuable service for its customers. It has introduced updated Load Calculator, Tire Efficiency, and Tire Book apps, in addition to innovating its marketing approach through a video game.
The app features integration with Google Maps technology including map, satellite and hybrid views. It also suggests the shortest route to reach a selected dealer, displaying all contact information including address, telephone number, e-mail and website. It also offers a real-time professional farming weather forecast, including such information as a temperature forecast, potential evapo-transpiration, relative humidity and percentage precipitation.
Roberto Angelucci, digital marketing manager at Trelleborg Wheel Systems, says: "Trelleborg has a worldwide service network for its agricultural tyres and this is constantly growing. We want the farmers to know where to find our solutions along with the professional service to run their business operations more productively and efficiently.
"In parallel, we support our dealers in growing their reputations and awareness of them in the market place, enhancing their visibility through our digital platforms. Finally, the Trelleborg Dealer Locator app can even make the difference when a tractor manufacturer sells a new machine to a farming professional. During the configuration of the tractor, the tractor dealer can inform customers where to get Trelleborg premium service and technical advice."
The Trelleborg Dealer Locator app currently contains the geographic coordinates of more than 5,000 tyre dealers and the number of locations is constantly being updated.
"We have started populating the database with our European as well as our North American and Latin America dealers and we are in the process of expanding the tool on a worldwide basis," concludes Angelucci.
The Trelleborg Dealer Locator app is available here. The full suite of Trelleborg apps can be accessed here.