Trelleborg launches new online Tyre Selector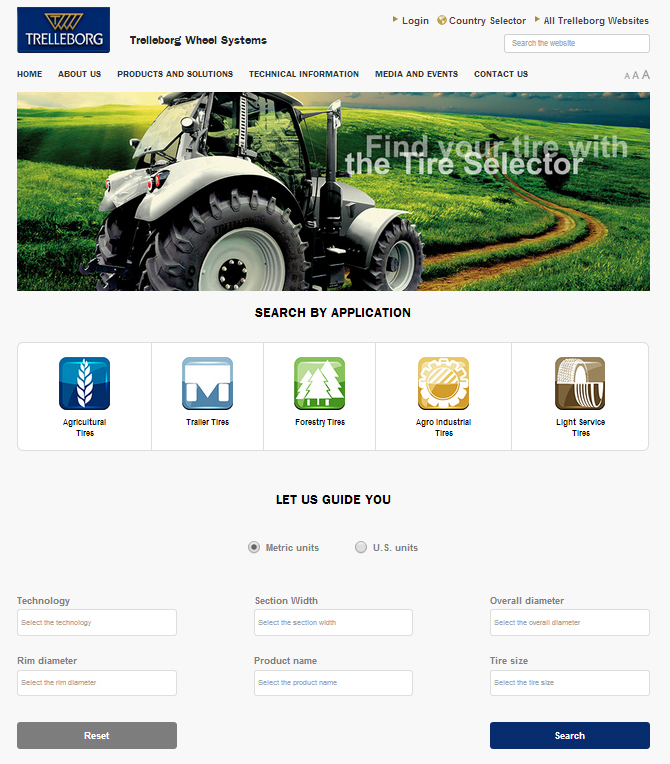 In addition to the Dealer Locator app for smartphones announced today, Trelleborg has launched its Tyre Selector. The online tool is designed to help farming professionals select the right tyres for individual applications, including agriculture, forestry, agro-industrial and light service.
Available on the Trelleborg Wheel Systems website, the Tyre Selector presents details of Trelleborg's portfolio to help farming professionals run their farming operations more efficiently and productively. The tool enables users to filter Trelleborg's leading range by technical criteria including technology, section width, overall diameter, tread type and tyre size with results available in either metric or US units.
Roberto Angelucci, digital marketing manager at Trelleborg Wheel Systems, says: "Modern agriculture demands that farming professionals produce more with less. With that said, tyre selection has never been so important in helping to ensure efficient, optimised operations. We are committed to ensuring farming professionals are always up to date with the latest tools, solutions and services, and are delighted to launch the new Tyre Selector.
"With the help of the new Tyre Selector, farming professionals can rest assured they'll have access to everything they need to ensure they select the right tyres to not only boost the productivity and efficiency of their operations, but reduce operating costs and the overall environmental footprint."
Once a user has identified a tyre suitable for a specific application, they can access the product brochure and several short videos providing an overview of its performance. In addition, users can also view a table highlighting the tyre's optimum inflation pressure in relation to specific applications, loads and speed. Users can also submit enquiries regarding Trelleborg's portfolio or alternatively, access any of its innovative tools for mobile applications including the Tire Efficiency, Dealer Locator, aTtraction, Load Calculator, Tire Book and Tire iBrochure apps.